CTS Welcomes 6 New Coaches to Expanding Staff
October 6, 2021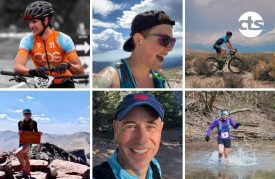 CTS has hired 12 new coaches so far in 2021 to meet increasing demand.
(Colorado Springs, October 6, 2021) – CTS, a pioneer in the endurance coaching and camps industry, today announced six new additions to their staff of 50+ professional coaches. Ruben Bacon, Miles Juneau, Michelle Foster, Nicole Rasmussen, Neal Palles, and Ryne Anderson bring unique strengths to the CTS Coaching Staff and are available to take new athletes immediately.
CTS Founder and Head Coach, Chris Carmichael, said, "CTS is experiencing strong growth in 2021 and I am proud to welcome Ruben, Miles, Michelle, Nicole, Neal, and Ryne into the CTS Coaching Staff. Throughout our in-house coaching education and onboarding program, we were continually impressed by their knowledge and ability to communicate with and guide athletes with the latest science and technology."
After competing at the international level in cycling as a junior, collegiate, and elite racer, Ruben graduated from Milligan University in Elizabethton, Tennessee, and interned with the CTS Coaching Staff in Brevard, North Carolina. With coaching and competition experience in road, mountain, and gravel cycling, Ruben strives to help athletes achieve results and learn about themselves: "Understanding where an athlete is coming from in their daily life, and what gets them excited, is equally important to the training prescribed."
Michelle is a force to be reckoned with as a runner, coach, and advocate for increasing participation and diversity in the ultramarathon community. In addition to the CTS Coaching College, she earned coaching certifications from Road Runners Club of America (RRCA) and the United Endurance Sports Coaching Academy (UESCA). On her motivation to work as a professional coach, she said, "I started coaching because of a desire to show those who aren't sure if they belong in the sport that they are capable of big things if they give themselves a fair chance." And speaking of big things, Michelle was first woman to complete the Gnar Slam (four challenging trail races including a 50 mile, 100k, marathon, and half marathon) twice in 2019 and 2020.
Miles combines his professional experience as a Physical Therapy Assistant with his passion for human performance and competitive drive as an elite mountain bike racer. He said, "During my time as a PTA, I realized how rewarding it is to help others reach their goals. I became a coach to fuel my passion for guiding others to excellence, to share the knowledge I've acquired, and help athletes redefine what's possible." For Miles, goals and results matter, and his coaching style focuses on making the training process fun, challenging, and creative.
Nicole exemplifies the balance and performance she aims to help athletes achieve in their own lives. A sports scientist, parent, and ultrarunner, Nicole earned her M.S. in Exercise Physiology, a B.S. in Fitness and Wellness, an UESCA Ultrarunning Coach Certification, and an ACE Personal Trainer Certification. She added, "Helping others to find performance longevity and sustainable habits in their sport of choice keeps me motivated to approach my career from the perspective of a student and scientist as well as a coach." With a strong competition background herself, Nicole combines evidence-based practices, experience-driven instincts, and genuine holistic concern for the athlete as a whole individual.
Neal's path to professional coaching started with a passion for the psychology of human performance. In addition to coaching, he is a Licensed Clinical Social Worker who earned two master's degrees in Applied Sport Psychology and Social Work, and his UESCA Ultrarunning Coach Certification. About his approach to coaching, he adds, "I coach in addition to a career as a therapist and mental performance consultant because I am passionate about seeing people push their limits and developing the tools that allow them to go further than they imagined." In addition to being an ultramarathon competitor and coach, Neal has extensive experience teaching rock-climbing, mountaineering, skiing, and backpacking.
Ryne followed a non-traditional path to the endurance coaching profession, providing him with a unique perspective and approach to performance. After playing college football while earning his B.A. in Physical Education and M.Ed. in Special Education, Ryne was a middle school PE and Social Studies teacher for nine years. His experience as an educator informs his coaching practice: "I believe the most successful athletes are the ones who find joy and fulfillment in their running by balancing training, racing, and life. Quality, not the quantity of workouts, will improve each athlete's fitness, but not at the expense of losing that all-important social, emotional, and physiological balance."
CTS has hired a total of 12 coaches so far in 2021. Over the course of more than 20 years, CTS's in-house education, mentoring, and professional advancement programs have developed many of the industry's top cycling, triathlon and ultrarunning coaches, including coaches who have moved on to leadership positions in other organizations.
About CTS
A pioneering company in the endurance coaching industry CTS has improved the performance of more than 20,000 athletes since 2000. Founded by renowned coach and author Chris Carmichael, and home to more than 50 professional coaches, CTS seeks to change lives and ultimately the world, through the power of movement, healthy habits, knowledge, and inspiration. The company provides personal coaching, training camps, and Endurance Bucket List experiences to athletes of all ability levels. For more information, visit www.trainright.com.
Media contact: Jim Rutberg, jrutberg@trainright.com, 719-360-2672