Boulderthon® Debuts New Course That Will Start And Finish In Downtown Boulder
June 14, 2023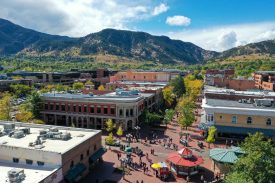 Colorado's fastest-growing running event expands field, streamlines runner experience, brings focus to local businesses with route update
BOULDER, Colo./ENDURANCE SPORTSWIRE/ – Boulderthon®, the fastest-growing running series in Colorado, has announced a paramount change to their course for the Oct. 8 event. Runners will now start and finish off the Pearl Street Mall in the heart of Downtown Boulder, an unprecedented milestone for a marathon race series in Boulder. This Downtown Start and Finish allows Boulderthon to welcome more runners, spotlight the small businesses that bring Boulder to life and offer a sense of place to participants as they celebrate their accomplishments. Registration for Boulderthon remains open, though it is expected to sell out again this year.
Having nearly tripled in size last year to the largest fall race in Colorado, organizers originally set a cap of 5,000 runners for 2023. With 2023 registrations coming in much faster than anticipated and up over 100%+ year over year, the Boulderthon team revamped the course to accommodate the growth, laying out a first-of-its-kind course. The new route will enable Boulderthon to continue to grow as the signature Boulder Marathon series while preserving its much-loved, boutique feel. With its new course debut, the 2023 Boulderthon has doubled its participant cap to 8,000, up from 4,000 in 2022.
"As we sought to differentiate Boulderthon and ensure a unique experience for our runners, it became clear that having Downtown Boulder as a home base on Race Day would offer so many benefits," said Phil Dumontet, founder and president of Boulderthon®. "This not only makes Boulderthon the only local marathon with a Downtown start and finish but also increases convenience for runners and spectators. Not to mention, it brings our vibrant downtown economy into focus for visitors and locals alike!"
The new course will now depart from Downtown, featuring familiar and new places and spaces. Key additions to the route include the Boulder County communities of Niwot and Gunbarrel. Participants will enjoy passing through different landscapes set at the foothills of the Flatirons, with views of the Boulder Reservoir, Table Mountain, and Haystack Mountain along their way, plus running through the historic, charming, and vibrant community of Niwot. The fun-filled course features a similar elevation change to previous years and multiple straightaways, making for high-quality race day performances.
The top-rated, fast-growing race series became the second-largest marathon series in Colorado in its first year of existence, and the largest fall running event in the state. In its second annual edition, Boulderthon drew runners from all 50 states as well as 15 countries, as the signature marathon showcased the world-class city of Boulder. After nearly tripling in size last year and selling out, Boulderthon has instituted a new 8,000 runner cap this year and is expected to sell out again. In 2023, Active.com named Boulderthon one of the Top 5 Best Half Marathons in the United States.
For more information on Boulderthon, visit www.boulderthon.org.
About Boulderthon®
Boulderthon® was created in 2021 by avid New York Road Runner, Phil Dumontet, with the goal of bringing a world-class marathon to one of the great running hubs of the country. It is a Boston Marathon Qualifying (BQ), USATF Sanctioned Event, measured by a Level A USATF Course Measurer, representing the highest level of certification for a marathon race series. The race offers a full marathon, half marathon, 10K, 5K, and children's races. For more information, visit www.boulderthon.org.
###