Altra's New Lone Peak 4 is the Best Version of Its Top-Selling Trail Shoe
July 19, 2018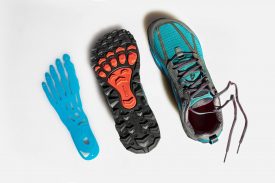 (Logan, UT — July 19, 2018)  Altra's new Lone Peak 4 underwent a complete overhaul from outsole to upper, making this the best version of the brand's top-selling trail shoe. The mesh low version drops August 1, and is the first of four new shoes in the Lone Peak family.
"The trail tribe will love these updates for running, hiking, trekking and thru-hiking," said Brian Beckstead, Altra co-founder and president. "Altra's Lone Peak family is the heart and soul of our brand, and it's the shoe Altra Elite athletes wears for technical trail races around the world."
Upgraded features on the Lone Peak 4 include:
Pinpoint anatomical protection, better flexibility and lighter weight with the new skeletal StoneGuard™ design
More aggressive, carved out, multi-directional lugs on the TrailClaw™ outsole for stronger toe-off, quicker mud release and increased traction
An upgraded, stickier MaxTrac™ rubber tread for the perfect combination of grip and durability that eats up gnarly terrain
Proven ballistic mesh for exceptional durability
Snugger fit and performance using Altra's A-Strap™ and integrated tongue for improved midfoot fit
Enhanced drainage zones for quicker water release
Expanded bunion and pinky toe windows that combines protection with roominess for more comfort
Altra's 4-Point GaiterTrap™ for the snuggest fitting shoe-to-gaiter combination available
"I really believe this will be Altra's best Lone Peak ever, and that says a lot," said Altra founder Golden Harper. "With the new upper and outsole designs, the Lone Peak 4 fits better than ever, grips better than ever and continues to be the most capable and comfortable do-it-all trail shoe on the market."
According to data from NPD, the Lone Peak is the number one selling trail shoe in the run specialty channel, and the number five ranked shoe in outdoor specialty shops, impressive for a brand that started just seven years ago.
The Lone Peak's stack height remains the same at 25mm, while its weight decreased to 10.2 ounces for men and 8.5 ounces for women. Color options are green, blue, gray/orange, gray/neon yellow and black/red for men, and black, light gray, raspberry and teal/gray for women.
The Lone Peak family offers four different trail shoe styles. The Lone Peak 4 mesh low launches in August, while the Lone Peak 4 mesh Mid and two new waterproof styles, Lone Peak 4 Low RSM and Lone Peak 4 Mid RSM, will launch in September.
The Lone Peak 4 will retail for $120 on www.AltraRunning.com or at your local specialty running retailer.
Altra's new Lone Peak 4.0 family and other new styles will be on display at booth #49129-Upper Level at the 2018 Outdoor Retailer Summer Market.
About Altra
While working at a running store, Altra founder Golden Harper was frustrated that modern running shoe technology caused poor running form and had not decreased running injuries. His passion to create a shoe that followed the science produced Altra's FootShape™ toe box and Zero Drop™ platform. Since its founding in 2011, Harper and co-founder Brian Beckstead have grown Altra from one to 30 shoe styles, winning multiple Editor's Choice awards and distribution in more than 60 countries. Join the conversation @AltraRunning and #ZeroLimits on Twitter, Instagram and Facebook.
Media Contact: Colleen Logan, VP Marketing, clogan@iconfitness.com