80/20 Endurance Launches Team 80/20 Club Subscription on Final Surge
November 8, 2023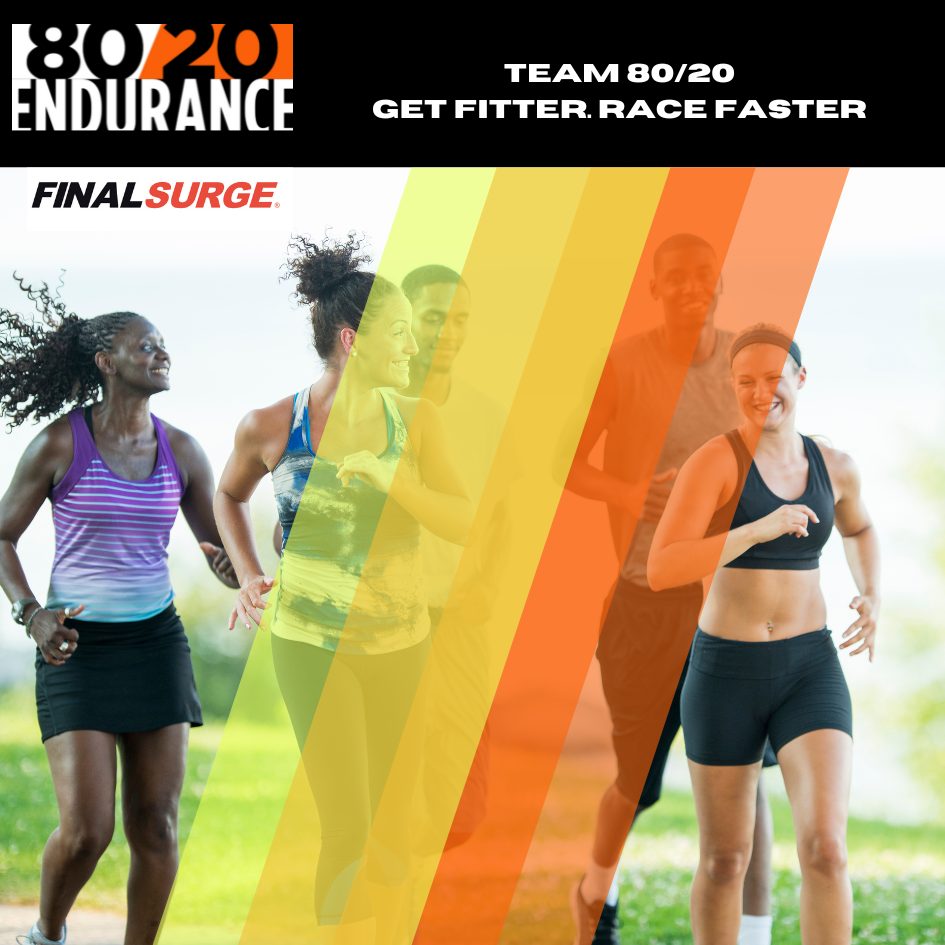 80/20 Endurance plans now available on Final Surge through the Team 80/20 Subscription
Midway, UTAH – Nov 8, 2023/ENDURANCE SPORTSWIRE/ – 80/20 Endurance, the world's largest provider of online endurance training plans, is pleased to announce the launch of their Team 80/20 Club Subscription on the Final Surge fitness app. Through this strategic collaboration, athletes can now access 80/20 Endurance's renowned training programs on both the TrainingPeaks* and Final Surge platforms.
The Team 80/20 Final Surge subscription will initially offer athletes access to the 80/20 Endurance top-rated run and run strength plans, with more specialized training programs slated in the upcoming months. This flexibility empowers athletes to align their training schedules with their specific goals on their platform of choice.
Team 80/20 members will also enjoy access to 80/20 Endurance's structured workout library, comprising a diverse range of run and strength workouts. This extensive resource equips athletes to craft personalized training plans or make necessary adjustments, tailored to their individual requirements.
Leyla Porteous, Director of Operations at 80/20 Endurance, expressed her excitement about the launch, stating, "We are thrilled to bring our acclaimed 80/20 Endurance training plans to Final Surge through our Team 80/20 Club Subscription. This partnership allows us to reach a wider audience of athletes, providing them with the tools and resources they need to excel in their training and achieve their goals."
Tim Surface, Co-Founder of Final Surge, shared his enthusiasm for the collaboration, saying, "Final Surge is excited to bring training plan subscriptions from 80/20 Endurance to our user base. These plans have been highly requested from athletes using Final Surge, so it's great that we can finally deliver this option for runners, triathletes, and endurance athletes around the world. The entire team at 80/20 Endurance has been incredible to work with, and we look forward to this partnership."
To find our more about Team 80/20 on Final Surge click here: https://www.finalsurge.com/club/team8020
*TrainingPeaks is the preferred partner of 80/20 Endurance for plans and subscriptions.
About 80/20 Endurance:
80/20 Endurance is the world's largest provider of online endurance training plans, committed to assisting athletes of all levels in realizing their full potential. With a focus on optimizing training intensity distribution, 80/20 Endurance provides structured training plans, workout libraries, and video resources to enhance performance and achieve exceptional results. For more information, visit www.8020endurance.com.