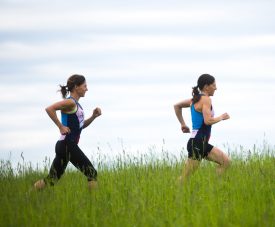 Laurel and Rebeccah Wassner double-down on their quest for competitive advantage and re-sign with XRCEL Athlete Fuel
Charleston, SC (April 6, 2018) – New World Consumer Products, LLC, a division of New World Pharmaceuticals, re-signed triathlon pros Laurel and Rebeccah Wassner for the 2018 race season. The dual action, immediate and extended release fuel provided by XRCEL is just what this dynamic duo wants, and needs, in their quest for competitive advantage and more podium spots in 2018.
"I am excited that I have re-signed with XRCEL for my third year. I have relied on Xrcel for fuel to get me through 8 Ironmans, (including 2 wins and 2 finishes in Kona), the Boston marathon and many, many long days of training.  I am most proud of my win at IRONMAN Taiwan.  I fueled perfectly on the bike and was able to keep the same power from the first hour up through the fifth hour and stayed strong throughout – winning by 42 minutes," said Laurel Wassner. "Having raced professionally for 9 years and tried many nutrition products, nothing comes close to providing the sustained energy I get from XRCEL.   As a pro, I have access to a lot of different nutrition choices. I choose XRCEL. Since I started training and racing with XRCEL I haven't had stomach issues and have not bonked – my energy just keeps on coming! This stuff really works!  Looking forward to what we can do together this year, and so grateful for their support."
Twin sister Rebeccah said, "This will be my third year using XRCEL to fuel my training and racing. With the arrival of my third child in January, this year I will also rely on XRCEL to manage my energy levels during busy days of parenting. Being a pro athlete and a mom of 3 isn't easy, but with the support of XRCEL, I am up for the challenge!"
"We are excited to sponsor both Laurel and Rebeccah Wassner for the third year and continue to help fuel them through new personal breakthroughs," said Laura DeMeo XRCEL's Manager for Endurance Sports.  "We're proud to fuel Rebeccah and all her athletic accomplishments, including a 2nd place overall finish at ISRAMAN full distance triathlon – all while busy training, racing and now managing a family of 3 little kids! Laurel had an incredible 2017 with 2 Iron distance wins, including IRONMAN Taiwan – an epic race where she won by 42 minutes.  
Laurel and Rebeccah Wassner are professional triathletes living in New York City.  Rebeccah (Bec) is a three-time winner of the New York City Triathlon. Laurel is the first cancer-survivor-turned-professional triathlete and the first cancer survivor to win an Iron distance race.
The twins race to win championships, but also to raise awareness for the fight against cancer, particularly among young adults. 
Not only are the Wassner's very talented athletes but they help the endurance community live a healthy lifestyle with their popular Athlete Food Blog. XRCEL is proud to support and fuel these incredible women in all of their endeavors and look forward to another winning year!
###
About XRCEL® Athlete Fuel
XRCEL Athlete Fuel is a revolutionary extended release carbohydrate supplement formulated with patented pH and temperature responsive micro-gel technology developed by New World Pharmaceuticals, LLC.  XRCEL is a caffeine and banned substance free supplement designed to provide athletes with extended release muscle and brain fuel so that they may get the most out of their training and competitions. XRCEL responds to each individual athlete's body to release fuel when and where it is needed.
 About New World Consumer Products, LLC
New World Consumer Products is bringing the science of human nutrition and carbohydrate metabolism to high performance athletes with an emerging portfolio of patented products and technologies. Our flagship product, XRCEL ®, is a scientifically advanced sports performance fuel based on patented formulation technology developed by New World Pharmaceuticals, LLC. 
With strong investment in the science of performance-based nutrition, guided by a leadership team of executives and university scientists with extensive operating and board-level experience in the pharmaceutical and consumer goods industries, New World Consumer Products will continue to develop breakthrough products that improve performance and endurance for work, play and sport.
The company's corporate headquarters are located in historic Charleston, South Carolina. To learn more, please visit http://www.NewWorldConsumerProducts.com. 
For More Information 
Media Inquiries:
Lisa Sexton
843.737.6192 Ext 104