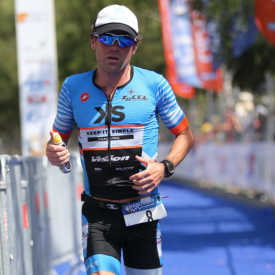 Pro Coach uses XRCEL to Improve His Performance and the Performance of His Athletes
Charleston, SC (May 18, 2018) – – New World Consumer Products announces its continued sponsorship of KIS Triathlon Team Head Coach and racing Professional Scott DeFilippis as an XRCEL Athlete Fuel Brand Ambassador. Scott joined the XRCEL team in 2015 and has been a big part of our ambassador program both as a coach and an athlete.  Scott coaches Aussie Pro Carrie Lester along with the KIS Triathlon team and is responsible for introducing them to XRCEL with great success. His athletes have performed exceptionally well with XRCEL, racking up wins at Challenge Roth, Embrunman, IronMan France, and a seventh place finish in the 2017 World Championship at Kona. 
"Prior to discovering XRCEL I never really trained on a gel source. But now I regularly use XRCEL in training to help me get through early morning sessions, runs off the bike, and evening workout when I need a bit of energy to finish the day," said DeFilippis. "Racing on XRCEL has helped me stream line my nutritional plan with a simple approach that keeps me fueled all day with its extended release technology.  As a coach, I also encourage all my athletes to use XRCEL to maximize their training sessions and improve race performance."
"We are proud to fuel Scott for the third year in a row. He is a talented coach who has led some of the top athletes in the world, including Carrie Lester who has won 8 Iron Distance titles and 2 x top 10 finishes at the Hawaiian Ironman World Championship," said Laura DeMeo, Business Development Manager – Endurance Sports for Team XRCEL.   "Scott is a top performing athlete in his own right, and though he's experienced some tough nagging injuries in the past, he continues to forge ahead and had one of his best years in 2017.  We are thrilled that Scott and his athletes have relied on XRCEL to fuel their toughest workouts and races over the years and are excited for another strong season."
About XRCEL® Athlete Fuel
XRCEL Athlete Fuel is a revolutionary extended release carbohydrate supplement formulated with patented pH and temperature responsive micro-gel technology developed by New World Pharmaceuticals, LLC.  XRCEL is a caffeine and banned substance free supplement designed to provide athletes with extended release muscle and brain fuel so that they may get the most out of their training and competitions. 
New World Pharmaceuticals is based in Charleston, South Carolina. For more information, please visit http://www.NewWorldPharma.com.
For More Information 
Media Inquiries:
Lisa Sexton
843.737.6192 Ext 104
Lisa@XRCEL.com