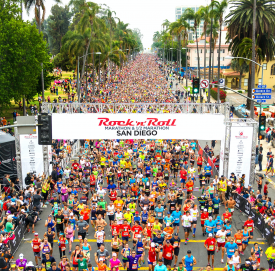 BibRave will power the famed Rock 'n' Blog ambassador program, add race promotion by its own BibRave Pro influencer network
Portland, OR – BibRave, the new marketing solution for races and endurance brands, today announced a new partnership with the Rock 'n' Roll Marathon Series, under which BibRave will adopt full management of the Rock 'n' Blog brand ambassador program and add its own promotional services for the 2017 Rock 'n' Roll Marathon Series tour.
The Rock 'n' Blog and BibRave Pro programs will continue to operate independently, but both will be managed by the BibRave team and used to drive more brand awareness, excitement, and ultimately more registrations for the 2017 Rock 'n' Roll races.
"We started Rock 'n' Blog when I first joined the brand five years ago, so the program is very near and dear to me," said Ashley Swapp, Social Media Manager. "BibRave has grown their influencer and promotion network over the years, and they are members of the running community. I'm pumped for this partnership that will strengthen our programs and reach more runners!"
The Rock 'n' Blog team is a community of health & fitness enthusiasts, social mavens, and certified selfie-takers who are true fans and leading advocates for the Rock 'n' Roll Marathon brand (and applications are now being accepted!). BibRave Pros are an exclusive group of running bloggers and social media influencers who drive more awareness and registrations for BibRave's race partners. BibRave will leverage its extensive influencer management experience to optimize the Rock 'n' Blog program and extend promotion of Rock 'n' Roll races via the BibRave Pro network.
Adding Value to Rock 'n' Roll Sponsors
By investing in an industry-leading expert to operate and enhance their race ambassador program, the Rock 'n' Roll Marathon Series will also enhance value to their sponsors. Through the Rock 'n' Blog program, sponsors realize an indirect relationship from some of the most active social influencers in running and the photos and videos they share around events.
"As long-time Rock 'n' Roll race fans, we're thrilled to partner with the Rock 'n' Blog program," said Tim Murphy, Co-Founder of BibRave. "After working with hundreds of races in the past, we've developed a rock-solid system for building, managing, and deploying influencers to maximize strategic objectives for our race partners. We can't wait to use that firepower to help grow the Rock 'n' Roll Marathon Series even more."
About the Rock 'n' Roll Marathon Series
With more than 600,000 runners taking part in 29 destination events around the world every year, more runners choose the Rock 'n' Roll Marathon Series than any other running series. Established in 1998, Rock 'n' Roll Marathon Series' simple idea of making running fun has transformed the U.S. running landscape by infusing the course with live bands, cheer teams and entertaining water stations, creating a block-party atmosphere for participants and spectators alike.
Over the 20-year history of the Rock 'n' Roll Marathon Series, charity partners have raised more than $335 million through the events for a variety of worthy causes. Race weekend kicks off with a free Health & Fitness Expo showcasing the latest in running gear, sports apparel, health and nutritional information and much more. Events culminate with an entertaining finish line festival and Toyota Concert Series featuring some of the biggest names in music, with past headliners including Kid Rock, Rascal Flatts, Macklemore & Ryan Lewis, Pitbull, FloRida and Andy Grammer. Further information about the Rock 'n' Roll Marathon Series can be found online at RunRocknRoll.com.
About BibRave
BibRave works with races and brands to help them engage with runners and ultimately drive more sales and registrations. Through their large network of running bloggers (BibRave Pros), their popular Twitter event (#BibChat), and their new Podcast (The BibRave Podcast) BibRave helps endurance brands and races go beyond simple advertising and truly connect with more runners.
The company's consumer facing-product is a race review site where runners can learn about a race before signing up, and leave feedback after the event. The company launched in late 2013 in the Midwest and is now based in Portland, Oregon.