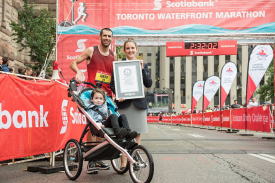 (Logan, UT — October 24, 2016) — Altra's Elite athlete Calum Neff set the Guinness World Record for the Fastest Marathon Pushing a Stroller with a time of 2:31:21. Neff and his daughter, four-year-old Alessandra, competed in Canada's Toronto Waterfront Marathon on Sunday, October 16, 2016. He broke the previous record of 2:42:21 by 11 minutes, which was set by Michael Wardian in 2007. Neff was also the fifth Canadian and 15th male overall to finish. A Guinness World Record representative was waiting for him at the finish to present him the award.
Earlier this year on February 6, Neff set the World Record for the Fastest Half Marathon Pushing a Stroller at the Katy Half Marathon in his hometown of Katy, TX. For this race, Neff and his 11-month-old daughter Holland set the record with a finishing time of 1:11:27. He also won the race by nearly six minutes and had an average pace of 5:27 per mile. A Guinness World Record representative did not attend, so Neff used a GoPro to broadcast his run live on Periscope. Neff broke the existing record of 1:13:50, set by Travis Boyd in 2013.
Neff is expecting another daughter with his wife, Julie, which means there are more records to be broken. Neff tweeted "my stroller running career was just extended another 5 years… Neff 3.0 – lighter version coming March 2017."
Learn more about Neff and his accomplishments on his website http://www.neff.run/ and on social media @calneff.
About Altra:
While working at a running store, Altra founders Golden Harper and  Brian Beckstead saw the pain caused by traditional running shoes. Their passion to create a shoe that made running enjoyable inspired Altra's FootShapeTM toe box and Zero DropTM  platform. Within only five years, Altra grew from one to 21 shoe styles, winning multiple Editor's Choice awards, distribution in 49 countries and revolutionizing running shoe design.
Join the conversation @AltraRunning and #ZeroLimits on Twitter, Instagram and Facebook.
PR Contact: Colleen Logan, VP Marketing, clogan@iconfitness.com
Picture Caption:
Altra Footwear's Calum Neff and his four-year-old daughter Alessandra accept the World Record award from a Guinness Representative for the Fastest Marathon Pushing a Stroller at the Toronto Waterfront Marathon.