Zensah Announces Partnership with Ultramarathon Man, Dean Karnazes
April 9, 2019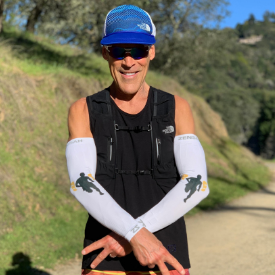 Miami, FL – (April 9, 2019) – Zensah®, the leader in high-performance compression apparel, announces a collaboration with Ultramarathon Man, Dean Karnazes.  On April 9, 2019 the Zensah & Dean Karnazes compression sun sleeves launches at www.zensah.com and specialty running retailers.
As the world heats up, keep your cool with our newest UV protective sun sleeves. Created in collaboration with Badwater Ultramarathon winner and 4 Deserts Champion, Dean Karnazes, these specially designed sun sleeves are engineered to protect runners from the elements by blocking up to 98% of UV radiation. Moisture-wicking and cooling, they shield athletes from the sun and help prevent overheating, along with an inspirational quote to keep you going when the going gets tough.
"Dean represents living life without limits, a mantra of Zensah®" said Ze'ev Feig CEO of Zensah. "Dean has inspired millions of people around the world and it is an honor for us to team up with him and bring awareness to the important issue of climate change and the need for sun protection." Mr. Feig continued.
"I am excited to team up with Zensah to help create a great product and help bring awareness on the importance of wearing sun protective gear when exercising outdoors" said Karnazes. "I'm looking forward to collaborating with Zensah on an entire line of sun protective products specifically designed for outdoor athletes."
The Zensah sun sleeves features and benefits include:
UPF 50+ For Sun Protection
Moisture Wicking

 

Anti-Odor technology
Super Comfortable Fabric
Can be used for layering in cold weather
The Zensah compression arm sleeves are ideal for trail running, road running, cycling and any outdoor activity. These compression sleeves have a second-skin feel which makes them the most comfortable compression arm sleeves on the market. They are made with a seamless design and ergonomic contour for ultimate comfort.
About Zensah 
Zensah®, based in Hallandale, Florida, is a leading high-performance apparel company. Our products use specially curated yarns and incorporate a 3D knitting process to create super comfortable, high-performing sports apparel.  Zensah® can be found at leading retailers across the country or online at www.zensah.com. Ph: (305)935-4619  Email: [email protected]