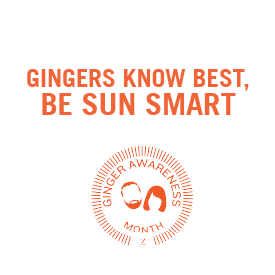 The campaign promotes 'Gingers know best, be sun smart' with proceeds supporting non-profit Fxck Cancer.
(Bend, OR.) — Zealios, a leader in performance skin & hair products for athletes, launches its Ginger Awareness Month for a 3rd year. The month-long celebration brings awareness, tips and humor to the serious topic of sun safety and reducing your skin cancer risk. Since Gingers know first-hand (or neck, or arm, or top of feet) how damaging the sun can be, who better than to share the message to be sun smart.
Zealios partners with the F C Cancer Foundation, a non-profit organization commonly referred to as Fxck Cancer again to donate a portion of all sunscreen sales during the month.
"The F C Cancer Foundation takes pride in working with companies, like Zealios, which share our vision of cancer prevention," says Pete Parker, Fxck Cancer's fundraising director. "We're having a blast protecting everyone through a fun, yet informative, awareness campaign."
"It is great to be back at it for another year raising sun safety awareness through light-hearted humor. This year we have a new mascot to introduce and accompany our mascot 'Squeezy', a human-sized sunscreen tube. Needless to say, it's difficult to stay on task when you have two ridiculous mascots in the same room, but we managed to get the job done." says Kevin Fuller, Zealios co-founder.
"Our goal is to keep upping the bar each year to find fun ways to bring awareness to the importance of wearing sunscreen everyday."
Check out this year's first teaser video here, with several more videos to follow.
Follow along on social or sign up for Zealios email updates.
Video Director & Post-production: Weston Walker at Fractal Film Co.
About Fxck Cancer
The mission of the F C Cancer Foundation is to fight cancer by raising awareness and to educate about prevention and early cancer detection. The goal is to ultimately put an end to late stage cancer diagnosis. Through our Dyin 2 Live Dreams program, we look to enrich the lives of those fighting cancer by offering them special VIP experiences that will bring them hope, inspiration, and courage. We hope it can help give the cancer fighter a chance to forget, even if it's only for a day, what they are fighting. No one fights alone. Together we fight. Fuck Cancer.
About Zealios
Zealios products are designed to endure the intense physical demands that athletes experience in training and competition. The athletes we protect are the inspiration and driving force behind our existence.
Our products are made for athletes and the demands that come with training hard and competing your best on race day.
Athletes across the world put Zealios to the test on the hottest days, sweatiest adventures and in the toughest elements. The Zealios product line continues to grow with the same purpose – to give athletes peace of mind on training day, race day, and in recovery and prevention. Worry about your performance, not your skin and hair products.
 For more information visit teamzealios.com.
We're social! Follow us @zealiosskincare
# # #