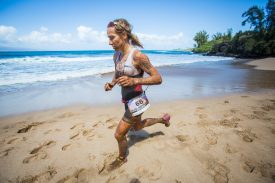 Kapalua, Maui (October 24, 2017) – A sold-out field of 850 athletes from 52 countries are gathered in Kapalua, Maui this week for the world's premier off-road triathlon, a challenge that combines a 1.5K swim, 32K mountain bike ride, and 10.5K trail run.
This year, there were 42 qualifying XTERRA races in 33 countries where the top professional and amateur off-roaders from around the world could earn their spot in the sand for the 22nd edition of the XTERRA World Championship.
There are more international racers than Americans in the field, with more than 500 coming from countries around the world, from Norway to Nicaragua. Sixty-six racers will travel from France, 44 from Canada, and 43 from New Zealand.
The U.S. has sent 338 athletes from 45 states, Puerto Rico and Guam. Sixty-eight of the American athletes come from California, 46 from Colorado, and 38 from the home state, Hawaii.
"The international spirit of camaraderie and competition in Maui right now is exhilarating," said XTERRA President, Janet Clark. "We are incredibly proud to have the finest off-road athletes in the world pushing themselves and each other to be the best they can be, both on the course and off."
The XTERRA World Championship will host athletes of all ages. Will Stacey, from Nashville, Tennessee is only 14 while Jon Adamson from Alpharetta, Georgia, is 80. The youngest woman, Francesca Martinez from Zapopan, Mexico, is 17, and the most experience female in the field is Kathy Frank, who is 69 and from Santa Cruz, California.
Steve Fisher, Gerry Clark, and Joe Alueta from Maui have raced every XTERRA since the inception of the race in 1996.
The largest group of athletes are men in the 45-49 age group (100) followed by men 40-44 (86), then 35-39 (65).
"The popularity of XTERRA among men ages 35-50 matches the trajectory of both mountain biking and triathlon in the US and around the world," added Clark. "What we are also excited about is the rapidly increasing number of women who are participating as well as promising young male and female athletes."
XTERRA has been a leader in making its endurance events accessible to physically challenged athletes as well. This year, six physically challenged athletes will compete on the world stage. They include Ed Fattoumy, John Davis, Craig Vogtsberger, Andre Szucs, and Thomas Giannettino.
Vogtsberger is an Army veteran who was crushed between two Army Humvees and suffered massive trauma to his entire body in 2001. Today he is the most decorated challenged athlete in XTERRA America Tour history, having won an unprecedented nine regional off-road triathlon titles and four USA Championship crowns since 2008.
Returning champions this year include three-time XTERRA World Champ, Flora Duffy and defending XTERRA World Champ Mauricio Mendez, who will both be returning this year to defend their titles. Challenging them are 17-year veteran and 2015 XTERRA World Champ, Josiah Middaugh and two-time XTERRA World Champ Lesley Paterson, among others.
Top amateurs in this year's race include Canadian Tate Haugan, the 2017 Pan Am 15-19 age group champ, Petr Ondrej (20-24) from the Czech Republic, Pierric Brochet (25-29), Brett Tack from the US (30-34), Alejandro Bulacio from Brazil (35-39), and Yannick Antoine of Belgium (40-44).
Top women amateurs in the 40-44 age group include Magalie Moreau from France, Konstantina Sintzanaki from Greece, and Mimi Stockton and Deanna McCurdy from the US. Mimi Stockton (45-49) and Margo Pitts (50-54) will also be strong.
Countries Represented: 52
Argentina (22), Australia (19), Austria (6), Belgium (2), Bermuda (1),  Brazil (27), Canada (44), Chile (15), China (3), Colombia (4), Costa Rica (11), Czech Republic (8), Denmark (9), Dominican Republic (4), Finland (7), France (66), Germany (22), Greece (3), Hong Kong (1), Hungary (1), Israel (1) Italy (28), Japan (24), Kuwait (1), Luxembourg (2), Malaysia (1), Mexico (18), Morocco (1), Netherlands (3), New Caledonia (1) New Zealand (43), Nicaragua (1), Norway (1), Panama (1), Peru (1), Philippines (3), Poland (4), Portugal (8), Reunion (6), Singapore (4), Slovakia (1), South Africa (8), South Korea (3), Spain (14), Sweden (2), Switzerland (8), Tahiti (18), Thailand (5), Chinese Taipei (2), United Arab Emirates (1), Uruguay (1), United Kingdom (10), United States (338)
United States Represented: 45
Breakdown: Alaska 7, Arizona 6, Arkansas 1, California 68, Colorado 46, Connecticut 4, Delaware 2, Florida 7, Georgia 15, Guam 2, Hawaii 38, Idaho 7, Illinois 2, Indiana 3, Louisiana 2, Maryland 3, Massachusetts 4, Michigan 6, Minnesota 1, Missouri 4, Montana 1, Nebraska 1, Nevada 8, New Hampshire 2, New Jersey 1, New Mexico 3, New York 5, North Carolina 6, North Dakota 1, Ohio 2, Oklahoma 1, Oregon 14, Pennsylvania 4, Puerto Rico 1, South Carolina 3, South Dakota 1, Tennessee 5, Texas 14, Utah 11, Vermont 4, Virginia 7, Washington 9, West Virginia 1, Wisconsin 2
602 Men, by Age Group
Men 15-19: 20
Men 20-24: 19
Men 25-29: 43
Men 30-34: 45
Men 35-39: 65
Men 40-44: 86
Men 45-49: 100
Men 50-54: 71
Men 55-59: 51
Men 60-64: 31
Men 65-69: 11
Men 70-74: 5
Men 75-79: 1
Men 80-84: 2
Physically Challenged Men: 6
Organizer Challenge: 8
Pro Men: 37
238 Women, by Age Group
Women 15-19: 5
Women 20-24: 7
Women 25-29: 17
Women 30-34: 26
Women 35-39: 38
Women 40-44: 46
Women 45-49: 35
Women 50-54: 17
Women 55-59: 14
Women 60-64: 5
Women 65-69: 4
Women 70-74: 2
Pro Women: 21
Follow the action online at www.xterramaui.com, on twitter @xterraoffroad and live on Facebook.com/xterraplanet starting at 9am Hawaii time (12pm PST, 3pm EST, 4pm in Rio, 9pm in Paris, 3am Monday in Shanghai and 6am Monday in Sydney).
Click on the links for detailed pre-race coverage:
About TEAM Unlimited/XTERRA
TEAM Unlimited LLC, founded in 1988, is the Hawaii-based television, events, and marketing company that brought off-road triathlon and trail running to the world under the brand name XTERRA.  From a one-off race held on the most remote island chain in the world XTERRA evolved into an endurance sports lifestyle with worldwide appeal. Over the past 20 years XTERRA transcended its status as 'just a race' to become a bona-fide way of life for thousands of intrepid athletes as well as an emerging brand in the outdoor industry.  In 2017 XTERRA will offer more than 200 off-road triathlons and trail running events in 33+ countries worldwide and produce 10 adventure television shows for international distribution.  Learn more at xterraplanet.com and xterracontent.com.