XTERRA World Cup LIVE makes U.S. debut in Shelby County, AL on Sunday
May 18, 2023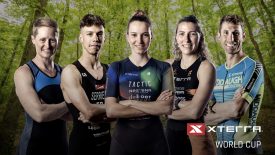 The adrenaline-fueled XTERRA Oak Mountain Short Track race will be streamed live on Sunday at 4pm EST with two triathlon Hall of Famers, Bob Babbitt and Jamie Whitmore, calling all the action.
/ENDURANCE SPORTSWIRE/ – The adrenaline-fueled XTERRA Oak Mountain Short Track race will be streamed live on Sunday at 4pm EST with two triathlon Hall of Famers, Bob Babbitt and Jamie Whitmore, calling all the action.
Watch it live: https://www.xterraplanet.com/watch-live
Round two of the 2023 XTERRA World Cup at Oak Mountain State Park in Pelham, Alabama on May 20-21 has attracted more than 40 elites from a dozen countries including the reigning XTERRA World Champions, Arthur Serrieres and Alizee Paties from France.
‍Oak Mountain is the first stop on U.S. soil and the first of five lightning-fast short track races. The winners of the full-distance race on Saturday will take 100 points while the made-for-TV short track race the following day will offer the chance to claim another 20. However, these are two very different races and never before in XTERRA history has the winner of the full-distance race gone on to win the short track race.‍
But the start list is a juicy one and there will be many who are eager to claim a double win.
Both XTERRA Champions will be racing, with Serrieres surely fired up to correct the 'mistake' of his opening race and Billouin no doubt keen to take maximum points after being edged into 2nd place in the final section of the race in Taiwan. But they'll have their work cut out for them as they take on not only the rolling hills, stream crossings and the technical, pine-studded ridges of the southernmost part of the Appalachian Chain, but also the direct mental and physical challenges that will keep coming at them all day long from some in the best in the sport.
"I am looking forward to seeing what the US team makes for us in Oak Mountain. It'll be my first US race outside of Maui. I'm hungry for more," said Serrieres, winner of 16 of the last 18 XTERRA races he's competed at over the last two years.
This is another race that could easily be defined by the bike course, with 1,650+ feet of climbing, seven potentially slippery bridges to cross, and very few clear places to pass, so it'll come as a relief to some that Ruben 'the Boss' Ruzafa is not on the start list. But Jens Emil Sloth Nielsen and Sebastien Carabin are and they will for sure be setting the pace up front with Kiwi racer Sam Osborne who has claimed victory at the last two Oak Mountain full-distance races.
"My goal is to take the lead in the overall World Cup," said Sloth Nielsen. "I think the level will be very high, as it's clear that the points are ticking in."
Equally as spicy is the addition of local heroes Josiah and Sullivan Middaugh. Middaugh senior postponed his retirement to race the World Cup and has claimed five victories on this course while his son Sullivan, now part of USAT Project Podium, will likely come out firing on all cylinders.
"This is a unique venue with a little bit of everything. The trail system is second to none and will require a well-rounded mountain biker to do well. There is also a lot that can go wrong so expect the unexpected," said Josiah Middaugh.
Elite Men
Bib #/XTERRA World Cup Rank/Overall World Ranking – Name, NAT
1/3/6 – Jens Emil Sloth Nielsen, DEN
2/4/11 – Kieran McPherson, NZL
3/5/5 – Sebastien Carabin, BEL
4/6/18 – Michele Bonacina, ITA
5/7/1 – Arthur Serrieres, FRA
6/NR/9 – Sam Osborne, NZL
7/NR/10 – Josiah Middaugh, USA
8/NR/15 – Sullivan Middaugh, USA
10/NR/27 – Francisco Serrano, MEX
11/NR/45 – Eric Lagerstrom, USA
12/NR/69 – Elliot Bach, USA
14/NR/70 – Branden Rakita, USA
15/NR/73 – Xavier Plouffe, CAN
16/NR/77 – Edmond Roy, CAN
17/NR/78 – Steve Croucher, USA
18/NR/79 – Keller Norland, USA
19/NR/111 – John Wiygul, USA
20/NR/121 – Sam Teller, USA
21/NR/135 – Brian Summers, USA
22/NR/NR – Elliot Holtham, CAN
23/NR/NR – Steven Parker, USA
In the women's race, Paties starts as the series leader and after the performance she delivered in Taiwan it's likely that she will be in the top-contender conversation for some time to come. She is fit, powerful, and her technical skills on the bike are second to none. But if she comes out of the water with Solenne Billouin (pictured) it could be fireworks all day, just as it was in Stop #1.
"It's very nice to win and start the season this way. It was a surprise but not a surprise," said Paties.
There is also Loanne Duvoisin, for whom a victory in this series seems almost inevitable. She finished just seconds behind Billouin in Taiwan and looked as if she could go another round. Now, with another month of fitness behind her, she could be trouble for the leaders in all three sections of the race.
Rounding out the leading pack will be USA's own, Suzie Snyder, and New Zealand's Samantha Kingsford. Snyder put in a powerful performance in Taiwan to claim 6th place and has won Oak Mountain three times, while Kingsford is keen to prove her skill on a 'proper MTB course' and has already done so once before when she took the tape at the same venue in 2021.
"It's going to take a strong swim to be in the front pack and get onto the trails in the lead group, then a clean, strong mountain bike ride, and a fast run," said Snyder.
It's sure to be a big day out in Alabama, where mental and physical battles will continue from the first stroke to the last step and even spill over into the Short Track race the following day.
The adrenaline-fuelled Short Track race will be live streamed directly from between the tapes,bringing fans into the action as the same racers who battled it out the day before will go head to head once again in an all-out sprint across the condensed course. And with an additional 20 points at stake, the ST race could easily swing the balance of who comes out top at Stop #2 in the USA.
Full Coverage: https://www.xterraplanet.com/world-cup/oak-mountain
Elite Women
Bib #/XTERRA World Cup Rank/Overall World Ranking – Name, NAT
31/1/3 – Alizee Paties, FRA
32/2/1 – Solenne Billouin, FRA
33/3/4 – Loanne Duvoisin, SUI
34/6/16 – Suzie Snyder, USA
35/7/5 – Marta Menditto, ITA
36/10/22 – Lizzie Orchard, NZL
37/NR/6 – Samantha Kingsford, NZL
38/NR/33 – Katie Button, CAN
39/NR/35 – Carolyne Guay, CAN
40/NR/46 – Irena Ossola, USA
41/NR/54 – Katja Krenn, AUT
42/NR/56 – Emma Briggs, GBR
43/NR/62 – Nickie Luse, USA
44/NR/67 – Jessica Koltz, USA
45/NR/NR – Lisa Becharas, USA
46/NR/NR – Meghan Henry, USA
47/NR/NR – Rea Kolbl, USA
‍About the XTERRA World Cup
In 2023, for the first-time in XTERRA off-road triathlon history, the most compelling World Tour events from the EMEA, Americas, and Asia-Pacific regions will unite to create a premier series of events that will award roughly $350,000 to XTERRA's fastest professional athletes.
The seven-stop, 12-race XTERRA World Cup kicked off April 15, 2023 at the XTERRA Asia-Pacific Championship in Kenting, Taiwan, and will culminate September 24 at the XTERRA World Championship in Trentino, Italy.
In addition to seven traditional full-distance events that combine a 1.5-kilometer swim with approximately 30km of mountain biking and 10km of trail running, there are five fast and furious XTERRA Short Track races on the schedule that will be streamed live.
After round two at Oak Mountain, rounds 3-thru-5 are in the EU with the XTERRA European Championship in Namur, Belgium (June 10-11), followed by XTERRA Czech (August 12-13), and XTERRA Germany (August 18-19), and round six heads to the Rockies in Avon, Colorado for the XTERRA USA Championship (August 26).
To determine XTERRA World Cup Series Champions, elites will add their best four scores from the first six full-distance races with their best three Short Track scores and whatever they get (or don't get) at the XTERRA World Championship.
Learn more about the XTERRA World Cup at https://www.xterraplanet.com/world-cup.
About XTERRA
X marks the unknown. TERRA is earth. United, we are XTERRA – a brand born to discover unknown territory. Since our inception in 1996, XTERRA has been inspiring off-road adventure by connecting people with nature through events with a fun, family vibe. We offer 13 off-road race options, from triathlon-to-trail running, for participants of all ages and skill levels in 47 countries worldwide. We have a global perspective, we aspire to protect where we play, and live the XTERRA lifestyle everyday, everywhere we roam. Join us off-road at xterraplanet.com.