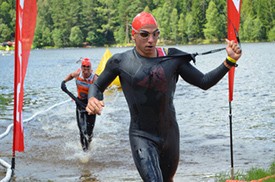 There are a lot of contenders in the elite men's field set for Saturday's XTERRA USA Championship race – Middaugh, Ruzafa, Hugo, Mendez, Allen, Weiss, Ignatz, Petry, Evans, Rakita - but of that impressive collection two names stand above the rest.
September 18, 2014 (Ogden, Utah) – There are a lot of contenders in the elite men's field set for Saturday's XTERRA USA Championship race – Middaugh, Ruzafa, Hugo, Mendez, Allen, Weiss, Ignatz,  Petry, Evans, Rakita – but of that impressive collection two names stand above the rest.
Middaugh and Ruzafa. The best in the U.S. vs. the best in Europe.
Last year at this race those two came off the bike together (along with Leo Chacon who eventually won) but Middaugh ran 30 seconds faster. The last three meetings, however, have all belonged to Ruzafa – from Maui where he won his second world title to this August at XTERRA Czech and XTERRA Germany where Middaugh finished runner-up each time. In Germany, Middaugh ran two-minutes faster but Ruzafa put away the win.
"I'd like to take the lead before the run on Saturday, but even if I don't, on this course I think I can run with Josiah," said Ruzafa. "I'm prepared to suffer, a lot."
Brad Weiss, ranked 2nd in the Pro Series and a contender in his own right, said "on the day the men to watch will be Ruzafa, Middaugh, Hugo and Allen but the man to beat will most definitely be Ruzafa who has yet to lose an XTERRA race this year."
Indeed, Ruzafa is perfect with seven straight wins on his way to collecting the XTERRA European Tour Championship crown.
"That amount of net elevation gain on the bike suits Ruzafa and Middaugh. I believe they will be hard to match, judging by recent Zittau form," said Dan Hugo, who handed Middaugh his only regional defeat in two years at the XTERRA East Championship in June. "The big Jo will get this one done. He's my favorite XTERRA athlete, a humble gentleman, fierce racer, and a family man with great perspective. He is the multiple world champion that is yet to be."
As for Middaugh, he says "The competition looks tough for Saturday. I  think Ruben will be the guy to beat but there will be some good racing all  around with Dan Hugo, Bradley Weiss, Ben Allen, and a group of strong  Americans. The course suits me well, but my strengths are very similar to Ruben's and we both thrive on tough courses."
Putting it all in perspective is Mauricio Mendez, the youngest elite in the field at just 18-years-old (who might just have the fastest swim and run times on Saturday).  He said "The man to beat…. I think is between Josiah and Ruben, but I'm sure that everyone is going for it."
WOMEN'S FIELD IS STACKED 
Flora Duffy has been dominant this season, winning all three regionals she entered and the XTERRA South Africa and Asia-Pacific Championships.  Her only blemish was a runner-up finish to XTERRA European Tour Champion Kathrin Mueller last month on a muddy day in Germany.
On Saturday she'll be in good company.  Consider  this, Lesley Paterson (defending champ), Duffy, Barbara Riveros, Emma Garrard,  and Chantell Widney finished 2nd thru 6th at XTERRA Worlds last year and  they're all here…along with Suzie Snyder, Shonny Vanlandingham, and Carina Wasle.
"With Lesley Paterson returning to the start line, I think all eyes are on her," said Duffy, a two-time Olympian from Bermuda. "Of course there is also Barbara Riveros, who I know is a good rider- an especially strong climber and runner, so she will be a heavy favorite too. Another to look out for is Emma Garrard. I think there are two races within next Saturday's USA Champs- the race to cross the line first and the series win."
Indeed. With a perfect 300 points heading into Saturday, Duffy needs to finish fourth or better to win her first XTERRA U.S. Pro Series title. Garrard is second in the Series standings with 270 points and could capture the crown with a win and a 5th or lower showing from Duffy.
"It feels pretty great to come into this race believing I can win the whole thing," said Garrard.  "I raced in Ogden for the first time in 2006, when it was the Mountain Championships. I was an age grouper and placed 4th in my division and was bummed out that I did not make it on the podium and had zero aspirations of being a professional athlete so I have come a long way. The majority of the pros I compete against in XTERRA had success from their first XTERRA, usually coming from ITU or pro mountain biking, but for me I worked my way up slowly through the age group  rankings and training specifically for XTERRA so I hope I can inspire other age  group athletes to pursue the sport."
Garrard, who is fresh-off her first big win at the XTERRA England Championship last month, is also the local favorite as the only elite in the field from the home state.
"It is a huge honor to have the XTERRA National Championships in my backyard and at altitude, and I have done my best to use it to my advantage. Specific training is key to be successful as an elite athlete in XTERRA and having the Nationals course close to home means I can train on the course and on similar trails and altitude close to home. I really like the course at Snowbasin and I believe it suits my strengths, it's got a lot of climbing, some fun descents and is beautiful especially in the fall, which can take your mind off the pain of racing or hard training. I loved getting to go and race in Europe for two weeks  and we rode some great trails but it really made me realize how lucky I am to  live and train in Utah, we have so much singletrack you will never get bored of riding the same trails," said Garrard.
"I feel much more relaxed and confident after getting a win under my belt at XTERRA England.  That being said I am coming into XTERRA USA Champs with higher expectations than last year but also more confident. Last year I really felt like I had something to prove after a lot of patience missing a season being pregnant and spending the most of 2013 trying to get back to where I was before I became a mom. I feel really fortunate to have had a good race last year, had it gone badly no one would have known. Some people feel more pressure being 'a favorite' or whatever but when you spend a lot of years being the only one  believing in yourself and often not living up to your own expectations it's actually feels like a weight off my shoulders."
QUOTES ON THE COURSE & VENUE…
"Utah is exceptionally stunning and the ideal venue to host the Grand Finale of the US series again this year. I can't wait to get back onto this demanding course to test myself against the best XTERRA athletes in the world," – Brad Weiss
"The course is super buff, it feels like a lot of the rock has been removed from the bike course so it will probably be a pretty fast ride. I like Utah because it's beautiful, especially this time of year with the changing colors, but even more so, the community is very active, the people here are friendly and inviting and have such great "Live More" attitudes!" – Suzie Snyder
"All the time climbing with a couple fun downhills. I like the color of the mountain here and the beautiful views," – Ruben Ruzafa
"A spectacular mountain side. Formidable landscapes. I hope the fall colors are in full saturation next weekend. It's a very visual place to race at." – Dan Hugo
"Having never raced in Ogden it is difficult for me to answer this question, but from what I have seen of the profile of the course- it looks hard! A lot of climbing which will favor the smaller, strong climbers. The run also has a lot of elevation gain, which means there will be nowhere to hide any weaknesses. It seems like a tough, honest course. Another factor to consider is the starting and finishing altitude. Lucky for me, I am based in Boulder, CO so the high altitude should not be an issue." – Flora Duffy
"I don't know much yet about the course, this will be my first year racing Nationals, but I know it's going to be good climbing almost all the time.  For sure a beautiful place and great views all around the course. It's amazing how all the sports and outdoor environment can create such a nice atmosphere." – Mauricio Mendez
"It is an amazing time of year to be in the Ogden area with the fall colors and perfect temperatures," – Josiah Middaugh
XTERRA USA CHAMPIONSHIP TRIATHLON COURSE STATS: 
Swim course:  1,500-meters (0.93 miles) Combines two 750-meter laps (no run in-between)  Elevation at Port Ramp Marina for swim start: 4,900-feet / Water temperature: Traditionally around 67 degrees Mountain bike course distance: 28-kilometers (17.7 miles) / Total climbing on  bike: 3,400-feet Elevation at highest point: 7,300-feet (where Sardine Peak Trail meets the  ridgeline)  Elevation at T2/Snowbasin Resort Lodge: 6,400-feet  Trail Run course distance: 10.4kilometers (6.47 miles) / Total climbing on run:  616-feet / Total climbing on course: 4,016-feet
XTERRA NATIONALS QUICK FACTS
WHO: More than 1,000 athletes from 45 states and 10 countries ages 9-to-76.
WHAT: The XTERRA USA Championship triathlon and XTERRA Utah short and long course tri's are on Saturday, plus kids races, clinics, and Ogden's annual Harvest Moon Celebration, and the XTERRA Trail Run National Championship half-marathon and 5k, 10k fun runs are on Sunday.
WHEN: Friday-Sunday, September 19-21, 2014
The XTERRA Expo is from 10am to 6pm on Friday in Ogden
The XTERRA USA Championship race starts at 9am Saturday
The XTERRA Trail Run Nationals race starts at 9am Sunday
WHERE: Ogden on Friday and Snowbasin Resort on Sat/Sun
WHY: Both the XTERRA Tri and Trail Run National Championship races are the culmination of 70-race nationwide series, that end with a best-of-the-best showdown in Utah.
TV: XTERRA TV is producing an hour-long, nationally broadcast television show on the USA Championship, highlighting Northern Utah as a mecca for outdoor adventure recreation. Watch last year's show right now at http://vimeo.com/84062339
WEBSITE: www.xterrautah.com 
Follow Saturday's race with live updates on twitter @xterraoffroad, #xterrautah starting at 9am MST
The 2014 XTERRA Nationals weekend is presented by the Utah Sports Commission, Paul Mitchell, and the XTERRA Live More Card. Sponsors include Snowbasin Resort, GOAL Foundation, Gatorade, PowerBar, ENVE, Utah Media Group, the U.S. Forest Service, XTERRA Wetsuits, Muscle Milk, Rockwell watches, XTERRA Fitness, LifeProof, XTERRA Coffee, Optic Nerve Sunglasses, Champion System, Greenlayer, and XTERRA Boards.
XTERRA USA CHAMPIONSHIP ELITES
Below is a look at the tentative elite start list for next Saturday's XTERRA USA Championship race.  Rank denotes current position in the 2014 XTERRA U.S. Pro Series.
TOP MEN
Rank – Name – Age,  Hometown
 – Josiah Middaugh – 36, Vail, CO
 – Bradley Weiss – 25, Cape Town, South Africa
 – Mauricio Mendez – 18, Mexico City, Mexico
 – Craig Evans -36, Hendersonville, TN
 – Dan Hugo – 29, Stellenbosch, South Africa
 – Branden Rakita – 33, Colorado Springs, CO
 – Ryan Ignatz – 35, Boulder, CO
 – Chris Ganter – 35, Boise, ID
 – Ryan Petry – 23, Boulder, CO
 – Alex Modestou – 27, Durham, NC
 – Jeff Smith – 31, Portland, OR
 – Brad Zoller – 36, Avon, CO
 – Cody Waite – Lakewood, CO
NR – Ben Allen – 29, Wollongong, Australia
NR – Rory Downie – 25, Scotland
NR – Andy Lee – 42, Lakeway, TX
NR – Ruben Ruzafa – 30, Malaga, Spain
NR – Louis Tafuto – 26, Glenwood Springs, CO
NR – Adam Wirth – 36, Boise, ID
NR – John O'Neill – 24, Edwards, Colorado
PRO WOMEN
Rank – Name – Age, Hometown
 – Flora Duffy – 27, Boulder, CO (Bermuda)
 – Emma Garrard – 33, Park City, UT
 – Suzie Snyder – 32, Fredericksburg, VA
 – Chantell Widney – 34, Edmonton, Alberta, Canada
 – Shonny Vanlandingham – 45, Durango, CO
 – Danelle Kabush – 39, Calgary, Alberta,Canada
 – Jaime Brede – 37, Breckenridge, CO
 – Kara LaPoint – 27, Truckee, CA
 – Amelia McCracken – 31, Philadelphia, PA
 – Debby Sullivan – 32, Rocklin, CA
 – Caroline Colonna – 50, Taos, NM
 – Rebecca Blatt – 34, Lakewood, CO
 – Catherine Sterling – 37, West Boylston, MA
 – Sara Schuler – 33, Boulder, CO
 – Maia Ignatz – 34, Boulder, CO
 – Kim Baugh – 34, Colorado Springs, CO
NR – Genevieve Evans – 41, Carnelian Bay, CA
NR – Lesley Paterson – 33, San Diego, CA
NR – Barbara Riveros – 27, La Pintana, Chile
NR - Susan Sloan – 32, Gauteng, South Africa
NR – Carina Wasle – 29, Kundl, Austria
Josiah Middaugh from Colorado, the reigning XTERRA U.S. Pro Series Champion and 9x National Champ. Winner of six of the last seven XTERRA regionals, and No. 1 ranked racer in this year's Pro Series. He finished ahead of Ruzafa in 2nd last year (behind winner Leo Chacon) and won Nationals in 2012.
Ruben Ruzafa from Spain, the reigning and two-time XTERRA World Champion, XTERRA European Tour Champion and ITU Cross Triathlon World  Champion.  Winner of eight straight majors. The last race he didn't win was here last year, when he finished third behind Leo Chacon and Josiah Middaugh.
Dan Hugo from South Africa, winner of seven XTERRA World Tour championship races on five continents this season, including the inaugural XTERRA Asia-Pacific Championship in Australia against a stacked international field. He was 5th here last year.
Brad Weiss from South Africa, who has had a breakout season finishing in the top four at nine XTERRA majors around the world this season.Weiss is ranked 2nd in the XTERRA U.S. Pro Series. He was 7th here last year.
Mauricio Mendez from Mexico, the 18-year-old sensation who has already established himself as one of the best swimmers and runners in the sport. He's ranked third in the Pro Series in his rookie season. This is his first time racing the XTERRA USA Championship.
Ben Allen from Australia, winner of nine XTERRA majors around the world in the last two seasons. Ben was third at XTERRA Worlds last year. He was 6th here last year.
TOP WOMEN
Flora Duffy from Bermuda, the two-time Olympian set her sights on XTERRA this year and nearly ran the table, winning championships at XTERRA South Africa, the Asia-Pacific Championship in Australia, and the West-Southeast-and-East regionals in the U.S. before finishing 2nd to Euro Tour Champ Kathrin Mueller at XTERRA Germany. This is her first time racing in Utah.
Lesley Paterson from Scotland, the two-time XTERRA World  Champion won the XTERRA USA Championship and XTERRA U.S. Pro Series last year but  has not raced (due to injury) since she chased down Flora Duffy in the finish chute to place 2nd at XTERRA Worlds last year.
Emma Garrard from Park City, Utah, the local favorite is having a career year and is fresh off her first major win at the XTERRA England Championship last month. She finished 2nd at four straight regionals in the U.S. and has been the top American female in the sport since this race last year. She was 4th here last year, top American.
Chantell Widney from Canada, winner of the XTERRA Mountain Championship in July. She was 3rd here last year and is ranked 4th in the Pro Series.
Suzie Snyder from Virginia, the 2012 XTERRA National Champion is ranked third in the XTERRA U.S. Pro Series. She was 7th here last year.
Shonny Vanlandingham from Colorado, the 2010 XTERRA World Champ is still running strong at 45-years-young. She captured the XTERRA Costa Rica Championship this year and is ranked 5th in the Pro Series. She was 9th here last year.
Carina Wasle from Austria, finished 3rd on the XTERRA European Tour this year and was 6th at this race last year.
Barbara Riveros from Chile, finished 2nd at this race last year and was 4th at Worlds. Won XTERRA New Zealand this year.
Of note, Lesley Paterson, Flora Duffy, Barbara Riveros, Emma Garrard, and Chantell Widney finished 2nd thru 6th at XTERRA Worlds last year (Nicky Samuels won it).
THE "BRAVEHEART" IS BACK!
It's been a tough year for XTERRA fans without Lesley Paterson in the line-up.  The "Scottish Rocket" – a beloved and dominate force in off-road triathlon – was forced to watch this season from the sidelines while battling with injuries and a nasty auto-immune disease (Lyme disease).
Paterson was on her way to a three-peat at XTERRA Worlds last year – having already captured the XTERRA U.S. Pro Series and USA Championship title in Utah – before Nicky Samuels spoiled those plans.  She was still able to chase down Flora Duffy in the finish chute to finish 2nd in Maui last October. And that was her last big XTERRA … until now.
The Braveheart is back, ready to tackle the rigors of sport once more and defend her USA Championship crown. There is no doubt Paterson embodies the spirit of a Scottish warrior, and she's needed every bit of that unrelenting fight just to get through this past year.
Here's how she explains it…
"How you feel is how you feel right? It's tough to compare yourself to others because how we feel is relative and as a professional athlete, the emphasis is always on suffering through, pushing the limits and overcoming adversities.
As I got back in to racing after I retired as a junior, I would frequently have bouts of nausea, fatigue and just general strange symptoms (muscle weakness, neurological ticks, etc.) I didn't think too much of these as all athletes have some kind of ailment given how much we push our bodies. After getting a bad parasite infection in 2010, the symptoms of nausea, fatigue and anxiety seemed to rise to a new level. I went on heavy antibiotics for a month and that seemed to clear things. After abusing the body again throughout the season with  tough training regimens, the neurological ticks got greater and my general  fatigue come in some pretty bad waves – and not your typical fatigue, almost  like having light doses of flu symptoms. A training partner suggested I get  tested for Lyme as her friend had suffered for years and was finally diagnosed  with it…I did, and low and behold I had it.
Now testing for Lyme disease is very contentious, in fact the entire disease is contentious. Google it and a whole host of crap will come up. Generally you contract it from a tick bite but given the length of time I've had these symptoms, the myriad of tests I took suggested I contracted it a long time ago and thus it had become a case of a chronic Lyme infection.
Lyme disease is a bacterial infection that hides itself with many other co-infections in the body. It pervades your entire system and is incredibly difficult to get rid of.  Symptoms are different for everyone – some people are completely bed ridden, some end up in wheelchairs, some are fine and don't notice it. Research and treatments are complicated, expensive and scientifically challenged.
What this  means for me – well it basically means that my immune system is compromised so  whenever I push it just a little too far, I can get my Lyme symptoms (ear ache,  sore throat, muscle aches, nausea, stiffness, anxiety). So it's a constant up and down such that when I feel amazing I really do feel amazing and when I feel shit, it ain't no fun at all! The 6-month injury I suffered from at the beginning of the season was definitely made exponentially worse by my Lyme disease. Given that muscle stiffness and nerve inflammation were the primary culprits of my injury (piriformis syndrome), these are the very things that Lyme disease causes.
I manage it well and it ultimately just makes me tougher….as I love to quote "be kind to those you meet because everyone is fighting a battle you know nothing about."