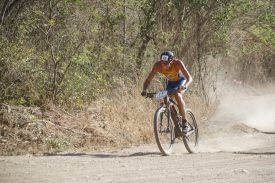 Hot and windy days greeted competitors at both XTERRA Argentina and XTERRA Costa Rica over the weekend. In San Juan, Kieran McPherson and Fabiola Corona emerged victorious, and in Guanacaste it was Rom Akerson and Kelli Montgomery.
XTERRA Pan Am Tour weekend wrap-up from races in Argentina, Costa Rica
Hot and windy days greeted competitors at both XTERRA Argentina and XTERRA Costa Rica over the weekend.  In San Juan, Kieran McPherson and Fabiola Corona emerged victorious, and in Guanacaste it was Rom Akerson and Kelli Montgomery.
XTERRA Argentina Recap
March 24, 2018 – Kieran McPherson from New Zealand and Fabiola Corona from Mexico captured the 3rd annual XTERRA Argentina off-road triathlon elite titles with winning times of 2:37:40 and 3:14:54, respectively, on a windy but wonderful day in San Juan, Argentina.
It's the second career XTERRA World Tour win for McPherson, who was victorious at XTERRA Thailand last season, and at least the fifth for Corona, who has been racing XTERRA since 2005 and won XTERRA Mexico four times in her career.
The day started out with a reminder for all racers that at XTERRA, Mother Nature is your toughest competitor.  On this day, it was in the form of heavy winds that turned the normally calm waters of Dique Ullum (the Ullum dam) into a stormy sea with white caps and rolling swells.
"The swim conditions were very difficult," explained U.S. elite Branden Rakita, who handled it better than anyone else and was the first man out of the water in 25:37. "The wind whipped up a very tough chop and white caps and certainly slowed the times down as two of the three legs of the swim we were fighting against the chop."
Last year's race winner Gonzalo Tellechea, a two-time Olympian and hometown hero, was next out of the water followed by McPherson about 30 seconds later.
"I was really hoping that with the rough conditions on the swim I would be able to separate myself and open up a good gap to everyone else on the bike," said Rakita.  "Gonzalo is a very good ITU athlete and I knew it would be difficult, but I had to try, and I knew Kieran has always been able to swim closer to me in non-wetsuit swims, so I just hoped I would be able to open up a bigger gap with the conditions."
The gap never materialized for Rakita.  Instead, both Tellechea and McPherson attacked early and often on the bike and caught and passed Rakita by the end of the first lap.
"The ride was incredible, for sure my new favorite on the circuit with sand traps, flowy berms, and technical rock sections," said McPherson, who posted the fastest bike split of the day and entered T2 roughly 15-seconds ahead of Tellechea and 30-seconds ahead of Rakita.
From there, the Kiwi and new Dad ran away with it, scrambling through the soft sand and rock river beds better than the rest (he posted the quickest split of the day in 44:42) to take the tape more than two-minutes ahead of Tellechea.
"I came out of transition hard and never looked back," he explained. "I know Gonzalo is finishing his ITU season and in his backyard here in San Juan and he would be tough to beat, but I managed to stay away for the win. It's my first win on the Pan Am Tour and first as a father, so pretty stoked."
Maxi Morales, another Argentinian standout, who was second here last year, bolted past Rakita halfway through the run to take the third spot on the podium.  Rakita held on for fourth, and Alejandro Sfriso from Argentina finished fifth.
| | | | | | | | |
| --- | --- | --- | --- | --- | --- | --- | --- |
| Pos | Name, NAT | Time | Points | Swim | Bike | Run | Prize |
| 1 | Kieran McPherson, NZL | 2:37:40 | 75 | 0:26:13 | 1:26:02 | 0:44:42 | $1,200 |
| 2 | Gonzalo Tellechea, ARG | 2:40:05 | 67 | 0:25:48 | 1:26:23 | 0:47:00 | $900 |
| 3 | Maximiliano Morales, ARG | 2:43:28 | 61 | 0:28:51 | 1:26:36 | 0:47:04 | $700 |
| 4 | Branden Rakita, USA | 2:46:53 | 56 | 0:25:37 | 1:27:58 | 0:52:29 | $550 |
| 5 | Alejandro Sfriso, ARG | 2:54:59 | 51 | 0:31:52 | 1:32:06 | 0:49:45 | $400 |
| 6 | Lucas Mendez, ARG | 2:57:19 | 47 | 0:28:24 | 1:32:20 | 0:55:53 | |
| 7 | Rafael Juriti, BRA | 2:57:59 | 43 | 0:28:32 | 1:33:22 | 0:55:02 | |
| 8 | Pericles Andrade, BRA | 3:52:56 | 39 | 0:45:57 | 1:49:57 | 1:15:18 | |
In the women's race it was all Corona, all day, as the former Olympian posted the fastest swim-bike-and-run times and crossed the line more than 12 minutes ahead of runner-up Anne-Sophie Marechal from Belgium.
"I am very happy, especially because the day did not start out well," exclaimed Corona.  "The swim was very rough, with the wind and waves, and before the start I was sad because it was declared a non-wetsuit swim for elites and I did not bring my speedsuit like everyone else.  But then, I felt really good in the water and had a great swim, I even passed a few elite men."
After a quick transition Corona took to the bike course "like a fish to water."
"This bike course suits me perfectly with great single track and technical sections," said Corona, who is also a former national duathlon champ.  "It's motocross style, a Disneyland for mountain bikers with ramps and up and downs like a roller coaster."
Corona said her strategy was to "die on the bike" in order to open a big gap on Allison Baca, who outran her to win XTERRA Chile last week.
"But then I did a fast T2 and decided to die also on the run part.  It was so unique.  Desert, rocks, cactus, sand, and it was hot.  I just decided to push harder and harder, to think I was crossing the Mojave Desert and Allison was on patrol trying to track me down," laughed Corona.
"I did not know how far back she was, but my mind and soul was in champion mode. I kept thinking, nobody stops me, this is my time, my moment, my Gold!"
Behind Corona was a good battle for the runner-up spot.  While Baca had the early jump out of the water, Marechal made her move on the bike and passed Baca with about six kilometers to go until transition and never looked back.
"After a disappointing race in Chile because of the flat tire I was a bit angry and wanted to have a much better race in Argentina," said Marechal.  "In my pre-race training I really enjoyed the course, so I knew I would race my best but have fun as well."
For Baca, who is still in the beginning of her mountain biking life, XTERRA Argentina provided another great learning experience.
"The bike was really tough, and I am really trying to improve my technical riding, but I still have some work to do," she said.  "The whoop sections were a lot of fun, but the loose sandy corners and the loose steep descents were super tough."
Local star Carolina Nieva, who was third last week at XTERRA Chile in her elite debut, couldn't overcome a dreadful swim that took her more than 40-minutes.  She came close to catching Baca, however, the reigning 25-29 division XTERRA World Champion ultimately settled for fourth.
| | | | | | | | |
| --- | --- | --- | --- | --- | --- | --- | --- |
| Pos | Name, NAT | Time | Points | Swim | Bike | Run | Prize |
| 1 | Fabiola Corona, MEX | 3:14:54 | 75 | 0:28:28 | 1:45:56 | 0:59:39 | $1,200 |
| 2 | Anne-Sophie Marechal, BEL | 3:27:16 | 67 | 0:33:22 | 1:52:47 | 0:59:53 | $900 |
| 3 | Allison Baca, USA | 3:31:25 | 61 | 0:29:27 | 1:57:12 | 1:03:18 | $700 |
| 4 | Carolina Nieva, ARG | 3:33:23 | 56 | 0:41:44 | 1:48:02 | 1:02:09 | $550 |
XTERRA Argentina was the second of 12-stops on the 2018 XTERRA Pan America Tour.  The third race is tomorrow, March 25, at XTERRA Costa Rica, which you can follow live on Facebook at 6am CST: https://www.facebook.com/XterraCostaRica/
ALL-TIME XTERRA ARGENTINA ELITE CHAMPIONS
2016 – Josiah Middaugh / Myriam Guillot-Boisset
2017 – Gonzalo Tellechea / Suzie Snyder
2018 – Kieran McPherson / Fabiola Corona
XTERRA Costa Rica Recap
March 25, 2018 – Rom Akerson from Costa Rica and Kelli Montgomery from the U.S. captured the 5th annual XTERRA Costa Rica off-road triathlon elite titles on a hot and windy day at Playa Reserva Conchal in Guanacaste.
It's the second Costa Rica win for Akerson (he also won in 2015) and the first XTERRA World Tour win as an elite for Montgomery, who was the 40-44 division XTERRA World Champ in 2014 before going pro.
In the men's race Canadian Karsten Madsen was first out of the water and on to the bike, followed closely behind by Akerson and American Ian King.
"That was really hard, by far the hottest race I've had to deal with," said Madsen after the race.  "I had two incredible athletes ahead of me, and I did everything I could to keep them behind me. Rom had a great swim, and he threw it down on the first beach part on the bike.  Then we went up the first climb together but the serge he put out there was on another level, and he got away."
Once in the lead Akerson never looked back and crossed the line in 2:12:13, more than four-minutes ahead of the reigning XTERRA Pan America Tour Champ Josiah Middaugh.
"It was an amazing race, and I had an amazing day," said Akerson, who missed almost all of 2017 due to injury.  His first XTERRA of 2017 was in Maui, where he finished 10th.  That race back in late October really signaled the start of a new racing season for Akerson, who was clearly in race shape for this early season showdown.
"I've been doing a lot of mountain bike racing, and triathlons, and cross country running," he said. "I already have six, seven races in the books over the last couple months, and I've been training a lot under hot conditions like we had today."
In 2016 Akerson, a 12-year veteran of XTERRA racing, won XTERRA Dominican Republic and XTERRA Mexico and finished runner-up to Middaugh in the XTERRA Pan Am Tour elite standings. He has a healthy amount of respect for both Madsen, Canada's best off-roader, and Middaugh, a long-time rival.
"They made me push all the way to the finish line," said Akerson. "I suffered in the swim, suffered on the bike, and ran with everything I had.  It was amazing. Everything came together for me and I had a really good day."
As for Middaugh, who came straight from the snowy Rocky Mountains in Colorado, there were no excuses.
"I actually felt good, but not as good as Rom," smiled Middaugh.  "He was on fire and impossible to catch, just on a different level today.  I think I needed to be no more than one-minute, 30-seconds behind him out of water to make a race of it, and I couldn't do that today.  But I had a good day, no problems, and I felt pretty strong."
Middaugh was fifth out of the water roughly three minutes back of the leaders and caught Madsen on the bike to move into the second position at about mile 12 of the bike but said "by that time Rom was long gone. I saw him heading out on the run as I was coming in on the bike and he was still holding a big gap.  I always hold out hope that something can happen on the run, so I kept the pressure, but never saw Rom again."
A pair of local pros, Luis Piedra and Federico Venegas, finished fourth and fifth and Humberto Rivera finished sixth in his elite debut.
| | | | |
| --- | --- | --- | --- |
| Pos | Name, NAT | Time | Points |
| 1 | Rom Akerson, CRC | 2:12:13 | 75 |
| 2 | Josiah Middaugh, USA | 2:16:51 | 67 |
| 3 | Karsten Madsen, CAN | 2:19:16 | 61 |
| 4 | Luis Piedra, CRC | 2:26:15 | 56 |
| 5 | Federico Venegas, CRC | 2:28:30 | 51 |
| 6 | Humberto Rivera, USA | 2:31:53 | 47 |
| 7 | Andres Zuniga, CRC | 2:34:20 | 43 |
| 8 | Harold Ramos, CRC | 2:39:25 | 39 |
| 9 | Ian King, USA | 2:39:27 | 36 |
In the women's race super swimmer Jessie Koltz was first out of the water, followed by Adilia Jimenez and Kelli Montgomery, but the lead didn't last long.
"The swim was easy for me, and I didn't burn a lot of energy as I was hoping to be fresh for the bike, but the bike was tough," said Koltz.  "I lost the two girls right out of transition on the sand part and never saw them again."
Montgomery came out of the water in third position but posted the fastest bike split of the day and once she got passed Jimenez on the first downhill of the bike, held the lead through to the finish.
"I loved it.  It was hard, hot.  A beautiful course with lots of challenges," said Montgomery, who finished 2nd at XTERRA Thailand last year.  "I do a lot of cyclocross in the winter, and that helped get me through the sandy sections on the bike."
It was an impressive result for Montgomery, who hails from Connecticut and came straight from riding in the snow to riding in the sand just like Middaugh.
"The sand was tough, especially the last part on the sand during the run" she said.  "Beyond just the race, I'm here in Costa Rica with my husband and we're having a great time, and I am very excited to win my first XTERRA pro race today."
Finishing in second was Jimenez, who was the top overall amateur female at XTERRA Costa Rica last year and jumped into the elite ranks this year.
"It was a beautiful experience," said Jimenez.
In third was Koltz, who marveled at the jungle environment in the reserve where the run takes place.
"I saw a lot of animals today," she exclaimed. "Fish, snakes, monkeys, iguanas, all kinds of different bird noises.  It was magical.  So fun to be in a tropical jungle for a race.  Just a great venue, with great hospitality and friendly people all around.  I love it here."
| | | | |
| --- | --- | --- | --- |
| Pos | Name, NAT | Time | Points |
| 1 | Kelli Montgomery, USA | 3:01:02 | 75 |
| 2 | Adilia Jimenez, CRC | 3:07:34 | 67 |
| 3 | Jessie Koltz, USA | 3:12:49 | 61 |
| 4 | Rebecca Blatt, USA | 3:52:40 | 56 |
All-Time XTERRA Costa Rica Champions
2014 – Leonardo Chacon/Shonny Vanlandingham
2015 – Rom Akerson/Lesley Paterson
2016 – Karl Shaw/Myriam Guillot-Boisset
2017 – Josiah Middaugh/Suzie Snyder
2018 – Rom Akerson/Kelli Montgomery
Learn more about the XTERRA Pan America Tour at xterraplanet.com.
Twitter: @xterraoffroad / Instagram: @xterraoffroad / Facebook: /XTERRAPlanet
MCPHERSON, CORONA HOLD EARLY LEAD IN PAN AM TOUR
With runner-up showings at XTERRA Chile and wins in Argentina, Kieran McPherson and Fabiola Corona are the early leaders in the men's and women's Pan Am Tour elite standings after the first three of 12 events.
Next up: XTERRA Uruguay, May 5, at Punta del Este
2018 XTERRA PAN AM ELITE STANDINGS
After 3 – 3.25.18
ELITE MEN
PL
NAME, NAT
CHI
ARG
CRC
TOT
1
Kieran McPherson, NZL
67
75
DNS
142
2
Branden Rakita, USA
61
56
DNS
117
3
Maximiliano Morales, ARG
56
61
DNS
117
4
Rafael Juriti, BRA
51
43
DNS
94
5
Mauricio Mendez, MEX
75
DNS
DNS
75
6
Rom Akerson, CRC
DNS
DNS
75
75
7
Gonzalo Tellechea, ARG
DNS
67
DNS
67
8
Josiah Middaugh, USA
DNS
DNS
67
67
9
Karsten Madsen, CAN
DNS
DNS
61
61
10
Luis Piedra, CRC
DNS
DNS
56
56
11
Alejandro Sfriso, ARG
DNS
51
DNS
51
12
Federico Venegas, CRC
DNS
DNS
51
51
13
Gustavo Torres, CHI
47
DNS
DNS
47
14
Lucas Mendez, ARG
DNS
47
DNS
47
15
Humberto Rivera, USA
DNS
DNS
47
47
16
Andres Zuniga, CRC
DNS
DNS
43
43
17
Pericles Andrade, BRA
DNS
39
DNS
39
18
Harold Ramos, CRC
DNS
DNS
39
39
19
Ian King, USA
DNS
DNS
36
36
ELITE WOMEN
PL
NAME, NAT
CHI
ARG
CRC
TOT
1
Fabiola Corona, MEX
67
75
DNS
142
2
Allison Bacca, USA
75
61
DNS
136
3
Anne-Sophie Marechal, BEL
56
67
DNS
123
4
Carolina Nieva, ARG
61
56
DNS
117
5
Kelli Montgomery, USA
DNS
DNS
75
75
6
Adilia Jimenez, CRC
DNS
DNS
67
67
7
Jessie Koltz, USA
DNS
DNS
61
61
8
Rebecca Blatt, USA
DNS
DNS
56
56