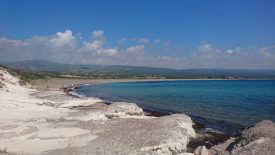 The definition of XTERRA can be loosely interpreted to mean "discovering unknown territory." For the XTERRA Tribe, this weekend's inaugural adventures into XTERRA Cyprus and XTERRA Danao will provide brand new adventures in two truly spectacular destinations.
The definition of XTERRA can be loosely interpreted to mean "discovering unknown territory."  For the XTERRA Tribe, this weekend's inaugural adventures into XTERRA Cyprus and XTERRA Danao will provide brand new adventures in two truly spectacular destinations.
ASIA-PACIFIC TOUR STARS ALL-IN FOR DANAO
All the stars on the XTERRA Asia-Pacific Tour are headed to Danao in the Cebu province of the Philippines for the fourth-race of the Series this Sunday, April 23.
In the men's race XTERRA Saipan and New Zealand Champion Sam Osborne, XTERRA Thailand Champ Kieran McPherson, the reigning XTERRA Asia-Pacific Tour Champ Ben Allen, the reigning XTERRA Philippines Champ Bradley Weiss, the 2016 XTERRA Motatapu Champ Olly Shaw, the 2016 XTERRA Saipan Champ Brodie Gardner, former XTERRA Japan champ Takahiro Ogasawara, and the fastest Filipino in XTERRA Joe Miller will all be on the start line.  Not to mention Will Kelsay, Alex Roberts, Dan Brown, and Taylor Charlton.
"It's great to have such a competitive Asia-Pacific Tour, although I've made it even harder for myself personally with life changing moments occurring during the offseason," said Allen, who married fellow XTERRA Warrior Jacqui Slack last month just before the Tour started.  "You can't leave a stone unturned this day and age, it's becoming a battle and making mistakes are costly. A race going to plan with luck is the key to success on the Tour."
One man that's had great success so far this year has been Sam Osborne, now a local hero in his hometown of Rotorua, New Zealand.
"It's been crazy since XTERRA here in Rotorua, it's something I've wanted and put a lot into and the support here at home has been amazing," exclaimed Osborne.  "I've pulled up well since then and got back into my normal routine pretty quick so happy with how things are going.
When asked what his key to success has been, Osborne said "Have you ever seen Kung Fu Panda? What's the secret ingredient to the secret ingredient soup…? I've got a good crew here at home who are as keen to get out in the bush & in the water as I am and we have fun, "Chop wood, carry water."
As for the course, Allen says "The Danao course is a different beast, it's unknown to all international athletes so the only one with the advantage is Joe Miller! (watch Joe's course preview here).  I'm really excited for a number of reasons and I'm sure Sunrise events will have a few surprises for us as they always do. The sport is evolving in the Philippines and it's great to see more passionate people trying XTERRA."
In the women's race, it's a showdown between XTERRA New Zealand Champion Jacqui Allen and XTERRA Reunion Champ Carina Wasle, with emerging talents Penny Slater and Jessica Koltz adding intrigue.
"I'm still on a high since XTERRA New Zealand," said (Jacqui) Allen.  "I was so happy with my overall performance and now even more excited to tow the start line in the Philippines. I've raced XTERRA Philippines five times now and had three runner-up positions, so hopefully this Sunday might be my turn to take the top step. I love here, Sunrise always offers such a wonderful race experience. It's a new course, new race location, so not too sure what to expect but I like it that way."
As for Wasle, she has more than just Jacqui Allen to worry about.
"Unfortunately, I broke my little toe at the swim start at the race in Reunion," she explained.  "At the moment I can't run, so hope it will get better the next few days because right now my foot doesn't fit into a running shoe!"
Still, broken toe or not, Wasle has already been out pre-riding the course.
"It is very hot and humid here," she said.  "I just pre-rode one-loop of the bike course. It's lots of very steep climbing, sometimes pushing the bike, rocky singletrails and crazy hot out there. It's one of the toughest courses I have been on and its very long. I think it will take me nearly four hours to finish this race."
Learn more at xterradanao.com.
XTERRA CYPRUS DEBUT
Also on Sunday, the XTERRA European Tour finds itself in the most southern and eastern part of Europe on the ancient island of Cyprus for the inaugural XTERRA Cyprus off-road triathlon. It's the second of 15 stops on this year's tour and promises to provide an experience like no other for the XTERRA Tribe.
"Our event is in the Paphos district," explained XTERRA World Tour managing director Dave Nicholas. "Coastal Paphos is famed for its archaeological sites relating to the cult of Aphrodite, including ruins of palaces, tombs, and mosaic-tiled villas."
A dozen of XTERRA's best off-roaders will be in Cyprus to welcome the new venue, led by the reigning XTERRA Poland Champion Yeray Luxem for the men and the reigning XTERRA European Tour women's champion Brigitta Poor for the women.
Both will have plenty of competition. For Luxem, it's Francois Carloni, Hannes Wolpert, Thomas Kerner, Stephan Radeck, Sebastian Neef, Julian Buffe, and Oivind Bjerkseth. For Poor, its Morgane Riou, Daz Parker, and Cecilia Jessen.
"There is no doubt Brigitta is the favorite," said Nico Lebrun, XTERRA European Tour director. "She was in perfect shape in Malta and able to beat the very strong Helena Erbenova. Her main opponent in Cyprus will be Morgane Riou, who was twice on the podium at XTERRA Argentina and Chile and was 5th last year on the Euro Tour. Morgane has improved a lot and this is a good test for her shape in front of the last year Euro Tour winner."
Cecilia Jessen was 8th at XTERRA Malta and will likely go toe-to-toe for the podium with Daz Parker, who works as a stunt woman when she's not racing.
"On the men side, I think we will see a battle between Luxem and Carloni," said Lebrun. "Carloni was strong in Malta and I bet he will finish the bike leading the race, but he will need more than two-minutes on Luxem to stay in the front and capture his second XTERRA title after Greece in 2015. Luxem, after winning his first major in Poland last year, should be more relaxed and motivated."
For a place on the podium, Lebrun bets on Wolpert, and says Kerner should also be in good shape, "according to what he was posting on Facebook during the winter J."
Julien Buffe, who already raced twice on the XTERRA Pan Am Tour, will likely be the first man out of the water and if he has a good day, could find himself in the top five.
Norwegian Oivind Bjerkseth, who was 10th at XTERRA Malta, and Stephane Radeck, 13th in Malta, can move up high in the XTERRA European Tour rankings with a good race in Cyprus.
"As we are still at the start of the season and there are 13 races to follow, certainly things will change in the standings," said Lebrun. "However, with this year's new theme "Every Race Counts" every point matters for these racers."
Read more.
About TEAM Unlimited/XTERRA
TEAM Unlimited LLC, founded in 1988, is the Hawaii-based television, events, and marketing company that brought off-road triathlon and trail running to the world under the brand name XTERRA.  From a one-off race held on the most remote island chain in the world XTERRA evolved into an endurance sports lifestyle with worldwide appeal. Over the past 20 years XTERRA transcended its status as 'just a race' to become a bona-fide way of life for thousands of intrepid athletes as well as an emerging brand in the outdoor industry.  In 2017 XTERRA will offer more than 200 off-road triathlons and trail running events in 33+ countries worldwide and produce 10 adventure television shows for international distribution.  Learn more at xterraplanet.com and xterracontent.com.