XLAB Signs 70.3 World Champion Daniela Ryf
November 17, 2014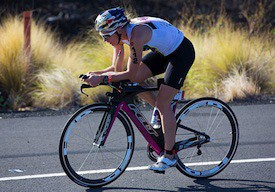 And second place finisher at IRONMAN®¬ World Championship in Kona.
SAN DIEGO, California – November 17th, 2014 – XLAB, a leader in aerodynamic hydration, repair & nutrition storage systems, is pleased to announce a multi-year partnership with Daniela Ryf. The 2014 70.3 World Champion and second place finisher at the 2014 IRONMAN®­World Championship in Kona will exclusively use XLAB products for her aerodynamic bike storage needs.
Daniela Ryf has proven she is a dominating triathlete with her numerous wins already this year. Her first venture into the long distance race length proved to be successful with a win at IRONMAN Switzerland. She followed that race with a successful attempt at defending her 70.3 European Champion title and then another long distance win, this time at IRONMAN Copenhagen. Daniela's focus turned to World Championships where she was proclaimed the 2014 IRONMAN 70.3 World Champion. All eyes then turned towards Kona and flowing curiosity began on how well Daniela would do on a race course that can belittle even the strongest. With a dominating bike split thanks to her Felt Bicycles IA and her XLAB Torpedo System 400 holding her hydration, Daniela placed 2nd in her first ever IRONMAN World Championship race. If all eyes weren't on Daniela before, they are now.
Sporting the XLAB Torpedo System 400 in all of those wins and successes, this new partnership will ensure Daniela stays in front of her competition.
"I'm looking forward to receiving next to my RedBull wings, a second pair of XLAB wings, so I can ride fast like a Torpedo," says Daniela.
XLAB's Chief Operating Officer, Candice Turner is looking forward to what the partnership will bring as well. "XLAB is extremely excited to welcome Daniela Ryf to our amazing group of XLAB Champions.  Following her successful 2013 and 2014 race seasons, we knew that she would be a welcome addition to the XLAB family. Daniela not only impresses her fellow professional athletes with her powerhouse athleticism, but inspires a younger generation of triathletes to follow their dreams and make their dreams a reality."
This partnership formulates a winning combination of two strong forces; XLAB, a brand that is known to be at the forefront of innovation in the storage accessory market, and Daniela, a powerhouse athlete on her way to becoming a legend in this inspirational sport.
About XLAB USA
XLAB has been an innovator and important part of the triathlon industry for 20 years, helping athletes win 27 World Championships. Our engineers passionately design, analyze and test the hydration, nutrition & repair and storage systems allowing for extremely light and yet extraordinarily reliable products that are unmatched in design, technology and style. For more information about XLAB, visit www.XLAB-USA.com.