World's Toughest Mudder Record Shattered in Laughlin, Nev.
November 16, 2021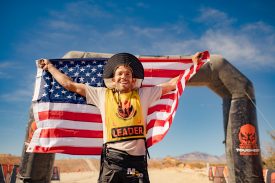 First Place Men's Podium Finisher Mark Batres Completes 115 Miles at the Most Extreme 24-Hour Obstacle Course on the Planet
BOSTON, Mass. /ENDURANCE SPORTSWIRE/ – Tough Mudder, the global leader in obstacle course adventures, announced the results of its World's Toughest Mudder event in Laughlin Nev., including a new World's Toughest Mudder record of 115 miles set by first place men's podium finisher Mark Batres.
The tenth running of the event took place on Nov. 13 & 14 in Laughlin, Nev., drawing more than 1,300 participants, pit crew members and spectators from countries around the world including the U.S., Canada, Mexico, Singapore, Great Britain, Germany, Denmark and the U.S. Minor Outlying Islands.
Tough Mudder awarded $10,000 to the top female and male finishers, $5,000 to the second place finishers and $2,000 to the third place finishers:
Men's Podium Finishers
Mark Batres: completed 115 miles in 24:18:57
Trevor Cichosz: completed 110 miles in 24:01:14
David Fox: completed 105 miles in 23:55:11
Women's Podium Finishers
Katie Knight: completed 90 miles in 24:04:20
Amelia Boone: completed 85 miles in 23:42:22
Erin Rost: completed 85 miles in 24:59:32
"We always level-up the Tough Mudder experience for our World's Toughest Mudder event, with new variations on obstacles and extra surprises along the way," said Tough Mudder CEO Kyle McLaughlin. "This year's course in Laughlin, Nev. was especially difficult, with technical trail running, steep hills and deep sand that challenged all of our athletes. We're so proud of everyone who came out this weekend, braved the course and conditions and worked together to achieve their goals."
Tough Mudder also announced today that its 2022 World's Toughest Mudder event will be hosted in the Gulf Coast of Florida. For more information about the event, please visit toughmudder.com.
About Tough Mudder
Founded in 2010 with the launch of the Tough Mudder obstacle course event series, Tough Mudder is a leading global sports and active lifestyle brand, now part of the Spartan global family of extreme endurance properties. With more than 6 million participants, the company hosts more than 130 challenges (Tough Mudder Kids, Tough Mudder 5K and Tough Mudder Classic) and endurance (Tougher Mudder, Toughest Mudder and World's Toughest Mudder) events annually in 19 countries. The company's content studio provides millions of engaged online brand enthusiasts with wellness, nutrition and inspiring content delivered daily across social and digital platforms. Tough Mudder's brand of teamwork-based challenge events and digital fitness experiences are unique in the endurance and obstacle course industries, and over 500,000 new participants are welcomed to the global Tough Mudder community every year. For more information visit www.toughmudder.com.
Contacts:
Emily Escovar: emily.escovar@toughmudder.com