World Champions Crowned in London
October 4, 2021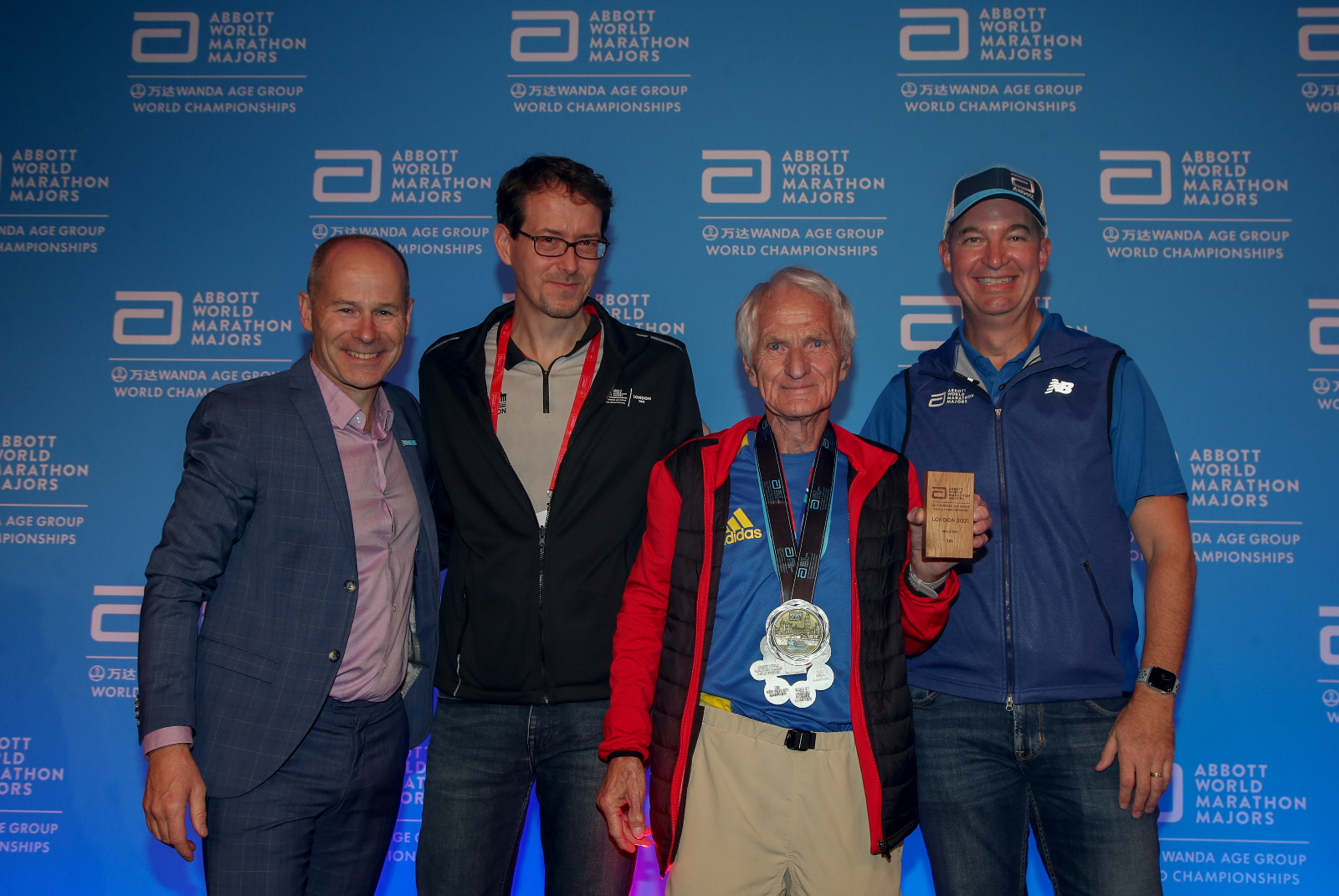 Inaugural AbbottWMM Wanda Age Group World Championships produced a flurry of fast times
More than 3,300 World Championship finishers from 82 countries
World's most competitive marathon lineup ever
The inaugural AbbottWMM Wanda Age Group World Championships took place as part of the 41st Virgin Money London Marathon today with World Champion status the goal for more than 3,300 runners.
The camaraderie between these runners showed the true spirit of the marathon community while they also proved that the desire to win and the talent in marathon running does not diminish for those aged 40 and above.
Tim Hadzima, Executive Director for the Abbott World Marathon Majors said: "Congratulations to all our World Champions! What an amazing display of age group running we have witnessed in London today – it has really set the benchmark for future AbbottWMM Wanda Age Group World Championships.
"We hope that today's performances will inspire other runners to take part in our global calendar of qualifying events so they can compete for World Champion glory next year and beyond."
Hugh Brasher, Event Director of the Virgin Money London Marathon, said: "Sunday was a landmark day for the Abbott World Marathon Majors with the inaugural Wanda Age Group World Championships. These age group athletes are inspiring in their performances. They show that age is no barrier to achievement and they embody the spirit of the Abbott World Marathon Majors community."
The weather were kind to the speedy runners who enjoyed a dry day with sunny spells before an unexpected rain shower later in the day.
John Zeng, Chairman of Wanda Sports Group, said: "Wanda is proud to support the inaugural AbbottWMM Wanda Age Group World Championships. As a company we are strong believers in physical activity and exercise playing a huge role in every stage of life. For that reason we're delighted to recognize the achievements of athletes across a wide selection of age groups during this year's London Marathon".
Chris Miller, DVP, Global Brand Strategy and Innovation, Abbott, added: "Marathoners embody the idea that at our healthiest, we can accomplish amazing things. We're pleased to recognize these men and women for their performance in Sunday's race. They're a testament that with good health and determination peak performance is possible at any age."
The top three in each age category received a trophy with many being presented at a celebratory function to recognize their achievements.
Stand-out performances included the battle for top honors in the women's 70-74 category. Yuko Gordon (GBR), who competed in the 1984 Los Angeles Olympic Marathon was victorious in 3:25:30 while her age-group rival Jeannie Rice (USA) claimed third place in 3:38:38. Sharon Smith (GBR) split them with a 3:32:24 performance.
Yuko Gordon said: "I go out to win every race. Today wasn't my best performance, it was a tough course but I am very happy to have won my age category."
Jeannie Rice said: "The Age Group World Championships were fabulous. London was incredible and I enjoyed the whole marathon very much. I can't wait until next time."
Irishman Tommy Hughes, won the men's 60-64 category with a 20 minute margin (2:30:46), Agapito Gaytan (USA) and Paul Crochiere (USA) coming second and third respectively.
And in the men's 80+ category, Gerry Miller of Canada, aged 84, received the top award to rapturous applause from his fellow runners at the awards ceremony.
Gerry Miller said: "I am very blessed to be able to run and to be part of this wonderful, compassionate group of runners.
"Running allows me to overcome all the things that are not so perfect in the world. It allows me to relax and be in the moment, and that is life. We all just need to enjoy the run."
The momentum of the inaugural event now continues into the final qualifying races of 2021 which will lead to runners earning a place in the 2022 AbbottWMM Wanda Age Group World Championships.
Full list of AbbottWMM Wanda Age Group World Championships Results can be found HERE
– END- 
For media inquiries, please contact:
Lorna Campbell
Head of Communications, Abbott World Marathon Majors
ABOUT ABBOTT WORLD MARATHON MAJORS
The Abbott World Marathon Majors (AbbottWMM) is a series of six of the largest and most renowned marathons in the world – Tokyo Marathon, B.A.A. Boston Marathon, Virgin Money London Marathon, BMW BERLIN-MARATHON, Bank of America Chicago Marathon and TCS New York City Marathon.
Encompassing an annual series for elite runners and elite wheelchair athletes, AbbottWMM also applauds the achievements and passion of everyday champions from around the world. The AbbottWMM Six Star System is an online results hub that celebrates every runner who has completed from one to six of the races in the series and encourages them to 'Reach for the Stars'.
The AbbottWMM launched the AbbottWMM Wanda Age Group World Rankings in 2018 and the first AbbottWMM Wanda Age Group World Championship race will take place on 03 October, 2021 (postponed due to COVID-19) as part of the Virgin Money London Marathon.
The AbbottWMM Global Run Club launched in August 2020 and aims to bring together the global community of marathon runners on a virtual platform.
For more information, visit www.Abbottwmm.com
ABOUT ABBOTT
Abbott is a global healthcare leader that helps people live more fully at all stages of life. Our portfolio of life-changing technologies spans the spectrum of healthcare, with leading businesses and products in diagnostics, medical devices, nutritionals and branded generic medicines. Our 109,000 colleagues serve people in more than 160 countries.
Connect with us at www.abbott.com, on LinkedIn at www.linkedin.com/company/abbott-/, on Facebook at www.facebook.com/Abbott and on Twitter @AbbottNews.
ABOUT WANDA SPORTS GROUP
Wanda Sports Group is a leading global sports events, media and marketing platform with significant intellectual property rights, long-term relationships and broad execution capabilities through which to create value for stakeholders in all parts of the sports ecosystem, from rights owners, to brands and advertisers, and to fans and athletes. Wanda Sports Group owns, or otherwise have contractual rights to, an extensive portfolio of global, regional and national sports properties from which to generate revenue across the value chain, including events operation, media production and media distribution, sponsorship and marketing, digital solutions and ancillary services.
Wanda Sports Group has combined the strengths of Infront and Wanda Sports China businesses and formed a global sports event portfolio built principally around the strength of globally recognized brands and related intellectual property.
Connect with us at www.wandasports.com