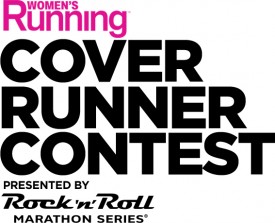 Submissions to enter the 2016 Women's Running Cover Runner Contest are open until Sept. 28
SAN DIEGO – September 18, 2015 — The third annual Women's Running Cover Runner Contest presented by the Rock 'n' Roll Marathon Series is searching for a real runner to appear on its January/February 2016 cover.
Women's Running, the magazine that featured the first regular-sized runner on a fitness magazine cover, is accepting submissions and nominations for its Cover Runner Contest now through Sept. 28, at which point eight finalists will be selected. Public voting will open from Sept. 30 to Oct. 16 to allow the community to choose the winner from the eight finalists.
The winner will be flown to the Rock 'n' Roll Marathon Series headquarters in San Diego, Calif., for a professional photo shoot, a new running wardrobe and some fun with the Women's Running editorial team. The winner will also receive a Rock 'n' Roll Marathon Series TourPass 3-Pack good for entry into any three Rock 'n' Roll Marathon Series races in 2016.
"The goal here is to celebrate ALL runners regardless of their speed, experience, shape, size, age, height, location, etc.," said Jessica Sebor, editor-in-chief of Women's Running. "Every woman we feature in our magazine is passionate about running, but this contest is a special way to showcase everyday runners and celebrate our readers."
Past Cover Runner Contest winners include Lindsey Hein and Dorothy Beal. Hein entered the 2014 contest with the hopes of raising awareness about the BRCA2 gene mutation after undergoing a double mastectomy in 2013. Hein is a marathon runner and was pregnant for the photo shoot. Beal is a mother of three, a writer and blogger, who now regularly contributes to Women's Running online.
To enter the Women's Running Cover Runner Contest presented by the Rock 'n' Roll Marathon Series, please visit: womensrunning.com/cover-runner-contest.
DOWNLOADS:
About Women's Running
Women's Running, the world's largest women-specific running magazine, covers all aspects of the running lifestyle, from active beauty needs to training plans. The Women's Running mission is simple: to create a high-quality magazine for smart, successful women who use running to balance and enrich their lives. Women's Running features quality editorial that motivates women to train intelligently, participate in active travel, adopt healthy nutrition habits and keep moving. Women's Running is distributed at over 4,000 retailers including Barnes & Noble, Borders, REI, Dick's Sporting Goods, Eastern Mountain Sports, and other independent, specialty retailers. Visit womensrunning.com to subscribe and stay up-to-date on the latest running news and trends.