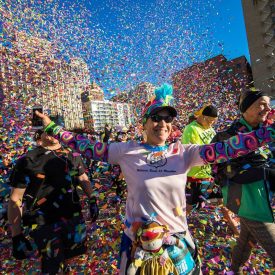 (Tulsa, OK)– The results are in, and the Williams Route 66 Marathon has been recognized by RaceRaves as the top marathon in Oklahoma.
RaceRaves, the leading online race finder and reviews community for runners, recently announced the winners of its "Best Marathons in the U.S." poll. The top race in each state was selected based on votes from  thousands of runners across the country, along with reviews and ratings on RaceRaves.com. More than a laundry list, the handy "who's who" guide will help first-timers and seasoned marathoners alike build their all-star marathon wish list.
Common themes among the winning events included exceptional production and on-course support, strong community involvement, and a scenic marathon course that showcases the beauty and attractions of the local  region.
"The Williams Route 66 Marathon is honored to be named RaceRaves' 'Best Marathon in Oklahoma,'" said Executive Director Destiny Green. "We have always emphasized putting our participants first and promoting a positive, inclusive, and most importantly, fun race environment! We greatly appreciate the recognition and will continue to work hard to make the Williams Route 66 Marathon better every year!"
Oklahoma's biggest block party, the Williams Route 66 Marathon, is 26.2-miles of fun! Reviewers on RaceRaves love every step, from the confetti cannon that starts you off "feeling like you can conquer the world" to the "continuous hills" and "amazing community support" that make you "feel like a rock star when you cross the finish line." The race weekend is packed full of exciting events, from the Health and Fitness Expo on Friday and Saturday to Saturday's 5k Run and Walk and the One-Mile Fun Run and Walk and Sunday's Marathon, Half Marathon, and Marathon Relay. As a bonus, marathoners can take the Center of the Universe Detour to earn a unique inlaid coin and complete the World's Shortest Ultramarathon. All finishers are presented with an award-winning medal inspired by the classic hood ornaments of the Route 66 automobile era.
"This initiative was born out of our passion and commitment to help runners discover the best races across the country." said RaceRaves Co-founder Mike Sohaskey. "We're thrilled at the enthusiastic response from runners nationwide, and we congratulate each of these first-class events on this well-deserved recognition."
The complete list of winning marathons by state is available on RaceRaves.com.
About the Williams Route 66 Marathon
Since 2006, the Williams Route 66 Marathon has hosted a world-class marathon weekend in the heart of Tulsa. Now in its thirteenth year, the event has grown into "Oklahoma's biggest block party" featuring a marathon, half marathon, marathon relay, 5k run and walk, one-mile fun run, mascot dash, and Health, Fitness & Sustainability Expo. The 2018 events will be held November 16-18, 2018. With a focus on fun, the event offers participants spectator support that is unparalleled in its class; it's not uncommon for neighborhoods along the course to host their own unofficial aid stations and block parties to welcome the runners! The race also offers award-winning finisher medals and race premiums that are inspired by the classic cars from the Route 66 automobile era. Named a "Must Do Fall Race" by Runner's World magazine, the Route 66 Marathon is truly a 26.2-mile long party. The event brings more than 12,000 runners to the Tulsa area from all 50 states and over 10 countries each year and has an estimated economic impact of over eight million dollars. Runners who complete the Center of the Universe Detour, which adds an extra 0.3-mile onto the marathon, can also proudly proclaim they've completed the World's Shortest Ultramarathon. And yes, there's beer at the finish line! To learn more, visit www.Route66marathon.com
About RaceRaves
Founded in 2014, RaceRaves.com is the leading online race finder and reviews community for runners around the world to share their experiences and find their next challenge. The company's robust race database, intuitive search tools, finisher reviews from all 50 states and 75+ countries, and compelling editorial content establish RaceRaves as a trusted resource for runners of all levels. With its authentic voice and fast-growing audience of avid and engaged endurance athletes, RaceRaves helps brands and events connect with runners in today's increasingly saturated marketplace.