Wiley X Eyewear Looks to Accelerate Growth with Evolved Approach to Product Development
March 15, 2023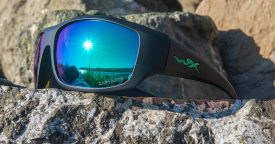 The family-owned protective eyewear brand to focus on leading with from-the-ground-up design, sustainability and US assembly
FRISCO, Tex. /ENDURANCE SPORTSWIRE/ – Wiley X, a leading manufacturer of premium protective eyewear, has announced changes to its product development approach by incorporating three main elements: a reinforced product development team, an emphasis on American design and production, and a focus on using sustainable materials.
The brand has assembled a product development team that will build eyewear from the ground up, finding design inspiration from core Wiley X customers, including military, law enforcement, outdoorsmen and women—anyone who needs a premium level of protection for their eyes, on the job, in their daily lives or recreational pursuits.
"We're excited to announce a reimagining of our approach to product development," said Dan Freeman, CEO of Wiley X. "Controlling all of the processes through American design and engineering in Frisco, Texas, allows us to create bold designs that push the limits of what can be done in protective eyewear. Utilizing the latest in 3D printers and technology in house helps us take product engineering to another level. Our goal is to always create eyewear that truly meets the needs of our unique customers. By building from the ground up and continually finding design inspiration from our customers, we believe we can deliver products that truly stand out."
In addition to the strengthened product development team, Wiley X plans to assemble more products in the Unites States. For decades Wiley X has manufactured and assembled its military eyewear in house, but this new commitment to domestic production will bring commercial product and assembly to the company's new headquarters in Frisco, Texas. While the company has long-term aspirations to eventually bring all manufacturing to the United States, they will begin with this step, one product at a time.
"Our commitment to our customers in the working, outdoor, as well as government, military, and law enforcement categories will never waver," said Freeman. "We are proud to be a US-based, Veteran founded company, and we want to do our part to support American manufacturing."
Wiley X is also looking to make its products more eco-friendly. The product development team has already begun sourcing organic materials for many of its frames, which will see its way into the product line starting this year.
"Wiley X will always be committed to delivering premium protective eyewear to our customers, and this new approach is just the beginning," said Freeman.
To learn more about Wiley X and to see its assortment of protective eyewear for any environment, please visit wileyx.com.
About Wiley X Eyewear
Wiley X is a family-owned eyewear brand with deep roots in protection. Founded by a US Veteran in 1987, Wiley X has been providing premium protective products to the US Military and law enforcement for over 30 years. Employing the most advanced processes and equipment available, Wiley X builds and rigorously tests every product to the highest standards in safety and optics. With select styles meeting U.S. military MIL-PRF-32432(GL) or MIL-PRF-32432A standards for ballistic eye protection, every pair of adult Wiley X eyewear meets or surpasses the ANSI Z87.1+ standard for impact safety and clarity. Learn more at wileyx.com.
Media Contact:
Seth Beiden
seth@sasquatchagency.com