Wattbike support the first ever Esports Olympic Series
June 23, 2023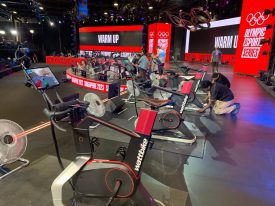 The team at Wattbike are delighted to have supported the cycling event at the first ever Esports Olympic series in Singapore
23rd June 2023 – UK/ENDURANCE SPORTSWIRE/ – The original, indoor smart bike innovator Wattbike is the choice of both elite athletes and fitness enthusiasts around the globe, and the team were delighted that the Olympic Esports Finals chose their award-winning Wattbike Atom for their cycling event which took place today.
Presented by the UCI and Zwift, the cycling Olympic Esports Finals is made up of eight male and eight female riders – of whom battled it out at the UCI Esports World Championship in Glasgow earlier this year. The new challenging format involves the sixteen riders being split into mixed gender teams where they compete in back to back Zwift races. The IOC confirmed they bought twenty Wattbike Atoms for the athletes to race on, and these bikes were centre-stage at the interactive event. Wattbike offers accurate and reliable technology by measuring every pedal stroke making it a perfect option for the instant and fast challenges that are faced in Esports racing.
The event is supported by the Ministry of Culture, Sport Singapore and the National Singapore Olympic Council, and the four-day event gives a stage to some of the world's leading Esports athletes, brands and technologies.
Stephen Loftus, CEO at Wattbike, said: 'We've worked closely with the UCI for some time so when they approached us about the series, we were happy to help. We know the Atom delivers the best indoor cycling experience. It's highly accurate, reliable and works brilliantly on Zwift, making it the perfect fit for these games.
The award-winning Wattbike Atom retails at £2,399 and you can currently save £250 on the RRP, along with a 'Get 10% Fitter' money back guarantee. For more information please visit wattbike.com/pages/wattbike-guarantee
Highlights of the cycling Olympic Esports Final can be found here.
———————————————————-ENDS————————————————————-
CONTACT
Name: Kate Allan – Compete PR
Email: kate@competepr.com
Phone: +447754 072648
EDITOR'S NOTES
Wattbike is the original, indoor smart bike innovator, offering the most accurate and reliable training tools used by champions, athletes and fitness enthusiasts worldwide. Wattbike's mission is to help improve the health and performance of every athlete in the world – That's why Wattbike is chosen by both the world's top sporting teams such as the All Blacks, as well as thousands of everyday athletes at home.
Wattbike was born more than 20 years ago with one goal – to create the ultimate indoor training bike. No other indoor trainer measures every pedal stroke and revolution so precisely, giving instant insights to get the most from every workout. Expertly crafted and designed in the UK, Wattbikes are tough enough to withstand the intense training of elite athletes, while beautiful enough to sit in the homes of everyday athletes too.