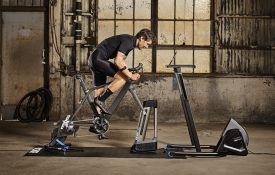 (Atlanta, GA – July 8, 2018) – Wahoo Fitness, the leader in connected fitness devices and workout apps, is proud to announce a new version of the iconic KICKR Smart Trainer, the new wheel-off KICKR CORE Smart Trainer, and to lift the veil on the all-new KICKR HEADWIND–an innovative new product that will further immerse cyclists in a simulated ride experience–and keep them cool during hard efforts.
For 2018, the KICKR's new design drastically reduces both its volume and pitch levels, making it a virtually silent trainer and creating an ideal indoor riding experience. Other updates include a larger performance-optimized flywheel that combines with real-time responsiveness and precise power measurements (up to 2,200 watts) to deliver the most realistic indoor riding experience yet. The new KICKR is available for sale now at wahoofitness.com and other leading retailers for a price of $1,199.99 (USD.)
The Wahoo KICKR CORE features KICKR's legendary flywheel technology, delivering accuracy and real ride feel not found in trainers of its class. The KICKR CORE features a compact design, accurate power measurement and compatibility with a wide range of bikes and training platforms. KICKR CORE will be available for sale later this summer for $899.99 (USD.)
"We're excited to be updating and expanding our smart trainer lineup with the new KICKR and KICKR CORE," said Wahoo Founder and CEO Chip Hawkins. "With these new KICKRs, we're continuing to refine and improve the experience of indoor training. The newest versions offer cyclists the quietest, most realistic ride feel we've ever created, while still maintaining compatibility with a wide range of gravel, cyclocross, mountain, and road bikes ensuring that all athletes will be able to take advantage of our newest KICKRs."
Complementing all KICKR Smart Trainers is the new KICKR HEADWIND Smart Fan, the first purpose-built smart fan designed specifically for the needs of indoor cyclists. By connecting heart rate monitors, smart trainers, or speed sensors, the new KICKR HEADWIND automatically delivers a powerful and realistic headwind (up to 30 mph) and simulates the air flow a cyclist feels when riding on the road. The KICKR HEADWIND is compatible with all KICKR Smart Trainers, integrates seamlessly into Wahoo's training ecosystem and also pairs with third-party smart trainers and sensors. The KICKR HEADWIND is priced at $249.99 (USD) and will be available for pre-order on July 8, with fans shipping in mid-July.
Hawkins noted that with KICKR HEADWIND cyclists will be able to fully immerse themselves in the riding experience. "If you're riding outside, the amount of wind you feel increases as you ride faster. With KICKR HEADWIND, we can deliver that experience indoors, while also helping athletes to push harder by keeping them cool during workouts." continued Hawkins.
Both the new KICKR and KICKR CORE are compatible with Wahoo's KICKR CLIMB Indoor Trainer Grade Simulator–$599.99 (USD), available now–allowing cyclists to fully simulate outdoor rides while using virtual cycling platforms.
To request additional information on the KICKR, KICKR CORE, KICKR SNAP, KICKR HEADWIND, KICKR CLIMB or any other Wahoo product or technology, please contact Andrew Bernstein at 610.618.6272 or by email at Andrew@TrueCommunications.com.
About Wahoo Fitness
Located in Atlanta, GA, Wahoo Fitness has created a full ecosystem of sensors and devices for runners, cyclists and general fitness enthusiasts. Wahoo Fitness's award-winning line of products include the KICKR family of smart trainers and accessories, the ELEMNT family of bike computers and the TICKR family of heart rate monitors. Learn more about Wahoo's full line of products and apps at www.wahoofitness.com.