Valente Goes Two for Two: Winning Medals in Friday's Scratch Race and Sunday's Elimination Race
August 6, 2023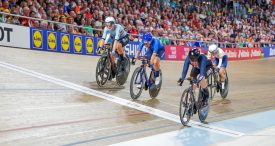 Jennifer Valente makes history by becoming the most decorated American track cyclist ever with sixteen Elite World Championship medals.
August 6, 2023, GLASGOW /ENDURANCE SPORTSWIRE/ – On the fourth day of the 2023 UCI Cycling World Championships in Glasgow, Jennifer Valente (San Diego; TWENTY24 Pro Cycling) raced her second individual event of the week, the Women's Elimination Race. She earned bronze, making this her 19th World Championship medal. With that impressive total Valente becomes the most decorated American track cyclist.
The Elimination Race whittles down the number of racers each lap until it's down to two riders and a sprint for gold. At the 2022 UCI Track World Championships, Valente earned the bronze medal, but her sights were set on the top step of the podium in 2023.
The race was fast and technical with riders starting the event who don't ordinarily race the event. There was a three-person crash mid-way through the race. Shaking up the field and changing up the riding style in the race. Valente was able to whittle down the field to just herself, Lotte Kopecky (BEL), and Valentine Fortin (FRA).
When asked about her impressive performance, Valente said, "The race was good, hard but good. Following up the 2022 result with another bronze is good. I'm proud of the result. Taking home another medal is something no one should take for granted."
Valente always takes something away from a race, "I learned so much from the race. I was able to get a feel for what to expect on Wednesday. How this track will ride during the Omnium Scratch Race. How the riders will behave during the rest of racing."
Valente returns to the track on Monday for the Women's Madison event in the evening. She'll be partnering with Lily Williams (Tallahassee, Fla.; Human Powered Health).
Visit USACycling.org for more information on the athletes, events and membership programs, and follow @USACycling across all channels for the latest on Team USA.
For more information, contact Tom Mahoney at tmahoney@usacycling.org.
ABOUT USA CYCLING (usacycling.org)
USA Cycling is the national governing body for the sport of cycling and oversees the disciplines of road, track, mountain bike, cyclocross, and BMX. USA Cycling's mission is to grow participation and engagement with the sport of bicycle racing and achieve sustained international success across all cycling disciplines. USA Cycling supports cyclists of all levels and abilities, from those just beginning in the sport to international caliber athletes. The organization identifies, develops, and selects cyclists to represent the United States in international competition through the support of youth and interscholastic programs, amateur and grassroots bike racing events, athlete development programs, and operational support for cycling clubs, racing teams, and event organizers. USA Cycling has a membership of 80,000, sanctions over 2,500 events annually, and is a member of the Union Cycliste Internationale (UCI) and United States Olympic & Paralympic Committee (USOPC).