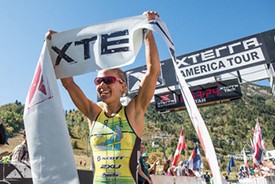 More than one-thousand of the best triathletes and trail runners in the world flocked to Ogden and Snowbasin Resort in Northern Utah over the weekend for XTERRA's National Championship races. The weather was perfect, the course conditions ideal, and the local support un-matched as Ogden Mayor Mike Caldwell, the Utah Sports Commission, Snowbasin Resort, ENVE Composites, and the world-renowned volunteers from the GOAL Foundation combined to host one of the greatest weekends of XTERRA racing in event history
September 24, 2013 (Honolulu, HI) – More than one-thousand of the best triathletes and trail runners in the world flocked to Ogden and Snowbasin Resort in Northern Utah over the weekend for XTERRA's National Championship races.
The weather was perfect, the course conditions ideal, and the local support un-matched as Ogden Mayor Mike Caldwell, the Utah Sports Commission, Snowbasin Resort, ENVE Composites, and the world-renowned volunteers from the GOAL Foundation combined to host one of the greatest weekends of XTERRA racing in event history.
Here's a recap of the images, video, and stories from the weekend…
XTERRA USA Championship Photo Gallery / Highlight Video / Results
Ogden/Snowbasin Resort, UT (September 21, 2013) – The 2013 XTERRA USA Championship proved that there is no specific formula for success, especially when it comes to XTERRA experience.
Leonardo Chacon took the overall title in his first appearance at the XTERRA USA Championship, and just the third XTERRA race of his career.
Meanwhile on the women's side, Lesley Paterson captured the title for the second consecutive year, continuing her amazing streak of XTERRA victories.
The 2013 XTERRA USA Championship was staged in picture-perfect conditions on Saturday at Snowbasin Resort near Ogden, Utah. The off-road triathlon consisted of a 1,500-meter swim, a 28-kilometer bike and a 9.8-kilometer trail run.
CHACON OUT-RUNS MEN'S FIELD
Although it is called the XTERRA USA Championship, the pro start list featured an international cast of stars. One of them was Leonardo Chacon, who participated in the 2012 Olympics and is considered a triathlon legend in his home country of Costa Rica.
His XTERRA experience, however, was limited to a fourth-place finish at the XTERRA World Championship last year in Hawaii, and a victory at the XTERRA Mexico Championship this year.
To make up for his relative lack of off-road experience, he trained in the mountains of Costa Rica. In particular, he found a trail that matched the elevation levels of Snowbasin (start at 4,900 feet above sea level, and reaching a peak of 7,300 feet).
"I've been training for this many months, like five to six months, improving my techniques," said Chacon, 29. "Now I'm very happy I can be with these fast guys up there."
Chacon said his first XTERRA experience in Hawaii last year sparked his desire to improve on that fourth-place showing.
"When I did XTERRA last year in Maui, I started thinking about improving my technique and see if I can be with these guys," he said.
Chacon completed the course in 2 hours, 32 minutes, 31 seconds – including the fastest run split at 39:57.
He came out of the swim just seconds behind Australia's Ben Allen, and had the lead for the first half of the bike leg.
XTERRA veterans Conrad Stoltz of South Africa and American Josiah Middaugh (Vail, Colorado) eventually passed Chacon in the second half of the bike. At that point of the race, Chacon said he was content just to stay within sight of Stoltz and Middaugh.
"I knew I could run a bit faster than them, and I attacked," he said of his run split.
Chacon and Middaugh were shoulder-to-shoulder midway through the run course before Chacon eventually turned it up in the final two miles and took the win by 57 seconds.
"I thought I had something in the tank, but I didn't," said Middaugh, who won the USA Championship in 2012. "Reached for it and it wasn't there. I thought I was running the downhill stuff pretty good, but I was bonked and tired that last mile."
Middaugh finished in 2:33:26, and his second-place showing was enough to net him the XTERRA U.S. Pro Series championship – his first in 10 years on the tour. "It's been a long pursuit for this title," he said. "Glad it finally worked out."
Spain's Ruben Ruzafa – another of the international stars to show up at Snowbasin this year – finished third in the USA Championship. It was his first time racing at the USA Championship, and just his second appearance in an XTERRA race in the United States, following his 2008 XTERRA World Championship victory in Hawaii.
Ruzafa finished in 2:33:55, including the best bike split of the day at 1:21:37.
The 40-year-old Stoltz placed fourth in 2:35:45, and said his racing style is not suited for the course at Snowbasin. "For me to beat them on this course, I need to have 110 percent performance and they need to have 90 percent performance," he said.
Fellow South African Dan Hugo was fifth at 2:37:17, and said he enjoyed being part of the lead pack for most of the race. "This is what we want to see," he said. "I thought it was going to be five guys within 90 seconds, and it was pretty close to that off the bike, and then Chacon opened it up a bit."
Rounding out the top 10 were, in order: Ben Allen (Australia), Bradley Weiss (South Africa), Nicolas Lebrun (France), Branden Rakita (Colorado Springs, Colorado), and Ryan Ignatz (Boulder, Colorado).
Lebrun, a two-time former winner of the USA Championship, has announced his retirement from competition, so it was likely his last time racing on the course at Snowbasin. When asked what he would remember of the course, he replied: "Every part. I took it easy and enjoyed the race."
Chacon received $2,500 for the victory, but said the victory goes much deeper than the title and the check. "If I train hard coming from a small country as Costa Rica, I can make my dreams come true," he said. "With this, I can show to the people in Costa Rica that we can do it."
PRO MEN 
Pl
Name
Age
Hometown
Time
Points
1
Leonardo Chacon
29
Liberia, Costa Rica
2:32:31
100
2
Josiah Middaugh
33
Vail, Colorado
2:33:26
90
3
Ruben Ruzafa
29
Malaga, Spain
2:33:55
82
4
Conrad Stoltz
39
Stellenbosch, South Africa
2:35:45
75
5
Dan Hugo
27
Stellenbosch, South Africa
2:37:17
69
6
Ben Allen
28
Wollongong, Australia
2:39:53
63
7
Bradley Weiss
24
Somerset West, South Africa
2:42:13
58
8
Nicolas Lebrun
40
Digne, France
2:44:30
53
9
Branden Rakita
32
Colorado Springs, Colorado
2:44:38
49
10
Ryan Ignatz
34
Boulder, Colorado
2:44:41
45
Also:  Jason Michalak (41), Cody Waite (37), Adam Wirth (34), Jordan Jones (31), Grant Bovee (28), Chris Ganter, Tom Goth, Nick Fisher, Will Ross, Joshua Merrick, Craig Evans, Andy Lee, Matt Mangen, Heath Thurston
PATERSON CONTINUES XTERRA SUCCESS
There was a point early during Saturday's race when Lesley Paterson actually thought she was having a "horrible" day, thanks to lingering effects of a cold she carried into the race. That she went on to beat the women's field by 43 seconds to win the XTERRA USA Championship for the second consecutive year shows just how dominant she has been in the past two years.
Paterson, 32, turned in the fastest bike split among the women and then held off 2012 Olympian Barbara Riveros (Chile) on the run to take the win. Paterson, who is originally from Scotland but now resides in San Diego, California, has now won the last two XTERRA USA Championships and the last two XTERRA World Championships.
She has also won numerous races in between, and thus also took home the XTERRA U.S. Pro Series title for the second straight year.
"It was a tight race, there were a lot of good girls here," Paterson said. "It took me a good half the race just to get into it."
Paterson came out of the swim in fifth place, but surprisingly got passed by several others during the first half of the bike course. "The legs just felt horrible," she said. "We were at Wheeler Canyon and everyone was passing, and I'm a climber. I was like 'what's going on?' "
Once Paterson got into her rhythm, it was over for the other women. By the end of the bike leg, she was ahead by more than a minute. Her winning time was 2:53:21, including 1:36:38 on the bike leg.
Riveros made up some ground on the run, but was never within striking distance of Paterson. Riveros finished with a time of 2:54:04, including the best run split at 43:26.
"I knew she would catch me on the bike leg," Riveros said of Paterson. "I tried to keep  up, but altitude is another factor here so you have to manage yourself."
It was just the second XTERRA race for Riveros, and she placed second to Paterson both times (also at the 2012 XTERRA World Championship in Hawaii).
Chantell Widney from Canada placed third in her first appearance at the USA Championship with a time of 2:56:41. "This course really suited me with just tons of climbing," she said.
Widney finished the bike leg in fourth place, and said she could see Riveros ahead, but realized the gap was too significant. "I was just hoping to maintain third," Widney said.
Emma Garrard from nearby Park City, Utah, placed fourth in 2:59:07 for her best showing at the USA Championship. She did not participate last year while on a maternity break, and finished fifth in 2011.
"It's definitely one of the strongest fields I've been in," Garrard said. "Just to be able to race with all the other women on the bike was pretty awesome."
Danelle Kabush from Canada was fifth, followed in order by Carina Wasle (Austria), Suzie Snyder (Fredericksburg, Virginia), Melanie McQuaid (Canada), Shonny Vanlandingham (Durango, Colorado) and Christine Jeffrey (Canada).
PRO WOMEN
Pl
Name
Age
Hometown
Time
Points
1
Lesley Paterson
32
San Diego, CA (Scotland)
2:53:21
100
2
Barbara Riveros
26
La Pintana, Chile
2:54:04
90
3
Chantell Widney
33
Edmonton, Alberta, Canada
2:56:41
82
4
Emma Garrard
30
Park City, Utah
2:59:07
75
5
Danelle Kabush
37
Calgary, Canada
3:00:29
69
6
Carina Wasle
28
Kundl, Austria
3:01:44
63
7
Suzie Snyder
31
Fredericksburg, Virginia
3:01:59
58
8
Melanie McQuaid
40
Victoria, B.C., Canada
3:02:48
53
9
Shonny Vanlandingham
44
Durango, Colorado
3:04:43
49
10
Christine Jeffrey
40
Tucson, Arizona
3:05:38
45
Also: Heather Jackson (41), Renata Bucher (37), Rachel Challis (34), Catherine Sterling (31), Brandi Heisterman (28), Genevieve Evans, Jaime Brede, Caroline Colonna, Tamara Donelson.
MIDDAUGH, PATERSON WIN XTERRA U.S. PRO SERIES
Josiah Middaugh and Lesley Paterson capped off remarkable seasons on XTERRA's pro circuit. Paterson went undefeated, while Middaugh's only blemish was his runner-up performance today. They each received a check for $10,000 for the series title.
Shonny Vanlandingham and Josiah Middaugh took home the honors of XTERRA USA National Champions for having the best seasons of American's on the tour.
2013 XTERRA U.S. Pro Series Standings (Final)
Pros counted their best 3-of-4 regionals, plus Nationals
PRO MEN 
Pl
Name
West
S'East
East
Mtn
USA
Totals
1
Josiah Middaugh
100
100
DNS
100
90
390
2
Dan Hugo
DNS
90
100
58
69
317
3
Branden Rakita
82
63
x49
90
49
284
4
Ryan Ignatz
75
DNS
90
69
45
279
5
Bradley Weiss
DNS
75
82
49
58
264
6
Craig Evans
63
82
58
x28
DNP
203
7
Cody Waite
DNS
45
41
75
37
198
8
Jason Michalak
58
34
DNS
53
41
186
9
Nick Fisher
37
69
75
DNS
DNP
181
10
Will Kelsay
49
58
69
x45
DNS
176
11
Conrad Stoltz
90
DNF
DNS
DNS
75
165
12
Matt Mangen
53
53
DNS
DNP
DNR
106
13
Leonardo Chacon
DNS
DNS
DNS
DNS
100
100
14
Andy Lee
DNS
37
63
DNP
DNP
100
15
Chris Ganter
DNF
49
DNS
37
DNP
86
PRO WOMEN
Pl
Name
West
S'East
East
Mtn
USA
Totals
1
Lesley Paterson
100
100
100
DNS
100
400
2
Shonny Vanlandingham
82
x75
90
100
49
321
3
Danelle Kabush
69
x58
69
90
69
297
4
Melanie McQuaid
75
90
75
DNS
53
293
5
Suzie Snyder
90
69
x63
75
58
292
6
Emma Garrard
58
63
DNS
69
75
265
7
Brandi Heisterman
x41
82
82
45
28
237
8
Christine Jeffrey
31
53
58
DNS
45
187
9
Caroline Colonna
37
45
49
34
DNP
165
10
Kelley Cullen
63
DNS
DNS
82
DNS
145
11
Jaime Brede
53
DNS
DNS
49
DNP
102
12
Katie Button
DNS
49
53
DNS
DNS
102
13
Barbara Riveros
DNS
DNS
DNS
DNS
90
90
14
Tamara Donelson
45
DNS
DNS
41
DNP
86
15
Chantell Widney
DNS
DNS
DNS
DNS
82
82
BALZER, GRUBER WIN AMATEUR XTERRA USA CHAMPIONSHIP TITLES
The XTERRA USA Championship is not just about professionals. In fact, the age-group competitors make up the bulk of the field, and the two winners of this year's race epitomize the amateur spirit.
Matthew Balzer from Reno, Nevada, was the top overall amateur with a time of 2:49:50. He finished 12th overall, topped only by 11 established professionals.
"Ecstatic," said Balzer, 32. "It's been a goal for the last two years. I had to deal with some (foot) injuries last year, so I really wanted to come out strong this year."
Balzer,, a former professional triathlete, took the lead in the amateur field early in the bike leg and stayed in front the rest of the way. He said he figured he was in a good position when he saw only the professional competitors with him in the bike-to-run transition.
Despite the impressive victory, Balzer said he has no intention of returning to the professional ranks. He already owns two businesses in Reno – the Reno Running Company and MMS West (a mailing/shipping company). He also has a wife and two young daughters (8 and 5 months).
"I have an amazingly supportive wife and two young girls, so I'm happy with where I am," he said.
Cole Bunn, a 17-year-old high school student from Bettendorf, Iowa, was the second amateur with a time of 2:51:11. He came in right after Balzer, good for 13th overall.
John Mezger from Colorado was third in 2:53:57, and Bryce Phinney from Arizona was fourth in 2:57:15.
In the women's amateur race, Elizabeth Gruber from Redding, California, took top honors with an all-out effort. She finished in 3:11:13, and rallied from a deficit of more than four minutes out of the swim.
"I had no idea I was in first," she said. "I was in the medical tent for more than an hour after the race, and I didn't know where I placed."
Gruber, 23, was 12th overall among all females, and collapsed after crossing the finish line and needed fluids to replenish her body. "I think it's still unreal," she said. "I don't know if it will ever hit me."
Gruber is a nursing student at Loma Linda University, and was surprised that she finished ahead of standout teenager Hannah Rae Finchamp. "I was like seven minutes behind her at the West Championships, and that was the closest I ever got to her before today," Gruber said.
Finchamp, who won the XTERRA USA and World amateur titles in 2012, placed third this time in 3:14:51 and won the female 15-19 division for the third consecutive year.
Julie Baker from Sonora, California, placed 14th overall and was the second female amateur in 3:13:28.
Of note Cindi Toepel won her 9th XTERRA USA Championship title, Tom Monica his fourth, it was the third for Hannah Rae and Craig Vogstberger, and the second for Gruber, Gonzales, Colbert, Signoretty, and Karstrom.
Here's a look at this year's champs:
XTERRA USA CHAMPIONS (FEMALE)
Division
Name
Time
Hometown
15 – 19
Hannah Rae Finchamp (3)
3:14:51
Altadena, CA
20 – 24
* Elizabeth Gruber (2)
3:11:13
Redding, CA
25 – 29
Katherine Wilson
3:27:37
Vail, CO
30 – 34
Maia Ignatz
3:21:11
Boulder, CO
35 – 39
Julie Baker
3:13:28
Logan, UT
40 – 44
Catherine Bradl Richmond
3:50:50
Crested Butte, CO
45 – 49
Rachel Farrett
3:41:11
Littleton, CO
50 – 54
Anne Gonzales (2)
3:29:50
Aspen, CO
55 – 59
Lucia Colbert (2)
4:01:47
Cordova, TN
60 – 64
Cindi Toepel (9)
4:15:50
Littleton, CO
XTERRA USA CHAMPIONS (MALE AGE GROUP)
Division
Name
Time
Hometown
15 – 19
Cole Bunn
2:51:11
Bettendorf, IA
20 – 24
Mathieu Signoretty (2)
3:07:12
Sammamish, WA
25 – 29
Charlie Karstrom (2)
3:00:02
Solana Beach, CA
30 – 34
* Matthew Balzer
2:49:50
Reno, NV
35 – 39
John Mezger
2:53:57
Wanaka, CO
40 – 44
Eric Snowberg
3:06:43
Golden, CO
45 – 49
Andrew Duenow
3:08:54
Anchorage, AK
50 – 54
Michael Hagen
3:03:40
Colorado Springs, CO
55 – 59
Tom Monica (4)
3:15:44
Thousand Oaks, CA
60 – 64
John Royson
3:27:21
Albany, CA
65 – 69
Laurence Goddard
4:15:48
Los Alamos, NM
70 – 74
GL Brown
5:55:56
Ada, MI
PC
Craig Vogtsberger (3)
3:43:11
Traverse City, MI
* TOP AMATEURS
For more information click this link –  XTERRA Nationals Press Guide – complete with racer profiles for both the XTERRA triathlon and trail run national championship races, course descriptions, schedule of events, past USA results, and more.
SMYTH, ANDERSON WIN XTERRA TRAIL RUN NATIONALS 
XTERRA Trail Run Nationals Photo Gallery
Ogden/Snowbasin Resort, UT (September 22, 2013) – Patrick Smyth made quite the first impression on Snowbasin Resort and the XTERRA Trail Run National Championship.
Although he lives in Salt Lake City – about 40 miles away from Snowbasin – Smyth had never been to the picturesque trails at Snowbasin until Sunday. All he did in his first XTERRA Trail Run was win the overall National Championship.
"I've never actually been to Snowbasin, but always wanted to, so this was a good excuse to get up here and get on the trail system here," said Smyth, 27.
Lindsey Anderson, who made her first visit to Snowbasin last year and ran away with the title, successfully defended her women's XTERRA Trail Run National Championship. She is the second female runner to win back-to-back XTERRA National titles, following Lauren Fleshman (2009 and 2010).
SMYTH PREVAILS; KING'S STREAK ENDS AT 5
Smyth didn't just win the 2013 XTERRA Trail Run National Championship, he dominated.
The former track and cross country star at the University of Notre Dame raced to the lead immediately and never relented. He completed the 21-kilometer course in 1 hour, 16 minutes, 38 seconds, which is the fastest time since the event moved to Snowbasin Resort in 2011.
"I've been running 10K and 5Ks most of this summer, so I didn't know how long I could hold on," he said. "I kind of wanted to go out hard and see if I could break some people early."
By the halfway point of the course, Smyth had established a 30-second lead, and the only runner within striking distance was Joseph Gray.
"He set the pace early and let people know it was going to be on from the start of the race," Gray said of Smyth. "I respect him for that. He ran a great race."
Smyth continued to build his lead during the second half of the course, and even had time to get up and recover from a fall in the final two miles.
"I didn't know who was behind me, but I kept looking behind me, expecting guys to come up," Smyth said. "Around mile 11 or 12, I started getting some cramps and fell and started looking back even more."
Gray, who came over from Lakewood, Washington, for the race, finished second in 1:18:01. He was the co-winner of the 2012 XTERRA Trail Run World Championship in Hawaii, but this was his first experience running at Snowbasin for the XTERRA Nationals.
"I've kind of been having some down time since the World Mountain Running Championships, so I wasn't ready to go out super-aggressive," Gray said. "I kind of went out a little more comfortable and let the race get away from me. It was kind of too late for me to catch up."
Interestingly enough, the top five overall finishers were all first-time entrants to the XTERRA Trail Run National Championship at Snowbasin Resort.
Karl Remsen from Leadville, Colorado, was third in 1:20:23, Mauricio Mendez from Mexico was fourth in 1:21:19, and Nathan Peters from Salt Lake City was fifth in 1:21:29.
Mendez is 17 and just completed high school. He is an aspiring triathlete. He is the first runner under the age of 20 to finish in the top 10 of the XTERRA Trail Run National Championship.
B.J. Christenson from Salt Lake City placed sixth, following third-place finishes in both 2011 and 2012. Rounding out the top 10 were Chris Gomez from Arizona, Ryan Matz from Salt Lake City, and Eric Koenig from Lutz, Florida.
Perhaps just as newsworthy as Smyth's victory was the 11th place finish of Max King from Bend, Oregon. King had won the previous five XTERRA Trail Run National Championships.
"I've raced against Max kind of my entire running career, so I know that he's A-standard competition," Smyth said. "This means a lot to me because there were so many good runners from around the country here. For me to come out on top, it's a tremendous honor."
King withdrew from his previous race in Poland last month due to an ankle injury, and it cost him some training time for the XTERRA Nationals.
"It was just a rough day," King said. "With the injury and stuff, I wasn't sure what to expect, but man, I'm just out of shape. I had no climbing legs. It happens sometimes, you can't win everything."
ANDERSON REPEATS AS WOMEN'S CHAMP
The women's race turned into a duel from the start, with Anderson and Liz Stephen from Vermont running close to each other – and away from the other women – for nearly the first 20 kilometers.
"I was a little bit hoping we wouldn't have to go out as hard," said Anderson, 28. "But (Stephens) really pushed it and took it out hard and she's a really good downhill runner. She would gap me by about 10 meters on the downhills, then I'd catch up on the uphills."
Anderson finished with a time of 1:27:46, which is the fastest women's time since the event moved to Snowbasin in 2011, and nearly six minutes faster than her winning time of last year.
Stephen came in right after Anderson at 1:28:12.
"On the last mile-and-a-half, coming back uphill again, I said 'okay, here we go, I'm going to go for it,' and luckily it worked," Anderson said. "But she was tough. I give Liz all the props for running such a hard race."
Both Anderson and Stephen have represented the United States in the Olympics. Anderson participated in the steeplechase at the 2008 Olympics in Beijing; Stephen participated in cross country skiing at the 2010 Winter Olympics in Vancouver.
Anderson is also a former star runner and current assistant coach at Weber State University in nearby Ogden.
Stephen also finished runner-up at the XTERRA Nationals in 2011. She did not participate last year due to a schedule conflict.
"It was really fun to be back here," said Stephen, 26. "It was really nice to have another woman to run with, but it was a tough race, for sure."
Maria Dalzot from Washington placed third in 1:39:59, and Corinne Malcolm from Bozeman, Montana, was fourth in 1:45:57. They were both making their first XTERRA Trail Run experience.
XTERRA SoCal Series champion Margaret Shearer from Trabuco Canyon, California, was fifth in 1:46:34.
Deanna McCurdy from Peachtree City, Georgia, was sixth in 1:46:41. She was running for Team Miles for Smiles, which is a charity running team that raises funding for research through the Foundation for Angelman Syndrome Therapeutics (F.A.S.T.).
Rounding out the top 10 females were Genevieve Keogh from Layton, Utah, in seventh, Kristina Owen from Ogden, Utah, in eighth, Aimee Balzer from Reno, Nevada, in ninth, and Jaclyn Shokey from Jim Thorpe, Pennsylvania, in 10th.
UTAH'S TUCK WINS FIFTH TITLE
Although the elite runners chase the overall crown at the XTERRA Trail Run National Championship, the event remains an age-group race.
Twenty-eight runners representing 10 different states and three countries took home age-group titles at the 2013 XTERRA Trail Run Nationals.
The home-state Utah runners led the way with 10 champions, including Kevin Tuck from Salt Lake City in the men's 55-59 division. Tuck, 57, was an impressive 18th overall, and this was his fifth XTERRA Trail Run National Championship age-group win.
Amy Galbraith from Venice, California, won her fourth National Championship, this time in the women's 70-74 division.
Bob Evers (men 60-64) from Park City, Utah, and Hans Unger (men 70-74) from Sylmar, California, each won their third XTERRA National titles.
On the young end of the spectrum, 9-year-old Jake Mackleer won the 9-younger division and became the youngest runner to complete the 21K course at Snowbasin.
Other repeat winners from last year include Kaytlynn Welsch (female 10-14) from Alvin, Texas, Lindsey Anderson (female 25-29) from South Ogden, Utah, and Tamara Tabeek (female 50-54) from San Diego, Calif.
Tabeek competed in the XTERRA USA Championship off-road triathlon the day before.
Also of note, XTERRA triathlon professional Nicolas Lebrun entered the XTERRA Trail Run National Championship for the first time and won the men's 40-44 division. A day earlier, he placed eighth overall at the XTERRA USA Championship triathlon.
All of the age-group champions received a free entry to participate in the 2013 XTERRA Trail Run World Championship, which is scheduled for November 24 at Kualoa Ranch, Hawaii.
Below is a look at the champs, and for full results visit http://jtltiming.com/running.htm 
XTERRA National Champs (Male)
Division
Name
Hometown
Time
9-under
Jake Mackleer
Hampstead, NC
3:17:26
10 – 14
Korey Shively
Madison, AL
1:41:39
15 – 19
Mauricio Mendez
Mexico City, Mexico
1:21:19
20 – 24
Nathan Peters
Salt Lake City, UT
1:21:29
25 – 29
* Patrick Smyth
Salt Lake City, UT
1:16:38
30 – 34
Karl Remsen
Leadville, CO
1:20:23
35 – 39
BJ Christenson
North Salt Lake, UT
1:22:10
40 – 44
Nicolas Lebrun
Digne, France
1:27:35
45 – 49
Donnie Gray
Layton, UT
1:39:06
50 – 54
Taha Mahmood
West Valley, UT
1:35:29
55 – 59
Kevin Tuck (5)
Salt Lake City, UT
1:34:07
60 – 64
Bob Evers (3)
Park City, UT
1:52:40
65 – 69
Fred Hauptmann
Joseph, OR
2:02:36
70 – 74
Hans Unger (3)
Sylmar, CA
2:26:15
75 – 79
Jesus Romero
Snelville, GA
2:46:39
XTERRA National Champs (Female)
Division
Name
Hometown
Time
10 – 14
Kaytlynn Welsch (2)
Alvin, TX
1:59:56
15 – 19
Breanna Stratton
Victorville, CA
2:13:03
20 – 24
Corrine Malcolm
Bozeman, MT
1:45:57
25 – 29
* Lindsey Anderson (2)
South Ogden, UT
1:27:46
30 – 34
Aimee Balzer
Reno, NV
1:52:26
35 – 39
Margaret Shearer
Trabuco Canyon, CA
1:46:34
40 – 44
Genevieve Keogh
Layton, UT
1:49:17
45 – 49
Melisa Harrison
Huntsville, UT
2:06:29
50 – 54
Tamara Tabeek (2)
San Diego, CA
2:09:46
55 – 59
Nozomi Wade
Lawrenceville, GA
2:36:31
60 – 64
Deborah Wagner
Park City, UT
2:16:00
65 – 69
Jo May
Houston, TX
3:03:44
75+
Amy Galbraith (4)
Venice, CA
3:57:08
* TOP AMATEURS
The 2013 XTERRA Nationals weekend was presented by the Utah Sports Commission, Paul Mitchell, AVIA, and the XTERRA Live More Card.  Sponsors include Snowbasin Resort, GOAL Foundation, Gatorade, Rudy Project, PowerBar, KSL TV, ENVE, Zorrel, MediaOne of Utah, the U.S. Forest Service, XTERRA Wetsuits, LifeProof, Muscle Milk, Choice Hotels, Rockwell watches, FootBalance, XTERRA Fitness, and Wasatch Distributing.
About TEAM Unlimited/XTERRA
TEAM Unlimited is a Hawaii-based television events and marketing company, founded in 1988.  It owns and produces XTERRA and in 2013 will offer more than 300 XTERRA off-road triathlon and trail running races in 18 countries worldwide.  In the U.S. alone nearly 200,000 participants took part in the XTERRA lifestyle last year.  In addition, TEAM TV has produced more than 300 adventure television shows resulting in three Emmy's and 42 Telly Awards for production excellence since 1990.  View samples at www.xterra.tv, and learn more at xterraplanet.com and xterratrailrun.com.