USA Cycling To Partner With THRU To Ship Member Bikes Across The US
November 17, 2021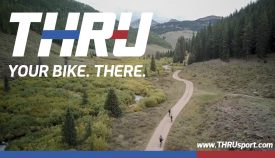 Starting in December with the Cyclocross National Championships, THRU becomes the Official Bike Transport Sponsor of USA Cycling, offering significant shipping discounts or fully assembled bikes for members.
November 17, 2021 (COLORADO SPRINGS, CO)  /ENDURANCE SPORTSWIRE/ –  USA Cycling announces today their partnership with THRU as their Official Bike Transport Sponsor. Members will be able to take advantage of the full range of shipping and destination concierge services starting with the USA Cycling Cyclocross National Championships on December 7, 2021.
The partnership, stretching through August 2023, will allow USA Cycling members discounts on both one-way and round trip transport as well as access to THRU's Fully Assembled service. With Fully Assembled, USA Cycling members can arrange a completely built bike delivered to their destination home or shop when traveling with no bike box or build process with which to contend. This service is already expanding available bike brands into the Fully Assembled network.
"One of the best parts of cycling is riding in new places. One of the worst parts of cycling is dealing with your bike in order to get there," says Bouker Pool, USA Cycling's Chief Commercial Officer. "With THRU, you can get your bike where you're going reliably, quickly, and with minimal headache. Or even have a bike waiting for you when you arrive!"
"Travel is a critical part of participating in the cycling race community," says THRU founder Marc Lauzon. "If THRU can help USA Cycling members to focus on their performance instead of the security and safety of their trusted bike, then we'll be first in line to do that."
In addition to partnering with USA Cycling to deliver member benefits, THRU has made a $1500 donation to the Olympic Development Academy, USA Cycling's suite of programs that support, hone, and elevate young riders into the top ranks of international cycling. THRU also plants a tree for every single bike shipped, helping to mitigate the impacts of climate change as we cycle throughout the world.
For more information, visit usacycling.org and thrusport.com.
###
Media Contact:
Greg Fisher
greg@igtstudio.com
707.495.3756
ABOUT USA CYCLING (usacycling.org)
USA Cycling is the national governing body for the sport of cycling and oversees the disciplines of road, track, mountain bike, cyclocross, and BMX. USA Cycling's mission is to champion accessibility, participation, and excellence in the sport of cycling to make more Americans healthier, happier, and better on two wheels while achieving sustained international racing success. USA Cycling supports cyclists at all levels, from those just beginning in the sport and participating in fun rides to international caliber racers. The organization identifies, develops, and selects cyclists to represent the United States in international competition through the support of kids' and interscholastic programs, amateur bike racing and grassroots development programs, and the provision of critical infrastructure to run organized racing. USA Cycling has a membership of 100,000, annually sanctions over 2,500 events, and is a proud member of the Union Cycliste Internationale (UCI) and United States Olympic & Paralympic Committee (USOPC).
ABOUT THRU
THRU's disruptive approach to bike transport logistics is revolutionizing how the industry and individual cyclists ship their bikes, thereby dramatically improving efficiency and sustainability from current methods. It services cyclists as well as business-to-business and after-market, offering solutions to ship bikes and equipment safely and reliably to retailers and buyers using FedEx as its trusted pack-and-ship provider. THRU has a long heritage of transporting bikes for athletes through its sister company, TriBike Transport. Its team has been in the business since 2004 and is backed by rave customer reviews. For more information and to learn how to ship bikes safely and hassle-free, visit www.thrusport.com.