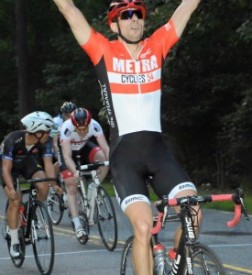 XRCEL Fuels Top Ranking NJ Based Elite Cycling Team
Charleston, SC (February 16, 2016) – New World Consumer Products, LLC, a division of New World Pharmaceuticals, would like to announce that USA Cycling Elite Team Metra Industries / Cycles 54 will be sponsored and fueled by XRCEL Athlete Fuel, an extended-release sports performance fuel based on New World Pharmaceutical's patented formulation technology. The partnership is an important development in New World Consumer Product's mission to educate and fuel elite athletes.
"We couldn't be happier teaming up with XRCEL in 2016.  Their product has been superior to nutrition solutions we have tried in the past and the taste has been a hit with all of our riders.  We're looking forward to racing as part of the XRCEL Family in 2016." said Christian Young- Owner of Cycles 54, Category 1 Racer.
USA Cycling Elite Team Metra Industries / Cycles 54 announced recently the addition of XRCEL Athlete Fuel as its newest Co-sponsor.  Effective immediately the team will be called the Metra Industries / XRCEL Cycling Team.  Metra Industries / Cycles 54 Team members started using XRCEL last season and it helped them ride to victory over 15 times including three New Jersey State Championships, Overall Team Victory in the Garden State Cup, and one of the team riders representing his country at the 2015 Professional World Championships.
"I am very excited for XRCEL Athlete Fuel to be the Nutrition Partner for Metra Industries/ XRCEL Cycling Elite Team" said Laura DeMeo, Business Development Manager – Endurance Sports for Team XRCEL "We're proud to share an important role in this high-energy group of top caliber cyclists as they train and race using XRCEL's cutting edge extended release technology. Not only am I beyond thrilled to be involved with such a professional and top quality program like Cycles 54, but I'm looking forward to an exciting 2016 competition season! Welcome to the XRCEL family!"
"I have been training and racing with XRCEL this season, and have seen improved performance especially in the final hour of my longer events.  The added sodium and potassium that XRCEL provides helps fight off cramps even in events that were over and above my training capacity.  I've never experienced GI issues with XRCEL and appreciate the sustained consistent energy level I feel with XRCEL, unlike the peaks and valleys I was experiencing with my previous gel products.  We have enjoyed our partnership with XRCEL at my business and have converted many customers to XRCEL, thanks to its unique story and extended release delivery system setting it apart from everything else on our shelf.  Knowing that XRCEL is free of any banned substances and NCAA and WADA compliant, I can confidently recommend it to all our racers and customers."- Christian Young
###
About the Metra Industries Cycling Team 
The team was founded in 1997 with the Title Sponsor Ideal Tile.  The team went on to win two state championships in its first year, and finished the season as the number one ranked team in the state of NJ.  In 2006 the Title Sponsor changed to Metra Industries, founded in 1980 and is recognized as a leader in utility and heavy construction projects in both New York and New Jersey. In 2007 the addition of Cycles 54, an Independent Bicycle Retailer in Wall, NJ, as the Co-Sponsor, solidified the teams support.  The team has currently won the Garden State Cup finishing the season as the number one ranked team in the state for the third consecutive year and for the ninth time in the team's history.  Over the years the team has seen its riders win multiple State Championships, National Championship Medals, and race in the UCI Professional World Championships.  2016 welcomes the newest Co-sponsor to the team, XRCEL Athlete Fuel, a great tasting drinkable sports supplement that delivers immediate and extended released fuel.
###
About XRCEL® Athlete Fuel
XRCEL Athlete Fuel is a revolutionary extended release carbohydrate supplement formulated with patented pH and temperature responsive micro-gel technology developed by New World Pharmaceuticals, LLC.  XRCEL is a caffeine and banned substance free supplement designed to provide athletes with extended release muscle and brain fuel so that they may get the most out of their training and competitions. 
New World Pharmaceuticals is based in Charleston, South Carolina. For more information, please visit http://www.NewWorldPharma.com.
For More Information 
Media Inquiries:
Lisa Sexton
843.737.6192 Ext 104