US Trail Running Conference Webinar Focuses on Innovations to Grow Trail Races
August 31, 2023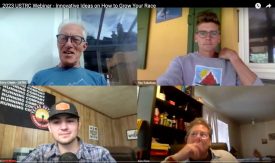 Panelists highlight research results and share effective and practical strategies to boost participation
/ENDURANCE SPORTSWIRE/ – Innovative Ideas to Grow Your Race, was the subject for the seventh webinar in an eight-webinar series produced by the US Trail Running Conference presented by Marathon Printing, and was live on Thursday, August 24. The webinar series is free for all race directors and event organizers to access, and is held in partnership with the American Trail Running Association.
This webinar's panelists featured three race directors that have used a variety of different approaches to increase their race numbers. Briston Rains, founder and owner, Texas Outlaw Running Company; Kim Field, Executive Director, All Things Fun Sports; and Tim Tollefson, Founder and Head Crafter at Mammoth Trail Fest. Terry Chiplin, founder of the US Trail Running Conference, was the moderator for the session. The session was sponsored by Darn Tough Vermont®, an American manufacturer of premium, all-weather outdoor and lifestyle socks backed up by the industry's original unconditional guarantee for life.
Briston Rains opened the session by presenting results from a marketing research program carried out by a student team at Southern Arkansas University. The program was titled, "Expectations of Runners At Events Hosted by Texas Outlaw Running Company." Rains explained that as a race director himself, he was very interested in creating a research program that could reveal what runners expectations are at races, and then allow him to build race content around those expectations. Specifically, Rains wanted to know if there were differences in expectations between runners of different surfaces, distances, and travel expectations. The program yielded several key expectations that were statistically significant, and Rains shared these important expectations.
The first factor that Rains shared is that runners at trail races do not have a high expectation that there will be chip timing, whereas road runners do have a high expectation that a race will have chip timing. Runners in trail races also feel that the organization and race director is of significant importance when registering for a race, and Rains as a result has intentionally focused as a race director on personally networking with trail runners in an attempt to attract and retain runners of this type. The type of food provided at aid stations was also significantly more important for trail runners.
Rains then moved on to race distances. The results indicated that trail runners who run distances between half marathon and ultra marathon have a significant preference for the type of aid provided at aid stations. This factor is deemed significantly important when deciding which race to register for. Lastly, price is significantly more important for those runners who are only willing to travel 2 hours or less than those who are willing to travel 4 or more hours. As a result of this, Rains recommends offering a promotion for local runners, such as receive a free entry for a third race when registering for two local races.
Rains commented, "Price is significantly important for runners who travel for two or less hours. Let's say you have this big race, and it's in a certain town, you should offer some kind of discount for runners within the two hour radius – for runners in that area, they really care about the price."
Next up, Kim Field who opened her presentation with the first of three factors that she has found to be critically important to the success of her twenty four races. "Firstly, we don't believe that if we give someone a bad race experience, there is another runner waiting to sign up; to us, you are not just a face in the crowd. As a result of the kind of races we put on, we have become known as the non-competitive running company, where racing is not all about the numbers."
Field said that it was more important to create your own uniqueness, rather than follow a trend. "Remember that runners do have choices about where they spend their dollars. Look for unique locations to stage events that others don't visit or use."
The last factor that Field covered was the importance of runner investment. "We sit down with our ambassadors and give them a voice so we can understand what they are looking for. We also believe that it is fundamentally important for us to give back to our community, so we offer free events for folks that have been supporting us consistently throughout the year."
Field explained, "For the amount of money that you were going to spend on that race registration, we pick a local charity; a lot of times it's the local high school food pantry that needs supplies; the money you would spend buys granola bars, bring that to us, then we can give back to the local high school. In the end we give away ten pairs of shoes, a Garnin watch, it's a pretty big prize giveaway."
The final presenter was Tim Tollefson. He presented his three key factors that have been instrumental in shaping Mammoth Trail Fest to be the success that it is. The first one was to give generously. "Your community is everything. Find the opportunities for awe, and then explore every way you can to shape it. Undercharge wherever you can, and overdeliver consistently."
The second factor for Tollefson was to tell your story. "What is your 'why', and what drove you to create your race or races? With the ability to share on various channels, make sure to capture your content so that your outreach opens out exponentially. Spread the gospel using every available avenue you have at your disposal."
Tollefson's final factor was to dream big! "Say yes to everything, it's important to share our knowledge with people, you might just plant a seed and you don't know where that will lead. It's also important to fail forward – we are all going to make mistakes, it's then whether we use those mistakes to help us build forward, or do we fail backwards.
"I liken Trail Fest to we are building the plane while flying it. I did not know what I was doing; I knew where I wanted to get to, like I had good intention; I had all these ideas of what I wanted to do, what we want to offer; I had never put on a race, and never gotten a permit, and all these things, and you know what, let's just go. Early on I had some people offer to take over and do it for me, you know, I kinda wanted to get my hands dirty. I want to learn how to do this. I challenged myself and my team to just do it – let's build a plane, and we might crash, but hopefully with the best intention our community supports us; we are going to lift them up when they crash at the aid stations and want to drop out; they're going to lift us up if we make mistakes."
Active at Altitude, organizers of the US Trail Running Conference and the webinar series, reported more than 135 participants registered for the session, representing 36 states, as well as Arab Emirates, Austria, Chile, Canada, China, England, India, Iceland, Kenya, Mexico, North Macedonia, New Zealand, Rumania, Saudi Arabia, and Vietnam. A recording of this webinar is available on the US Trail Running Conference YouTube channel at https://youtu.be/BAMOxEvyeCQ?si=it3tiVzc6LojsL5o.
The next webinar is titled: Creating a Culture of Respect for Women on the Trails, and takes place on Thursday, September 21, 2023, from 10.00 am to 11.00 am MST. Panelists will be Patti Flynn, Equality Institute, and Kelsey Banaszynski, Freestone Endurance. This session is sponsored by Darn Tough Vermont, an American manufacturer of premium all-weather running, outdoor, and lifestyle socks, backed up by the industry's original Unconditional Lifetime Guarantee and renowned for its exceptional Comfort, Durability, and Fit.
Who is this for? Race directors and event organizers who are interested in utilizing innovative ideas to help grow their race or races. Registration is free – see https://ustrailrunningconference.com/webinar-series/ for more details.
More info:
For details on the US Trail Running Conference and the webinar series, go to https://ustrailrunningconference.com/webinar-series/
Contact Event Director, Terry Chiplin for further information, terry@ustrailrunningconference.com, or + 44 07474 648250
#TrailConference #trailrunning #snocosports #snohomishcounty #PlayPNWSports #mukilteo #activeataltitude #atra #marathonprinting #TrailRunningIsForEveryBody #darntough