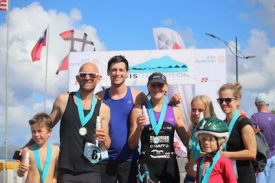 All athletes who took part were offered specially made tamarind balls alongside UNIT RINSE, to fuel their race, courtesy of Unit Nutrition
With rising interest in 'clean label', organic and real-food fueling for athletes, revolutionary new nutrition brand, Unit Nutrition, seemed to hit the nail on the head with its unusual aid station offering of UNIT RINSE and tamarind balls at the 2017 Nevis Triathlon, on 11th November 2017.
The science-led brand which recently launched at the Ironman World Championship in Kona in October with UNIT RINSE, the first commercially available carbohydrate mouth rinse, was headline sponsor of the popular Caribbean triathlon.
Founder and CEO of Unit Nutrition, Julia Bechtolsheimer, said prior to the event: "We are very excited to support the Nevis Triathlon, which offers both a short distance and longer distance race. While UNIT RINSE is sufficient to fuel short duration exercise, after approx. 1 hour of exercise it's important that you use our product in conjunction with a higher carbohydrate source.  For the longer distance triathlon, we chose tamarind balls to complement UNIT RINSE.  Tamarind is a nutritious locally grown fruit which provides a good source of carbohydrate."
A popular tropical fruit used in cuisines all around the world, tamarind is high in carbohydrate with approx. 60g of carbohydrate per 100g, as well as a number of health supporting vitamins and minerals. Tamarind, like many ancient foods,  has a long history of medicinal uses and is prized for its antioxidant and anti-inflammatory properties.
Unit Nutrition was the sole nutrition provider for the event. The Company also supplied athletes with UNIT RINSE, the world's first commercially available carbohydrate mouth rinse. UNIT RINSE is based on an extensive body of conclusive research that demonstrates how rinsing a carbohydrate solution in the mouth for 5 – 10 seconds improves the capacity for sustained moderate to high intensity exercise of approx.1 hour in duration.  The ergogenic benefits are achieved by stimulating carbohydrate receptors in the mouth, which activate areas of the brain associated with pleasure, reward, motivation and motor control.  This in turn reduces the athlete's perception of fatigue and increases power output, resulting in a performance boost.
www.unitnutrition.com
Twitter: @unitnutritionco
Instagram: @unitnutritionco
Facebook: https://www.facebook.com/unitnutritionco/
About Unit Nutrition LLC                                                  
Unit Nutrition is a sports nutrition brand working closely with the scientific community to adapt cutting-edge research into revolutionary, athlete friendly products. Unit Nutrition's mission is to help bridge the gap between the science world and consumers through education, simplicity and transparency, and to remain at the forefront of the latest in research. The Company launches with a first- to-market carbohydrate mouth rinse, known as UNIT RINSE.
In addition to Unit Nutrition's science focus, the Company strives to support local communities and places great emphasis on promoting access to sport and nutrition classes for young children. Unit Nutrition is currently developing a platform which will allow the Company to collaborate with underserved public elementary schools in New York City, implementing programs such as nutrition and cooking classes, field trips to local farms and sports camps to thousands of children.
— END —
For all enquiries, please contact
Julia Bechtolsheimer:
julia@unitnutrition.com
+1 212 699 3671
OR
Hamish Kilburn at Sponge Marketing:
hamish@spongemarketing.com
+44 (0) 207644 9988