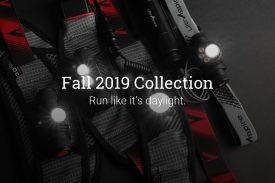 The new UltrAspire fall 2019 collection is set to drop early July
UltrAspire CEO, Bryce Thatcher, has been known throughout his career as the "father of modern hydration" in the sport of Ultrarunning. This title was earned through the introduction of key products and ideas that helped and continues to help drive endurance sports athletes forward. Bryce's recent introduction, UltrAspire 3D Lighting™, has gathered a lot of attention, provided a new idea on a primary light source and this new concept has already earned some noteworthy awards.
The upcoming fall 2019 release will consist of 8 new waist light products and a new race vest.   The inspiration for this new line of lights came from a problem that all human beings face. In order to navigate through an environment we rely on our vision to provide information that is then perceived and reacted to by our muscles, joints, inner ears, and spatial awareness systems. Lack of vision provides bad information that the body reacts to at a slower rate which in turn means the athlete performs at a lower level and the possibility of injury is increased. UltrAspire 3D Lighting combines concepts and technologies to create a light that casts shadows across your terrain creating depth and provides a natural, wide, and even lighting experience that is similar to daylight. Each new model comes with its own unique features and capabilities giving you the upper hand in any low light scenario.
Along with the Lumen collection, UltrAspire will also be revealing a new race vest. Pulling from over 30 years of experience, Bryce has done significant updates to an award-winning UltrAspire top seller and will be releasing the Alpha 4.0 early July. The Alpha 4.0 epitomizes comfort, accessibility, and practicality. This pack features ErgoFit™ which is a unique harness and strap system built to fit the human body naturally with no hindrance to the running motion. This pack is the pinnacle of design, functionality and comfort.
The UltrAspire fall 2019 collection is available for pre-order now and will release early July.
About UltrAspire:
UltrAspire is a high-performance, innovative outdoor gear company. From competitive endurance sports to the casual adventurer, UltrAspire keeps to a very important code which is to create an inspired outdoor experience. Gear up with UltrAspire and experience the difference at www.ultraspire.com