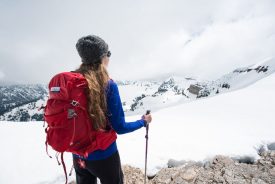 UltrAspire announces application deadline for 2019 immortal ambassador program
UltrAspire is very dedicated to creating products that enhance an adventurer's performance. The method for this is no secret, create a product that is athlete tested and proven many times over before it ever reaches the market. For this reason the UltrAspire ambassador program is a high priority for the team and they have recently announced the 2019 application process is open. 
"We are looking for people who are passionate about what they do, people who live for the outdoor experience, and for those who love UltrAspire," Athlete Manager Jodi Hicks stated.  
The Immortal Ambassador program is comprised of adventurers from around the world, joined together through the UltrAspire community. 
The 2019 Immortal Ambassador Program deadline will be September 15th for all applicants. UltrAspire invites all who wish to represent the brand to fill out the short application and be thorough with the answers to provide as much initial information as possible. 
The UltrAspire team is excited to work with those who push their limits, crush personal goals, and have a passion for the outdoors. UltrAspire will continue to build their team of athletes and ambassadors all the while continuing their mission to create legendary designs and innovative concepts for adventurers. 
To apply, go to UltrAspire.com and select the application link under the about section. 
About UltrAspire:
UltrAspire is a high-performance, innovative outdoor gear company. From competitive endurance sports to the casual adventurer, UltrAspire keeps to a very important code which is to create an inspired outdoor experience. Gear up with UltrAspire and experience the difference at www.ultraspire.com