UCAN Partners with World Champion Triathlete Tim O'Donnell
July 23, 2019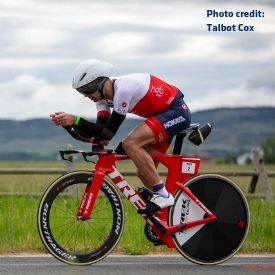 Multi-time Ironman champion joins the UCAN family alongside top athletes like Olympian Meb Keflezighi
UCAN is thrilled to partner with one of the top long-course triathletes in the world, Tim O'Donnell, a multiple-time Ironman Champion who has landed on over 50 podiums at major triathlons. Tim joins the UCAN family alongside other top professional athletes such as Olympic marathoners Meb Keflezighi & Dathan Ritzenhen.
"Nutrition is key when you are training for and racing Iron-distance triathlons, but the power of proper nutrition goes beyond what you do while training," says O'Donnell. "The UCAN team has helped me dial in my nutrition to allow me to continue to push the limits physically while training without the risk of GI distress. I train hard to be ready for race day and with UCAN in my daily routine, I know I'm maximizing my recovery and optimizing my nutrition."
UCAN was originally created for a purpose – to provide energy for a child with a rare condition that prohibits the body from producing its own blood sugar, resulting in frequent and dangerous episodes of hypoglycemia. Out of this need came SuperStarch®, a patented, low glycemic carbohydrate that delivers steady, long-lasting energy with no spikes and no crash.
After conducting clinical trials on athletes, who also need to work to manage their glucose levels, UCAN launched nutrition products powered by SuperStarch® in 2012. UCAN has made its mark in the running world, with 40+ qualifiers for the 2020 U.S. Olympic Marathon Trials and partnerships with top marathon events like The Biofreeze San Francisco Marathon and the BMW Dallas Marathon. With the new partnership with O'Donnell, UCAN is continuing to capture the attention of top athletes and coaches in the triathlon and cycling world, such as Hunter Allen and Dr. Paul Laursen.
"Beyond Tim's obvious love of our products, he's truly a man of character and we are proud to have him as part of our UCAN family," says Shoba Murali, CEO of The UCAN Company. "Tim continues to affirm UCAN's unique ability to improve the health and performance of athletes of all levels, including those at the pinnacle of their sport."
About Tim O'Donnell:
Timothy O'Donnell is one of the world's most successful and experienced American long-course triathletes. As a professional, he has earned 50+ podium finishes including over 22 wins at major events throughout the world. Along with the ITU Long Distance World Champion (2009) title, his other wins include nine Ironman 70.3 victories, two IRONMAN wins, and six Armed Forces National Championships. At the IRONMAN World Championship in Kona, Hawaii, Timothy has finished 3rd (2015), 4th (2018), 5th (2013), 6th (2016), 8th (2012) and earned the top American spot in 2013, 2015, and 2018. In 2013, he tied the existing American IRONMAN record with an 8:01:32 victory at IRONMAN Brazil. In 2015 at IRONMAN Brazil, he completed his fastest IRONMAN to date at 7:55:56. He was the IRONMAN 70.3 US Pro Champion in 2012 and the IRONMAN US Pro Champion in 2011. Tim is married to 3x IRONMAN World Champion Mirinda Carfrae, and together they have a 2-year-old daughter named Izzy.
About UCAN:  
UCAN delivers smarter energy powered by SuperStarch®, a patented, low glycemic complex carbohydrate that delivers steady, long-lasting energy with no spikes and no crash. Originally created for a child with a rare metabolic disorder, UCAN Energy Powders and Energy Bars with SuperStarch® are the go-to nutrition for over 80 colleges, 40 pro teams, Olympic marathoners, elite triathletes, cyclists, thought leaders in health and performance, and everyday athletes looking for steady energy without all the sugar. UCAN is a company built on purpose and passion. Learn more at generationucan.com and get the latest buzz in the UCAN world @GenUCAN on Twitter, Facebook, and Instagram. UCAN nutrition products are currently available in powder and bar format, in a variety of flavors, at 350+ specialty run, bike and tri stores around the country, at all Lifetime gyms, and can be purchased online at generationucan.com and on Amazon. #UCAN