UCAN Partners with Top Endurance Coaches Hunter Allen and Dr. Paul Laursen
June 27, 2019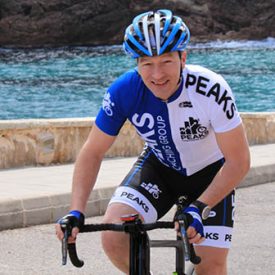 UCAN to bring premiere training education to athletes
UCAN is pleased to announce new partnerships with two highly influential people in endurance sports: legendary cycling coach Hunter Allen and sports scientist/elite endurance coach Dr. Paul Laursen.
"UCAN is truly revolutionary. I have been in this sport for over 30 years and have seen a lot of sports drink companies come and go, and most just sell sugar and salt with some flavoring," says Hunter Allen. "UCAN is a real revolution and I am excited to share this with as many cyclists and triathletes as I can."
UCAN was originally created for a purpose – to provide energy for a child with a rare condition that prohibits the body from producing its own blood sugar, resulting in frequent and dangerous episodes of hypoglycemia. Out of this need came SuperStarch®, a patented, slow-releasing carbohydrate that delivers steady, long-lasting energy with no spikes and no crash.
After conducting clinical trials on athletes, who also need to work to manage their glucose levels, UCAN launched nutrition products powered by SuperStarch® in 2012. Top athletes like 4x Olympian Meb Keflezighi and Dathan Ritzenhein fuel their training with UCAN, and UCAN is now capturing the attention of top athletes and coaches in the triathlon and cycling world.
"SuperStarch is a highly innovative source of carbohydrate delivery and is my go-to recommended product for endurance racing. Its ability to keep insulin levels at bay throughout exercise to maximize endurance performance is unrivaled by any other product on the market," said Dr. Paul Laursen, a scientist, adjunct professor, elite endurance coach, author and entrepreneur. "I am very excited to be partnering with UCAN to help teach athletes why UCAN is so unique and compelling."
"UCAN is thrilled to partner with such respected coaches. We strive to provide best-in-class coaching expertise and products, backed by science, to the endurance community through such partnerships," said Shoba Murali, CEO of The UCAN Company. "We recognize and appreciate that the caliber of these respected coaches helps us validate the true benefits of our products to athletes. Nutrition is the fourth discipline in triathlon and we recognize that getting it right both during training and event day is fundamental to achieving an athletes' goals."
Hunter Allen is the founder of Peaks Coaching Group, co-founder of TrainingPeaks WKO. He is widely known as one of the top experts in the world for using a power meter for cycling and frequently provides consultations for coaches around the world. A former professional cyclist, Hunter has been coaching endurance athletes since 1995, and has coached athletes to over 2000 victories and numerous national, world championship titles and Olympic Medals.
Dr. Paul Laursen resides at the nexus between exercise performance research, theory and application. He is an Adjunct Professor of Exercise Physiology at AUT University in New Zealand where he leads research into low carb diet and its performance applications. Dr. Laursen has published over 130 peer-reviewed papers and is a co-founder of HIIT Science, which serves to teach The Science and Application of High-Intensity Interval Training. He coaches a select number of elite triathletes.
About UCAN:  
UCAN delivers smarter energy powered by SuperStarch®, a patented, slow-releasing complex carbohydrate that delivers steady, long-lasting energy with no spikes and no crash. Originally created for a child with a rare metabolic disorder, UCAN Energy Powders and Energy Bars with SuperStarch® are the go-to nutrition for over 80 colleges, 40 pro teams, Olympic marathoners, elite triathletes, cyclists, thought leaders in health and performance, and everyday athletes looking for steady energy without all the sugar. UCAN is a company built on purpose and passion. Learn more at generationucan.com and get the latest buzz in the UCAN world @GenUCAN on Twitter, Facebook, and Instagram. UCAN nutrition products are currently available in powder and bar format, in a variety of flavors, at 350+ specialty run, bike and tri stores around the country and also can be purchased online. #UCAN