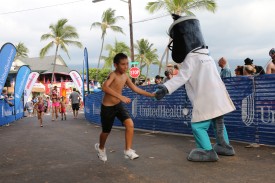 KAILUA-KONA, Hawai'i (Oct. 6, 2015) – In conjunction with the 2015 IRONMAN® World Championship presented by GoPro, IRONMAN is once again carrying out its ongoing work with athletes and the triathlon community to protect the integrity of racing around the world through outreach activities and testing in Kailua-Kona, Hawai`i.
Tuesday, October 6, will mark the sixth annual 'I AM TRUE' day. The I AM TRUE™ outreach program is in association with the World Anti-Doping Agency and both share the belief that "every athlete has a right to clean sport."
I AM TRUE Day also celebrates the next generation of I AM TRUE athletes by bringing its message to the UnitedHealthcare IRONKIDS® Keiki Dip-n-Dash and Fun Run children's events. The young athletes receive anti-doping information and educational materials, which are designed to help them make the right decisions later in their athletic endeavors.
Other outreach activities will target the more than 2,300 professional and age-group athletes and 30,000 of their supporters at the 2015 IRONMAN World Championship presented by GoPro. In the IRONMAN Village the I AM TRUE team will interact with athletes, coaches and other support personnel to deliver the message of clean sport and share resources, answers and ideas about anti-doping. Lucy O'Toole, Education Officer from UK Anti-Doping, will also be on-site in Kona partnering with IRONMAN on outreach efforts.
"With the overwhelming support of our professional and age group athletes, along with their coaches and support personnel, we've dedicated the resources and engaged our partners in the worldwide anti-doping community to protect the integrity of IRONMAN and the sport of triathlon," said Kate Mittelstadt, Director of the IRONMAN Anti-Doping Program. "Our efforts aim to strategically balance detection and deterrence."
In addition to outreach efforts, the second key component of the IRONMAN Anti-Doping Program's work in relation to the IRONMAN World Championship is the execution of in- and out-of-competition testing, which includes the collection and analysis of blood and urine samples as part of the its WADA Code-compliant anti-doping program. All athletes participating in the IRONMAN World Championship, and all other IRONMAN events throughout the year, are subject to testing under the IRONMAN Anti-Doping rules.
IRONMAN partners with National Anti-Doping Agencies worldwide to ensure shared results, complete and comprehensive athlete profiles and strategic testing plans on professional and age-group athletes. Analysis of samples collected as part of the Athlete Biological Passport (ABP) during race week in Kona will be analyzed using the mobile laboratory services of the WADA Accredited Salt Lake Medicine Research and Technology Laboratory (SMRTL). This will ensure immediate and independent scientific oversight and qualified evaluation of the IRONMAN Anti-Doping Program's results, ABP, and strategies.
"In IRONMAN, WADA has a partner that is committed to anti-doping through intelligent testing that aims to test the right athletes for the right substance at the right time. That commitment extends to IRONMAN's education and outreach initiatives that educates athletes of their anti-doping rights and responsibilities, as well as why doping is fundamentally the wrong choice," said WADA Director General David Howman.
To learn more about the 'I AM TRUE' campaign and the IRONMAN Anti-Doping Program, visitwww.ironman.com/triathlon/organizations/anti-doping.aspx or follow on twitter at @IMAntiDoping. Visit www.wada-ama.org to learn more about The World Anti-Doping Agency. 
### 
About IRONMAN
The iconic IRONMAN® Series of events is the largest participation sports platform in the world. Since the inception of the IRONMAN® brand in 1978, athletes have proven that ANYTHING IS POSSIBLE® by crossing finish lines at the world's most challenging endurance races. Recognized for excellence through distinguished events, world-class athletes and quality products, IRONMAN has grown from a single race to a global sensation with more than 250 events and five unique brands: IRONMAN®, IRONMAN® 70.3®, 5150™ Triathlon Series, Iron Girl® and IRONKIDS®. For more information, visit www.ironman.com.
IRONMAN®
2701 North Rocky Point Dr | Suite 1250
Tampa, FL 33607
(P) 813.868.5940 | (F) 813.868.5930