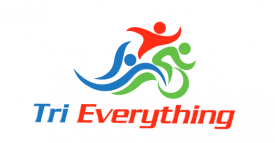 24/7 Triathlon Store to Sponsor DelMoSports 2017 Events
DelMoSports is thrilled to announce Tri Everything as the Official Retail Partner for the 2017 events including IRONMAN 70.3 Atlantic City, Escape the Cape Triathlon, Atlantic City Triathlon, Escape to Lewes Open Water Swim Classic, and Tri the Wildwoods Triathlon, 5k & Kids' Race.
Tri Everything emerged in the spring of 2014 when avid runners and multisport junkies Stancie Rhodes and John "Scott" Rhodes decided to say "buh-bye" to their corporate life in order to devote their time and passion to serving triathletes like themselves by starting their 24/7 online triathlon store with personalized service and the spirit of multisport in mind.  Before opening the online triathlon store, www.trieverythingstore.com, they started by supporting triathletes in New Jersey during packet pick-up and on race morning with gear needs like goggles, nutrition, sunscreen, race belts, visors and more.  In December 2014, they expanded from race-day only and opened their online store, a one-stop shop for all things triathlon.
"Tri Everything is excited to be expanding our relationship with DelMoSports for the 2017 season," said Tri Everything CEO John "Scott" Rhodes.    "As a vendor and an athlete who has raced in DelMo events, Stephen and his team put on some of the best races we have attended nationwide! We look forward to serving the needs of the DelMo athlete community both during training and on race day."
DelMoSports is the most award winning triathlon production company in the Mid-Atlantic region. In 2016, DelMoSports received 3 of 4 Athlete's Choice Awards at the Triathlon Business International Conference. Ironman 70.3 Atlantic City received Best Large Triathlon, Tri the Wildwoods Triathlon received Best Small and Best Beginner Triathlon by TBI and Best Kid's Race by Competitor.com.
DelMoSports Founder/CEO, Stephen Del Monte had this to say regarding the partnership between DelMoSports and Tri Everything, "I've known John and his company for the past few years. His dedication to the athlete experience is what sets him apart from anyone we have worked with in the space. We are proud to have Tri Everything on site at all of our events servicing the needs of our triathletes and anchoring our expos."
##
DelMoSports, LLC is a boutique race company founded in 2004, specializing in elite destination events along the southern New Jersey shore and Delaware.  Their unique and award-winning events include IRONMAN 70.3 Atlantic City, the Atlantic City Triathlon, Tri the Wildwoods Triathlon, Escape to Lewes Open Water Swim Classic and Escape the Cape Triathlon, which was voted the Best Triathlon in the Mid-Atlantic and Northeast Regions by Competitor. Known for high quality, athlete-centered productions with an emphasis on community involvement, DelMoSports events provide challenging courses, spectacular scenery and amazing vacation opportunities for athletes and their families. www.delmosports.com