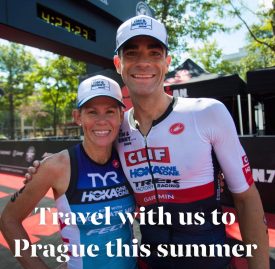 Customized travel trips to the Czech Republic to race the historic Challenge Prague July 27th
(Boston, MA, March 5th) World Champion triathletes Mirinda Carfrae and Timothy O'Donnell invite you to join them and travel to historic city of Prague, Czech Republic this summer to experience Europe's fastest growing sports city and race at Challenge Prague July 27th. Customized travel packages include airfare, entry fee, bike transport, ground transport, lodging and meals with daily training opportunities with Tim and Mirinda. Enjoy a unique dinner cruise along the Vitava River, tours of the beautiful city of Prague and all it has to offer to you and your entire family.
Challenger Tours is an International travel company, specializing in Prague travel that has produced over 30 age group hockey trips annually to the city over the last 10 years.   Challenger Tours is excited to embark on a family friendly travel group in the sport of triathlon, introducing a new audience to Prague. "I've enjoyed the sport of triathlon for many years. There are so many beautiful races in Europe and I am excited to create an amazing opportunity for people to come race in Europe without worrying about the logistics and really taking in the city while preparing for Challenge Prague," says Bob O'Connell from Challenger Tours.
The Challenge Prague course is set in the historical city center and run on the riverfront with stunning views of the city. Challenge Prague offers a middle-distance race, a sprint distance, relays and kids races. "Tim and I don't get a chance to race in Europe much and can't wait to see Prague and take in all the beautiful backdrops during the race. We both love history and plan to take time to really see the city. With Challenger Tours we can do travel as a family, race and be tourists all at the same time," said Rinny.
Interested TRAVEL PRAGUE inquiries:
John O'Connell
Challenger Tours
Phone: 617-429-5219
Email: OC3Sports@comcast.net
About Challenger Tours
Challenger Tours is a sports related travel company based in Boston specializing in hockey and triathlon events worldwide for 30+ years. In 1988 they became the first private company to bring junior hockey teams, from the then U.S.S.R to the U.S.A for tournaments held in Boston. They went on to do it again the following year bringing both a U16 and a U19 team. Through the years they have organized sporting events, tournaments and worldwide travel for participants to Czechoslovakia, Italy, Germany, Austria, Russia, Bermuda, Hawaii, St. Croix, Puerto Rico, and Canada. Challenger Tours have also organized travel for youth and women's hockey teams to the Czech Republic for tournaments for over 10 years.
About Mirinda "Rinny" Carfrae
Originally from Australia, and now residing in Boulder, CO is one of the world's most successful triathletes.  Her 2007 70.3 World Championships win secured her ticket to the Ironman World Championships in Kona.  In 2009 she set a course run record and finished 2nd in her first Kona appearance. She continued her dominance and went on to place first in 2010, 2013, and 2014. Her 2013 win included the third fastest marathon of the day, including the men's field, a course run records and a new Kona women's record marking her as on the of the greatest triathletes to ever compete.
About Timothy O'Donnell
Timothy O'Donnell is an American long-course triathlete with over 50 podium finishes including more than 22 wins at major events throughout the world. Among the wins are eleven Ironman 70.3 victories, two Ironman wins, size Armed Forces National Championships and an ITU Long Distance World Championships and an ITU Long Distance World Championships. At the Ironman World Championships in Kona, Hawaii, Timothy finished 4th in 2018, 6th in 2016, 4rd in 2015, and 5th in 2013.  Timothy resides in Boulder with Mirinda and their daughter Izzy.