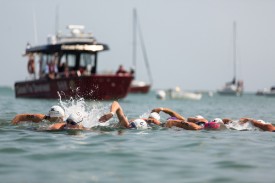 Competition between Chicagoland's fire & police departments to raise funds for the families of fallen heroes
CHICAGO, IL – A new charity race competition, the 100 Club Challenge, is set to pit Chicagoland police and fire departments against each other for a good cause at the 2016 Transamerica Chicago Triathlon on August 28, 2016. Announced today at the 100 Club of Chicago's annual board meeting held nearly 100 days out from the triathlon, the funds raised from the Challenge will benefit the 100 Club of Chicago and support its mission to provide for spouses of first responders who lost their lives in the line of duty.
"We are honored to host an event that not only recognizes our first responders, but also, the families who stand behind them," said Scott "Hootie" Hutmacher, Brand Manager for Life Time Triathlon. "While this is billed as a competition, the 100 Club Challenge serves as a vehicle for unity between the many brave men and women who protect and serve our community. We have no doubt that it will be an incredible day for the participants, their supporters and the thousands of spectators who line the course each year."
Originally known as the First Responders' Competition, the Challenge originated in 2007 as a friendly wager among seven members of the Chicago Police Department and Chicago Office of the FBI. Renamed this year to honor its new partnership with the 100 Club of Chicago, the competition also expands to welcome participation by all active first responders. The Challenge will be made up of two teams, Police and Fire, and will be organized accordingly:
Police: All members of local, state and federal law enforcement, including the FBI, CIA and military personnel
Fire: All local and regional firefighters, paramedics and auxiliary EMS personnel
The winning team will be determined by a points system based on participation and competition. In addition to bragging rights, the winning team will be the first to hoist the 100 Club Challenge trophy and present the 100 Club of Chicago with a check for the funds raised from the competition at the official awards ceremony. Competition organizers set a fundraising goal of $25,000 this year.
"With the 100 Club Challenge, we will be able to provide even more support to the deserving families of our fallen heroes," said Joe Ahern, CEO of the100 Club of Chicago. "We are thrilled to partner with the Transamerica Chicago Triathlon and find new ways to acknowledge and support our first responders. We look forward to the 100 Club Challenge becoming an annual highlight for the weekend and a wonderful new tradition for our city."
The public is encouraged to participate in the 100 Club Challenge through a separate 100 Club charity team, with individual and relay team options. All registration fees and donations will be given to the 100 Club of Chicago. Visit www.chicagotriathlon.com to learn more about the 100 Club Challenge and to enroll in the competition.
About the Transamerica Chicago Triathlon
Produced by LIFE TIME ATHLETIC®, the Transamerica Chicago Triathlon is the world's largest multisport event (swim, bike and run), having welcomed more than 250,000 triathletes across the finish line since it began in 1983. The 2016 Transamerica Chicago Triathlon will kick-off on Friday, August 26 and run through Sunday, August 28. During that weekend, downtown Chicago will be host to 5 races, 9,000 participants, 1,100 volunteers, and 55,000 spectators.
About the 100 Club of Chicago
The 100 Club of Chicago provides for the surviving spouses and dependents of law enforcement officers, firefighters and paramedics who lose their lives in the line of duty. This includes more than 45,000 federal, state, county and local officers, firefighters and paramedics stationed in Cook and Lake Counties. The 100 Club of Chicago offers several forms of financial assistance, access to resources and moral support. Through public donations and private fundraising efforts, the 100 Club of Chicago plans to raise more than $10,000 in direct contributions in 2016.
About Life TimeSM – The Healthy Way of Life Company 
Life Time is a privately held, comprehensive health and lifestyle company that offers a personalized and scientific approach to long-term health and wellness. Through its portfolio of distinctive resort-like destinations, athletic events and corporate health services, the Healthy Way of Life Company helps members achieve their goals everyday with the support of a team of dedicated professionals and an array of proprietary health assessments. As of May 2016 the company operates 119 centers in 26 states and 35 major markets under the LIFE TIME FITNESS® and LIFE TIME ATHLETIC® brands in the United States and Canada. Additional information is available at www.lifetimefitness.com.
###