TomTom Named Official Sponsor of BolderBOULDER Timing and Results
March 30, 2015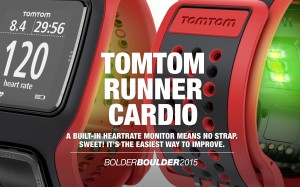 37th Memorial Day 10K Classic race will giveaway TomTom GPS Sports Watches in multiple pre-race promotions.
BOULDER, COLO. (March 30, 2015) — BolderBOULDER, voted America's All-Time Best 10K by Runner's World, today announced TomTom, Inc. based in Burlington, Massachusetts as the 2015 timing and results sponsor. Each year, more than 100,000 spectators, 50,000 participants, and dozens of professional racing teams descend on Boulder, Colorado for this Memorial Day tradition.
"We are really excited to introduce BolderBOULDER runners to TomTom's GPS Sports Watch as they begin their 10-week training programs," said Race Director Cliff Bosley. "The watches give runners their real-time running info, and the ability to set personal goals – tracking their distance, pace, calories and heart rate on a number of running and training sites. TomTom GPS Sport Watches help ensure runners get the most out of every run."
As the official sponsor of timing and results, BolderBOULDER participants will get the opportunity to get an exclusive look at many of TomTom's GPS Sports Watches at the BolderBOULDER store on Twenty Ninth Street, SpotsEXHIBIT on Pearl Street May 23rd and 24th, and Race DayEXPO on May 25th.
"We're excited to be participating in the BolderBOULDER Race," said Jocelyn Vigreux, President of TomTom, Inc. "Our GPS Sports Watches seek to provide people – whether casual runners or the frequent marathoners – with the information they need to improve. We're thrilled to introduce TomTom to the many passionate athletes that run in the BolderBOULDER who are always pushing towards their next goal."
TomTom GPS Sports Watches are available at local sporting goods stores including SA Elite, Best Buy and other specialty running stores. To see the full line of TomTom GPS Sports Watches, including the TomTom Cardio GPS Watch with built-in Heart Rate Monitor, visit www.TomTom.com
For more information please contact:
Stephanie Winslow-Sell, BolderBOULDER
720-236-1911
[email protected]
Karen C.K. Drake, TomTom, Inc.
[email protected]
### 
About BolderBOULDER
The BolderBOULDER, named America's All-Time Best 10K by Runner's World, is the 4th largest running race in the United States and the 7th largest in the world. The race attracts over 50,000 runners, joggers, walkers and wheelchair racers, and draws professional athletes from around the world to compete for one of the largest non-marathon prize purses in road racing. The 2015 race starts at 30th and Walnut and winds through Boulder neighborhoods with live music and entertainment at every corner. The race finishes at the University of Colorado's Folsom Field and attracts over 100,000 spectators. The 37th annual BolderBOULDER will be held on Memorial Day, May 25th, 2015. For more information please visit: www.bolderboulder.com 
About TomTom
TomTom (TOM2) empowers movement.  Every day millions of people around the world depend on TomTom to make smarter decisions. We design and develop innovative products that make it easy for people to keep moving towards their goals. Best known for being a global leader in navigation and mapping products, TomTom also creates GPS Sport Watches, as well as state-of-the-art fleet management solutions and industry-leading location-based products.
Our business consists of four customer facing business units: Consumer, Automotive, Licensing and Telematics.
Founded in 1991 and headquartered in Amsterdam, we have 4,000 employees worldwide and sell our products in over 46 countries. For more information please visit: www.tomtom.com