Tifosi Optics Launches New Rimless Eyeshield in Time for Spring Cycling
March 15, 2022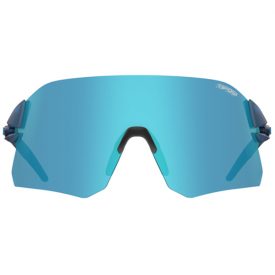 The Rail offers maximum eye protection and increased airflow in a lightweight package
Watkinsville, GA (March 15, 2022)/ENDURANCE SPORTSWIRE/ – Tifosi Optics, the #1 selling brand of eyewear in specialty cycling stores, is excited to announce the March 15 debut of its next rimless eyeshield: The Rail. Ideal for cyclists but equally functional for other endurance pursuits, the Rail offers a lightweight package that maximizes protection, airflow, and all-day comfort.
Shields offer cyclists superior coverage but can be heavy to wear and restrict airflow to the face. These downsides can cause discomfort on longer rides and can make shields a burden to wear. By removing the rim from around the Rail's polycarbonate lens, Tifosi not only shaves weight but breaks the airflow restricting seal that a frame's rim can create against the contours of a face. Weighing only 32g, the Rail offers riders 131mm X 59.5mm worth of eye protection and promotes anti-fogging ventilation. "As an avid cyclist I enjoy the coverage of a large shield like the Rail," commented Joe Earley, Tifosi Optics CEO. "However, the drawbacks that come with larger shields – increased weight and restricted airflow – were the impetus behind creating our next rimless shield. The Rail provides Tifosi's community with another great option to add to their collection," Earley continued.
In addition to rimless construction, the Rail features the same high-quality construction that fans of Tifosi Optics have come to expect – Grilamid TR-90 frames, adjustable nose and ear nose pieces for customized fit, hydrophilic rubber nose and ear pieces that improve grip as you perspire, and shatterproof, scratch-resistant polycarbonate lenses. Cyclists can choose between two separate lens combinations: An interchange model that includes lenses for bright, low and no light scenarios, as well as Tifosi's popular Fototec lens that adapts to changes in ambient light, making it a perfect option for mountain bikers.
No matter which lens or color combination riders choose – including the stylish Midnight Navy – the Rail costs a highly affordable $79.95. The Rail will launch online and through retailers on March 15, 2022. For more information, please visit: http://www.Tifosioptics.com
ABOUT TIFOSI OPTICS:
Tifosi is the Italian word for Super-fan. That is exactly who we are and who we make our eyewear for. Our mission is to provide technically advanced eyewear to enthusiasts of all sports and outdoor activities. We design, test, and torture our product to enhance your sport whether you're running a 5k, riding your first century, or playing 18 holes on Sunday. Tifosi defines us. We are enthusiastic about our product, our sport and our fun. We are moms, dads, coaches, players, volunteers, survivors, team, success, and family. We are Tifosi. To learn more about Tifosi, please visit: http://www.tifosioptics.com