THRU Bike Transport Launches with Over a Dozen Partner Brands
April 17, 2023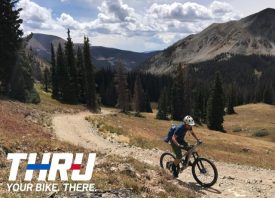 After helping over 150,000 riders at more than 1,000 events in the past 18 years, founder of TriBike Transport scales business by helping brands & retailers deliver directly to consumers
Denver, CO; April 14, 2023 /ENDURANCE SPORTSWIRE/ – Marc Lauzon, the founder of the leading bicycle logistics company, TriBike Transport, has launched THRU, a new sister company offering bicycle delivery to and from brands and retailers directly to consumers. Over the past 18 years, TriBike Transport has established a reputation with triathletes for delivering bikes on time and without damage. Leveraging this history of top-tier service, THRU kicks-off its business by partnering with an amazing array of top tier brands, including American Bicycle Group (Litespeed, QR and OBED), ENVE, Cinelli, Ventum and other manufacturers. Contender Bicycles of Salt Lake City, Utah and Above Category of Sausalito, California are two top-tier shops that have also signed on as launch partners.
For approximately the same cost as shipping with general logistics providers such as UPS, FedEx and DHL, THRU will collect fully assembled bicycles from manufacturers or retailers and will deliver them to their final destination be that an end consumer or retailer. THRU will also manage collecting and processing returns from consumers. The manufacturer or shop shipping the bike saves on the cost of packaging and labor while the consumer receives the added value of white glove delivery from THRU's trained technicians.
The key to THRU's value proposition is that bicycles do not need to be packed in any way. Instead, they are transported in THRU's vans that are equipped with a unique, patent pending rack system. After transporting over 150,000 bikes in the past 18 years, THRU's founder has developed a rack system that minimizes the chance that fully assembled bicycles will be damaged during transit.
"Since 2005, athletes have trusted us to deliver bicycles to events that they have invested an incredible amount of time and money in," said THRU and TriBike Transport founder Marc Lauzon. "In those 18 years we have developed a process and system for transporting bikes that is unmatched in every way; be it the consumer's experience, the lack of damage to the bikes, or the end cost. By focusing our business 100% on the cycling market, we are able to deliver a much better experience than common carriers for less overall expense."
THRU is currently shipping bicycles for launch partners and will continue to expand throughout this year. As part of that expansion Lauzon has initiated a fundraising round. Contact marc@thru.bike for more information on how to participate in the investment opportunity.
About THRU
THRU's disruptive approach to bike transport logistics is revolutionizing how the industry and individual cyclists ship their bikes, thereby dramatically improving efficiency and sustainability from current methods. It services cyclists as well as business-to-business and aftermarket, offering solutions to ship bikes and equipment safely and reliably to retailers and buyers using FedEx as its trusted pack-and-ship provider. THRU has a long heritage of transporting bikes for athletes through its sister company, TriBike Transport. Its team has been in the business since 2004 and is backed by rave customer reviews. For more information and to learn how to ship bikes safely and hassle-free, visit www.thru.bike.
Media Contact
Garin Fons