Thousands participate in inaugural Anti-Cancer Challenge to raise funds for cancer research
June 16, 2017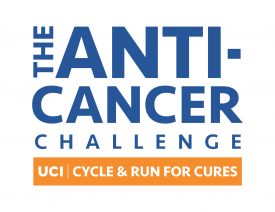 UCI Chao Family Comprehensive Cancer Center is Orange County's only federally-designated cancer research and treatment center, with access to clinical trials and leading therapies.
ANAHEIM, CALIF. – More than 2,000 riders, walkers and runners participated in the inaugural UCI Chao Family Comprehensive Cancer Center's Anti-Cancer Challenge to benefit cancer research on June 10 and 11, 2017 at Angel Stadium.
"All of those that participated this weekend provided critical support for lifesaving cancer research at the Chao Family Comprehensive Cancer Center," said Richard A. Van Etten, MD, PhD, cancer center director. "It is very inspiring to see individuals and teams representing the entire community – friends, families, co-workers and companies gathered for one common goal: To end cancer."
More than 6,000 people attended the Anti-Cancer Challenge Festival on Saturday, which included live entertainment, a children's bike ride, stationary bike event, food from local vendors, craft beer and exhibits.  Sunday featured more than 140 teams competing in 10-, 30-, 60- and 100-mile cycling rides across Orange County and a 5K run/walk through Angel Stadium.
Renegade Racing specializes in organizing fundraising events for the active market and took the lead on the run and cycling events. "We were honored to work with UCI Chao Family Comprehensive Cancer Center on this inaugural event to raise money for cancer research. The Anti-Cancer Challenge raised a tremendous amount of funds, critical in finding cures for devastating diseases," said race director Jonathan Pauley. "Our goal was to provide scenic and safe courses for the physical aspect to complement the participants' incredible fundraising efforts for the challenge. With every step ran and every mile cycled, the participants came together to find cures for cancer and we were proud to be a part of it."
The inaugural event raised more than $568,000 and fundraising continues through June 30, 2017. Go to www.Anti-CancerChallenge.org to make a donation.
Anti-Cancer Challenge sponsors include: Monster Energy, Ambry Genetics, Hensel Phelps, Hyundai, Pfizer Oncology, Anaheim Ducks, FivePoint, Spectrum Pharmaceuticals, Angels Baseball Foundation, Brightview Landscape, Bristol-Myers Squibb, Critchfield Mechanical, DPR Construction, FPL and Associates, Jacobs, Geodesign, Genentech, Griffith Construction, Hologic, Lynn Capouya Inc., MA Engineers, Medline, Octapharma, Pacific Ventures Management, PIMCO Foundation, Purequosa, SCMS Sindoni Consulting & Management Services. Sponsors providing in-kind contributions include: Beacons Point, California Pizza Kitchen, The Cyclist, Full Psycle, Ruby's Diner.
For more information visit Anti-CancerChallenge.org
Media Contact:
John Murray |714-456-7759 | [email protected]
About the Chao Family Comprehensive Cancer Center: The UC Irvine Health Chao Family Comprehensive Cancer Center is the only NCI-designated comprehensive cancer center in Orange County, which is the sixth most populous U.S. county and home to more than 1 percent of the nation's people. Now entering its 21st year, the center is a vital resource for the people of Orange County and surrounding areas for generation and dissemination of new knowledge about the causes, prevention, and treatment of cancer, training of the next generation of cancer providers and caregivers, and alleviation of the overall burden of cancer on our citizens.
UC Irvine Health comprises the clinical, medical education and research enterprises of the University of California, Irvine. Patients can access UC Irvine Health at physician offices throughout Orange County and at its main campus, UC Irvine Medical Center in Orange, Calif., a 417-bed acute care hospital that provides tertiary and quaternary care, ambulatory and specialty medical clinics, behavioral health and rehabilitation. U.S. News & World Report has listed it among America's Best Hospitals for 16 consecutive years. UC Irvine Medical Center features Orange County's only National Cancer Institute-designated comprehensive cancer center, high-risk perinatal/neonatal program, Level I trauma center and Level II pediatric trauma center, and is the primary teaching hospital for UC Irvine School of Medicine. UC Irvine Health serves a region of more than 3 million people in Orange County, western Riverside County and southeast Los Angeles County.
About Renegade Racing:
Renegade Racing is a leading event producer for running, triathlon and adventure sports events throughout Southern California.