The World's Highest Gran Fondo
January 21, 2015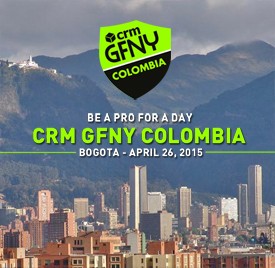 With the CRM GFNY Colombia on April 26, 2015, the GFNY World series adds the World's Highest Gran Fondo. It's no coincidence that it will take place in one of the most cycling-fanatic countries that has produced some of the world's best climbers. The race will start in Colombia's capital Bogotá at 8,660 feet and will travel as high as 11,000 feet. Two race distances are available: 104 miles and 60 miles.
Registration for CRM GFNY Colombia is now open at gfnycolombia.com. Riders can expect a world class experience thanks to a strong organizational team. "Juan Carlos Martinez brings the passion for cycling to GFNY that is the key ingredient for an organizer to provide the ultimate athlete experience," says Lidia Fluhme, President of Gran Fondo New York. "He's a strong rider himself and relentlessly competes at long distance cycling events around the globe. Additionally, he's a very experienced business man who knows what it takes to produce a professional event."
Colombian cycling hit the big stage in the 1980s when Lucho Herrera and Pancho Rodriguez took the European tours by storm and showed the world that they are the best climbers. Now a masters rider, Rodriguez is a Campagnolo Gran Fondo New York finisher alongside 200 of his compatriots each year. After a draught over the past two decades in the highest professional ranks, Colombian cycling is strong internationally once again with the likes of Nairo Quintana and Rigoberto Uran.
CRM Inc. is the title sponsor of GFNY Colombia. It offers comprehensive consulting and control services in risk management.
Campagnolo Gran Fondo New York's goal is to bring GFNY WORLD events to countries that are hotbeds for cycling. Whether it's a new or an already existing event, each is required to adhere to the standards of a true Gran Fondo: they must have road closures or police moderated intersections to allow riders the right of way, individual chip timing and rankings based on finish time. All GFNY events also offer a consistent high-quality experience, ensuring cyclists a safe, challenging and enjoyable experience from start to finish. Applications can be sent to Uli Fluhme at uli@granfondony.com
GFNY WORLD CALENDAR
February 15, 2015 – GFNY Puerto Rico – gfnypuertorico.com
March 21, 2015 – GFNY Barcelona – gfnybarcelona.com
April 26, 2015 – CRM GFNY Colombia – gfnycolombia.com
May 17, 2015 – GFNY Championship at Campagnolo Gran Fondo New York – granfondony.com
June 28, 2015 – GFNY Mont Ventoux – gfnymontventoux.com
September 20, 2015 – GFNY Italia – gfnyitalia.com
November 22, 2015 – GFNY Cozumel-Mexico – gfnycozumel.com
About Gran Fondo New York
The 5th annual Campagnolo Gran Fondo New York on May 17, 2015 will be the first GFNY Championship. The race features the world's most international peloton with riders from over 70 countries and 48 US states. Athletes will take on a challenging 100-mile route from NYC to Bear Mountain and back to compete against each other, the clock and themselves in a personal endurance challenge.
The 50-mile GFNY BEAR on the same day is a non-competitive ride from NYC to Bear Mountain.
New for the 2014-2015 season, GFNY WORLD features events in Italy, Mexico, Puerto Rico, Colombia, Spain and France. Campagnolo Gran Fondo New York raises funds for Operation Smile, the international children's medical charity.
The official Grand Fondo New York website is: granfondony.com.
Photos (credit: sportograf.com): here
Video: here
Press Release Campagnolo Gran Fondo New York 2015: here