The SDCCU OC Marathon and Half-Marathon and the Biofreeze San Francisco Marathon/Half Debut New, First-of-Its-Kind California Time Travel Challenge
April 4, 2019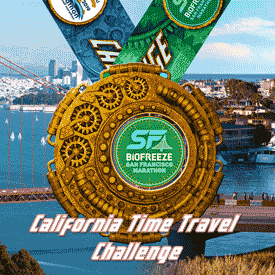 COSTA MESA and SAN FRANCISCO, Calif. (Apr. 4, 2019) – The SDCCU OC Marathon/Half Marathon and the Biofreeze San Francisco Marathon/Half have partnered to take the race challenge to a whole new level with the California Time Travel Challenge (CTTC). The first-of-its-kind running challenge begins at the SDCCU OC Marathon in Orange County, California, on Sunday, May 5, 2019, where participants can choose to run the full or half-marathon. To earn the California Time Challenge Medal, runners must then travel to the Biofreeze San Francisco Marathon/Half, held on Sunday, July 28 and better their OC Marathon official finishing time. Participants also have the option of beginning their challenge in San Francisco in July, and then attempt to beat their official finishing time in Orange County in May 2020.
"We are so excited to partner with SDCCU OC Marathon/Half Marathon and bring our runners a new and really exciting challenge that takes them to the opposite ends of the state and challenges them to beat their times," said Melissa Faukner, director of marketing, the Biofreeze San Francisco Marathon. The medal is so unique and will be a keep sake for any runner."
"We are thrilled to partner with the amazing team in San Francisco and to give our runners a chance to push themselves, to challenge them to go faster and to reward their efforts with unique Time Travel-themed medals," said Gary Kutscher, race director, SDCCU OC Marathon/Half Marathon.
According to challenge organizers, allowances may be made to finishing times to accommodate course difficulties, and other criteria. Additionally, those who begin the challenge with a half marathon will automatically qualify for the medal if they compete in the full marathon at the next event. To be eligible, runners must register for both events with the same first name, last name and birth date.
Events must be completed consecutively but not necessarily in the same year. If you skip an event, the challenge must be started over. Upon completion of the second event, runners can pull up their finishing time on the Runner Tracker mobile app to confirm a successful "Time Travel." Awards can be picked up at the CTTC tent at either event.
After completing their first California Time Travel Challenge successfully, participants can choose to continue by travelling back to the next event, and beating their official time to earn another medal, which will change each year.
About the San Francisco Marathon/Half
On July 28th, celebrate the 42nd running of the Biofreeze San Francisco Marathon. Join 27,000 runners through a breathtaking tour of San Francisco and finish it together in a city that does not disappoint. The course is hilly, fast, scenic and unforgettable.  Run past iconic landmarks like Fisherman's Wharf, Coit Tower, the Golden Gate Bridge, Golden Gate Park, Haight-Ashbury and AT&T Park! Choose from four distances: an ultra-marathon, full marathon, two half marathons, and two 5k races. We have virtual options and lots of fun challenges to help you earn extra bling! Spend your race weekend with us, in a city that celebrates together!
For more information about the event or to register for the races, visit www.thesfmarathon.com.
About the OC Marathon Running Festival
Now in its 15th year, the 2019 OC Marathon Running Festival is a world-class event featuring the SDCCU OC Marathon and Half-Marathon, the OC 5k, the Kids Run the OC Final Mile, the Ultimate Finish Line Festival, and the OC Lifestyle and Fitness Expo, all held at the Orange County Fair and Events Center in Costa Mesa, California, from May 3 to 5, 2019. The marathon and half-marathon is one of the best destination courses on the West Coast with a diverse terrain, changing coastal and inland vistas, and majestic ocean views. During the weekend, more than 23,000 participants, including nearly 10,000 children, will enjoy food, music and other family-fun entertainment.
To register for the races, or for more information about how to get involved including corporate sponsorships, visit ocmarathon.com, @OCMarathon, or email [email protected].
# # #