The Running Event Launches Strides for Progress Challenge to Support Texas Nonprofits During 2022 Conference and Trade Show
October 27, 2022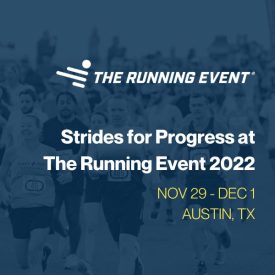 Activity-based Strava challenge will unlock donations to five Texas-based nonprofits focusing on some of the state's most critical issues
PORTLAND, Maine (October 27, 2022)/ENDURANCE SPORTSWIRE/ – The Running Event (TRE), North America's premier specialty retail conference and trade show, today announced community-driven initiative Strides for Progress. The activity-based Strava challenge will take place at The Running Event 2022 this November 29 to December 1 and will support five Texas-based nonprofit organizations.
"This year, we want to give The Running Event community the opportunity to make a real, tangible impact beyond the walls of the Austin Convention Center," said Christina Henderson, Event Director, The Running Event. "The Strides for Progress initiative will not only donate money to five incredible nonprofits, but it will shine a light on what these organizations are doing to address some of the most important issues facing Texas communities."
Strides for Progress will challenge participants to log running, walking, hiking, wheelchair, or handcycle activities in the Strava app to reach a collective mileage goal of 35,000. The challenge will be active beginning Thursday, November 24 and will close Thursday, December 1. When the 35,000-mile goal is reached, donations will be equally distributed to the following organizations, selected in collaboration with the Running Industry Diversity Coalition:
"Austin Angels is excited to be a beneficiary of The Running Event's Strides for Progress challenge," said Sara Hale, Marketing Director, Austin Angels. "This time of year, families in foster care have so many needs—both emotional and physical—and it's because of this kind of financial support that we are able to rally the community around these children and provide radical relational support for foster families."
Strides for Progress is open to The Running Event attendees and exhibitors, as well as anyone else—no matter location—who would like to participate. Athletes will be able to join the challenge on Strava starting Thursday, November 17.
Donations are possible with the support of Strides for Progress brand partners, including premium partner Body Glide and partners Brooks, HOKA, and OS1st. The Running Event has also pledged to donate.
Join the TRE Run Club on Strava
Interested participants are encouraged to join the TRE Run Club on Strava to stay up to date about Strides for Progress and receive the latest challenge news. Click here to join.
—
About Strava Clubs and Sponsored Challenges
For those interested in learning more about Strava Clubs or hosting Sponsored Challenges, click here to request more information.
About The Running Event
Launched in 2006, The Running Event (TRE) is North America's premier run specialty trade show. Each year, it attracts thousands of industry professionals seeking the latest in footwear, apparel, gear, and services. New for 2022, TRE expands with Switchback at The Running Event, a dedicated space within the exhibit hall showcasing top outdoor brands. With numerous opportunities for peer learning, interactive and forward-looking conference programming, and dynamic product demonstration and discovery, The Running Event is the can't-miss trade show for run and outdoor specialty. For more information, visit www.therunningevent.com/.
—
Exhibitor and Partner Contact:
Christina Henderson
Event Director
Diversified Communications
Media Contact:
Genae Salinas
Marketing Manager
Diversified Communications