The Running Event Announces New Partnership with Footwear News
November 6, 2023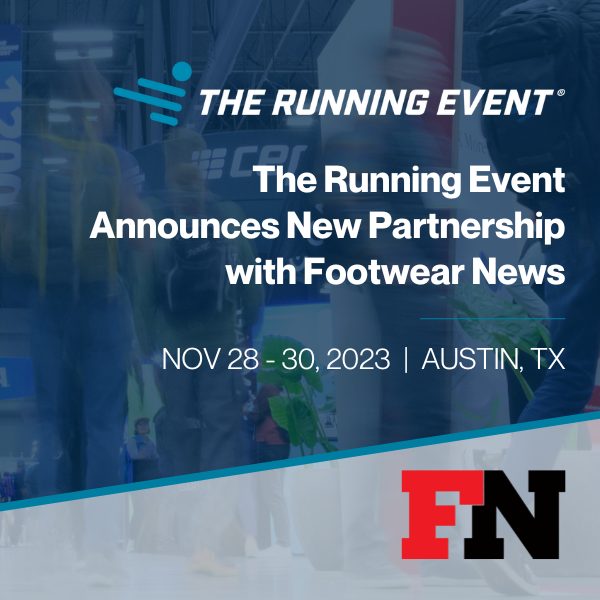 The partnership will include editorial content and coverage for the 2023 and 2024 events
Portland, Maine (November 6, 2023) /ENDURANCE SPORTSWIRE/ – The Running Event (TRE), North America's premier specialty retail conference and trade show, today announced Footwear News (FN) as an official media partner for the 2023 and 2024 events. The partnership will include extensive editorial content, updates about TRE programming, and deep dives into the annual show.
"FN's platforms, industry knowledge, and audience reach supports us in our mission to elevate and support the running and outdoor industry," said Christina Henderson, Event Director, TRE. "This collaboration will bring TRE coverage and access to more people, creating additional opportunities for business, connection, and visibility into the event."
"I'm thrilled about this partnership," added Amanda Smith, Fairchild Media Group President. "Together, our brands are leading the conversation around running and outdoor with the specialty retail industry and its future, and I am looking forward to bringing more of FN's authority to the TRE exhibitors and audience experience as a whole as we move forward."
The partnership will include extensive editorial content and updates about TRE programming throughout the year as well as comprehensive pre-event, onsite, and post-event coverage of the annual conference and trade show. Coverage will highlight key players, industry trends, and TRE's impact on the larger footwear industry.
"We are delighted about this new collaboration with The Running Event," said Michael Atmore, Editorial Director, Footwear News. "The TRE conference and trade show is home to some of the most important conversations around the running and outdoor industry today, and we look forward to leveraging FN access and platforms to grow awareness and continue to bring this vital community together in new ways."
The Running Event 2023 will take place November 28-30 at the Austin Convention Center in Austin, Texas. Click here to register.
###
About The Running Event
Launched in 2006, The Running Event (TRE) is North America's premier specialty retail conference and trade show. Each year, it attracts thousands of industry professionals seeking the latest in footwear, apparel, gear, and services. In 2022, TRE launched Switchback at The Running Event: an exhibit hall expansion showcasing outdoor brands. With numerous opportunities for peer learning, interactive and forward-looking conference programming, and dynamic product demonstration and discovery, TRE is the can't-miss trade show for run and outdoor specialty. For more information, visit www.therunningevent.com.
About Footwear News
Footwear News (FN) is the publication of record for senior footwear and fashion executives and a must-read for shoe-obsessed consumers. Since 1945, top CEOs, brand leaders, retailers and designers from the fashion world and beyond have turned to FN for breaking news, analysis and must-read profiles on the most powerful people in the footwear industry. In addition to business and industry content, the publication covers sneaker news and releases. FN's multi-platform content coverage expands across digital, social and print as well as branded content, events and summits. The publication has been owned by Penske Media since 2014, and operates as part of Fairchild Media Group, which also owns WWD, Beauty Inc. and Sourcing Journal as well as the Fairchild Live events business.
Press Contacts
TRE: Gordon Wright, gordon@outsidepr.com
FN: Abby Kalicka, akalicka@pmc.com and Brooke Jaffe, bjaffe@pmc.com