The Running Event Announces 2023 Educational Program
August 29, 2023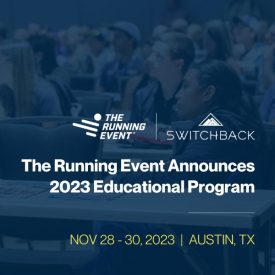 Conference sessions, exhibit hall presentations, and dedicated brand education will provide real-world learnings for run and outdoor specialty professionals
PORTLAND, Maine (August 29, 2023)/ENDURANCE SPORTSWIRE/ – The Running Event (TRE), North America's premier specialty retail conference and tradeshow, has announced its 2023 educational program. The Running Event will be held November 28-30 at the Austin Convention Center in Austin, TX.
"Our educational program is once again packed with insights and actionable takeaways," said Christina Henderson, Event Director, TRE. "Every year, we tailor our educational content to the industry's current challenges and trends while ensuring we provide value for all roles in the audience, from owners and managers to sales associates, marketers, and event organizers."
Taking place Tuesday, November 28, the 2023 Conference Program will offer more than 20 sessions, including "How to Use AI for Marketing, Customer Service and more," "Unleash Your Leadership Potential with Transformational Leadership," and "How to Leverage Vendor Relationships and Local Partnerships to Drive Participation." This year's speaker lineup includes industry experts representing a range of organizations, such as Upper Quadrant, BibRave, the Running Industry Diversity Coalition, DC Department of Parks and Recreation, and multiple US specialty retail stores.
Back for 2023, the Training Camp Theater will host presentations throughout the day on Wednesday, November 29 and Thursday, November 30 in the exhibit hall. Open to all, participants will hear sessions and panels from industry influencers, brands, TRE partner organizations, and more. Also in the exhibit hall will be a regulation size pickleball court, where dedicated sessions will highlight how run and outdoor specialty retailers can capitalize on the popular sport.
New this year, TRE exhibitors can access dedicated education and training through TRE Plus: Education for Brand Personnel. With three sessions taking place during the event, brand personnel can expect content focused on leadership insights, team coaching, business strategy, and industry trends.
"Our goal is to provide meaningful information and best practices attendees can implement into their businesses as soon as they return from TRE," said Henderson. "We believe this year's program will deliver that and more."
Register for The Running Event 2023
With one pass providing access to all education, networking events, and the exhibit hall, it's easy to experience everything TRE has to offer. Click here to purchase a pass.
For media inquiries, please contact Gordon Wright | Gordon@OutsidePR.com
About The Running Event
Launched in 2006, The Running Event (TRE) is North America's premier specialty retail conference and trade show. Each year, it attracts thousands of industry professionals seeking the latest in footwear, apparel, gear, and services. In 2022, TRE launched Switchback at The Running Event: an exhibit hall expansion showcasing outdoor brands. With numerous opportunities for peer learning, interactive and forward-looking conference programming, and dynamic product demonstration and discovery, TRE is the can't-miss trade show for run and outdoor specialty. For more information, visit www.therunningevent.com.