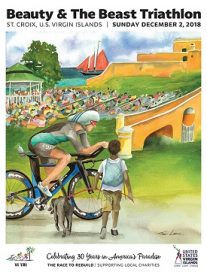 Join us in St. Croix on December 2, 2018
VI TRI, the committee heading the 2018 triathlon on St. Croix, extends their condolences to all the communities affected by this year's hurricane season. The Beauty & The Beast Triathlon, which has been nicknamed the "race to rebuild," will take place on December 2, 2018 and was already focused on helping the St. Croix community that was devastated by Hurricane Maria in September 2017.  All the proceeds of the race will be donated to three local nonprofits who lost everything last year: My Brother's Table, The Caribbean Centers for the Boys & Girls of the Virgin Islands and the St. Croix Animal Welfare Center.
As an island who has firsthand experience to the loss and devastation these storms can bring, the race committee truly understands the emotions that come in the days, weeks and months following.  They announced on Friday that they would be expanding its outreach by offering 30% off registration fees for any athlete who registered for a triathlon race that was cancelled due to this year's hurricane season. They are also giving athletes the choice to pay full registration and donate 30% of their fee to a nonprofit organization in one of the affected towns. Athletes who wish to take advantage of this offer should email their registration to info@vitf.org along with the race they wish to compete in.
The St. Croix community worked tirelessly after the 2017 hurricane season to restore some normalcy to their island. The strength and resilience that was seen across the community will certainly be mirrored in the towns affected this year as they build back stronger than before. VI TRI hopes their story of continuing the triathlon tradition on St. Croix despite having to rebuild from scratch will provide a sense of hope to those experiencing the same situation this year.
VI TRI, along with the United States Virgin Islands Department of Tourism and the National Park Service, look forward to another successful triathlon in America's paradise. For more details on the race, visit www.virginislandstriathlon.com.
###
Race Sponsors and Supporters: US Virgin Islands Department of Tourism, A Better Copy, Adorn VI / Supergoop!, Armstrong Advisory Group, balter Restaurant, Biofreeze, Broadband VI, The Buccaneer Resort, Cane Bay Partners, LLLP, Caravelle Hotel & Casino, Crucian Gold, Department of Planning & Natural Resources, Department of Public Works, Denali Asset Management, Diageo USVI, Edison Advisors, LLC, Gallows Bay Hardware, Gatorade, GoToStCroix.Com, Hertz Preferred Rental Car, H.H. Tire & Battery, Hotel on the Cay, Jackie & Joel Holt, J. Benton Construction, Leatherback Brewery, LnL Publishing, Masters Capital, National Park Service, Ocwen Mortgage Servicing, O'Neale's Transport, Peil Charitable Trust, QE IV Ferry, Reliable Rentals St. Croix, SBR Sports, Squirt, Toni Lance, United States Coast Guard, Virgin Islands Police Department,  West Indies Company and World Ocean School.