The IRONMAN Foundation and Mike Reilly, The "Voice of IRONMAN", are Auctioning a Piece of IRONMAN History to Support Race Communities Around the Globe
November 15, 2022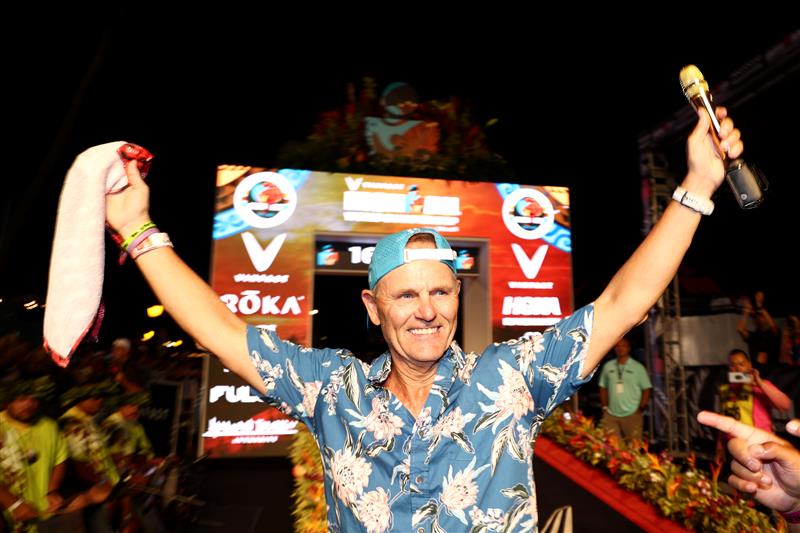 Items include autographed rally towel used by Reilly at IRONMAN finish lines for the last ten seasons and finish line tapes from 2022 IRONMAN World Championship events signed by male and female champions
TAMPA, Florida (November 15, 2022) /ENDURANCE SPORTSWIRE/ – The IRONMAN Foundation and Mike Reilly, the "Voice of IRONMAN", have opened online bidding for one-of-a-kind IRONMAN® collectibles to benefit race communities around the globe. The auction will showcase a rally towel used by Mike Reilly during his final season as the "Voice of IRONMAN" before his retirement, as well as official finish line tapes from the 2022 VinFast IRONMAN World Championship and Intermountain Healthcare IRONMAN 70.3 World Championship presented by Utah Sports Commission autographed by the top professional men and women finishers. Bidding on these items is open now through 11:59 p.m. ET on December 16, 202 by visiting www.ironmanfoundation.org.
"I've been fortunate to be a part of The IRONMAN Foundation as its Ambassador Captain for the last six years," shared Mike Reilly. "One of the only regrets I have in my career is not getting involved with The IRONMAN Foundation sooner. I'm excited to get to give back to all the amazing IRONMAN and IRONMAN 70.3® race communities around the world that have welcomed me with open arms, by gifting this special rally towel to The IRONMAN Foundation to raise money for the important work they do."
Mike Reilly will retire in December after his final race, the 2022 Nutri-Grain IRONMAN New Zealand triathlon. Reilly has called more than 210 IRONMAN races worldwide over the last 33 years, and his iconic call of "You are an IRONMAN!" has been heard by nearly a half a million finishers. In the mid-90s, Reilly started waving a rally towel at the IRONMAN World Championship in Kailua-Kona, Hawai`i to energize the crowd as much as possible. "The louder I make it for each finisher in the final hours of their race day, the better," said Reilly.
The rally towel up for auction has been used by Mike Reilly at nearly all of the IRONMAN races he has called for the past ten years; it has "Anything is Possible" inscribed on the front, embroidered with Mike Reilly's signature and will be placed in a shadow box display provided by Fond Memories Graphics.
The auction also features the official finish line tapes that the champions from this year's VinFast IRONMAN World Championship race and Intermountain Healthcare IRONMAN 70.3 World Championship presented by Utah Sports Commission race ran through as they took the crowns. In total, four finish line tapes are up for auction, one autographed by the top three professional men and the other by the top three professional women finishers for both events. The IRONMAN Group's world championship events provide the main stage for top IRONMAN and IRONMAN 70.3 triathletes from around the world to compete side by side.
The IRONMAN Foundation, the charitable arm of The IRONMAN Group, has provided more than $55 million in charitable giveback since inception in 2003. The IRONMAN Foundation works to create positive, tangible change in race communities through grant funding and volunteerism opportunities. Proceeds from this auction will provide more charitable givebacks to deserving global, national, regional, and local nonprofit organizations.
Bidding is open now through 11:59 p.m. ET on December 16, 2022. To donate, and for more information on the online auction or The IRONMAN Foundation, visit www.ironmanfoundation.org.
###
About The IRONMAN Foundation
The IRONMAN Foundation creates positive, tangible change in race communities by engaging athletes and volunteers to participate in programs that demonstrate service through sport and commitment to the community. Since 2003, over $55,000,000 has been provided through giveback programs led by The IRONMAN Foundation to more than 10,000 local, regional, national, and global nonprofit initiatives. Through these partnerships, IRONMAN, and Rock' n' Roll Running Series participants are powerfully linked to the community and together help leave a positive legacy behind in race communities long after event day. For more information on The IRONMAN Foundation programs, including Team IMF, Community Fund, Rock This Town®, Your Journey Your Cause®, and Race For Change™, visit www.ironmanfoundation.org.
About The IRONMAN Group
The IRONMAN Group operates a global portfolio of events that includes the IRONMAN® Triathlon Series, the IRONMAN® 70.3® Triathlon Series, the IRONMAN® Virtual Racing™ (VR™) Series, 5150™ Triathlon Series, the Rock 'n' Roll® Running Series, the Rock 'n' Roll Virtual Running™ Series, IRONKIDS®, World Triathlon Championship Series, premier running events including the Standard Chartered Singapore Marathon™ and City2Surf®, UTMB® World Series events including Tarawera Ultra and Ultra-Trail Australia™, Epic Series™ mountain bike races including the Absa Cape Epic®, road cycling events including Haute Route®, and other multisport races. The IRONMAN Group is the largest operator of mass participation sports in the world and provides more than a million participants annually the benefits of endurance sports through the company's vast offerings. Catering to the full athlete experience, the company portfolio also includes FulGaz® virtual cycling, the most realistic indoor riding experience connected fitness application aimed at preparing athletes for real-world events. Since the inception of the iconic IRONMAN® brand and its first event in 1978, athletes have proven that ANYTHING IS POSSIBLE® by crossing finish lines around the world. Beginning as a single race, The IRONMAN Group has grown to become a global sensation with hundreds of events across 55+ countries. The IRONMAN Group is owned by Advance, a private, family-owned business. For more information, visit www.ironman.com/about-ironman-group.
About Advance 
Advance is a private, family-held business that owns and invests in companies across media, entertainment, technology, communications, education and other promising growth sectors. Our mission is to build the value of our companies over the long-term by fostering growth and innovation. Advance's portfolio includes Condé Nast, Advance Local, Stage Entertainment, The IRONMAN Group, American City Business Journals, Leaders Group, Turnitin, 1010data and Pop. Together these operating companies employ more than 17,000 people in 29 countries. Advance is also among the largest shareholders in Charter Communications, Warner Bros. Discovery and Reddit. For more information visit www.advance.com.