The Finish Line is Calling: IRONMAN Launches Commitment Day Focused on Athletes Finding their First IRONMAN Finish Line
January 10, 2023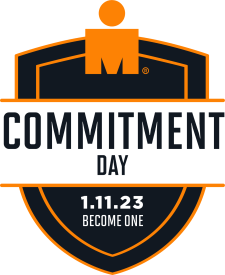 - With New Year's resolutions in full force and building on the Become One program, the IRONMAN Commitment Day encourages athlete to commit to setting a goal and working towards completing an IRONMAN triathlon - Athletes can learn more about IRONMAN Commitment Day and the Become One Program by visiting www.ironman.com/2023-open and www.ironman.com/become-one
TAMPA, Fla. (Jan. 10, 2023) /ENDURANCE SPORTSWIRE/ – IRONMAN has launched a new initiative encouraging athletes to commit to the goal of completing one of the most challenging and rewarding single-day endurance events in the world, an IRONMAN® triathlon. Expanding on the Become One program, the first IRONMAN Commitment Day will be held on Wednesday, January 11, 2023 and will encourage individuals to commit to an IRONMAN race, joining the community of athletes and take up the journey to hear the iconic words "You are an IRONMAN!"
"We are eager to encourage more athletes from around the world to accomplish something truly monumental and cross an IRONMAN triathlon finish line in 2023," said Suzanne Cohen, Chief Marketing Officer for The IRONMAN Group. "IRONMAN Commitment Day is not only a way to set 2023 race season goals, but also expose those new to the sport the benefits of joining the triathlon community on their journey to accomplishing something extraordinary. We hope that many who have considered stepping up to the plate, decide to embrace the challenge and start along a path that delivers them to life changing experience and join the family of IRONMAN finishers."
Modeled after Collegiate National Signing Day, athletes can join IRONMAN Commitment Day through three simple steps:
1) Pick a race: From the breathtaking views of Western British Columbia, Canada, the idyllic countryside and coastline of Copenhagen, Denmark, the pristine beaches of Subic Bay, Philippines or where the rainforest meets the Great Barrier Reef in Cairns, Australia, and everything in between, there is an IRONMAN race out there for everyone.
2) Get Registered: This is the hardest part of the journey …committing to a race where your goals and dreams can be accomplished.
3) Announce to the World: Once committed to becoming an IRONMAN in 2023, announce it to the world for encouragement and the full benefits of the triathlon community! Tag @ironmantri or use #BecomeOne2023 to be featured on IRONMAN social media. Those that have already registered are also encouraged to tag and share on social media the IRONMAN event they have committed to racing in 2023.
The Become One program is an athlete's guide to making it to an IRONMAN triathlon finish line. Customized for first-time IRONMAN participants, Become One helps athletes navigate the amazing adventure of training for a full distance IRONMAN race and tap into IRONMAN's unique community and extensive resources. Whether a seasoned IRONMAN 70.3® athlete or taking on the challenge for the first time, and everything in between, the Become One program can help athletes find the tools they need to stay healthy, motivated and prove to themselves that ANYTHING IS POSSIBLE®.
More information on IRONMAN Commitment Day and the Become One Program can be found by visiting www.ironman.com/2023-open and www.ironman.com/become-one. For more information on the IRONMAN and IRONMAN 70.3 brands and global event series, visit www.ironman.com. Media inquiries may be directed to press@ironman.com.
###
About The IRONMAN Group
The IRONMAN Group operates a global portfolio of events that includes the IRONMAN® Triathlon Series, the IRONMAN® 70.3® Triathlon Series, 5150™ Triathlon Series, the Rock 'n' Roll® Running Series, IRONKIDS®, World Triathlon Championship Series, premier running events including the Standard Chartered Singapore Marathon™ and City2Surf®, UTMB® World Series events including the Canyons Endurance Runs™, Tarawera Ultra and Ultra-Trail Australia™, Epic Series™ mountain bike races including the Absa Cape Epic®, road cycling events including Haute Route®, and other multisport races. The IRONMAN Group is the largest operator of mass participation sports in the world and provides more than a million participants annually the benefits of endurance sports through the company's vast offerings. Catering to the full athlete experience, the company portfolio also includes FulGaz® virtual cycling, the most realistic indoor riding experience connected fitness application aimed at preparing athletes for real-world events. Since the inception of the iconic IRONMAN® brand and its first event in 1978, athletes have proven that ANYTHING IS POSSIBLE® by crossing finish lines around the world. Beginning as a single race, The IRONMAN Group has grown to become a global sensation with hundreds of events across 55+ countries. The IRONMAN Group is owned by Advance, a private, family-owned business. For more information, visit www.ironman.com/about-ironman-group.
About Advance 
Advance is a private, family-held business that owns and invests in companies across media, entertainment, technology, communications, education and other promising growth sectors. Our mission is to build the value of our companies over the long-term by fostering growth and innovation. Advance's portfolio includes Condé Nast, Advance Local, Stage Entertainment, The IRONMAN Group, American City Business Journals, Leaders Group, Turnitin, 1010data and Pop. Together these operating companies employ more than 17,000 people in 29 countries. Advance is also among the largest shareholders in Charter Communications, Warner Bros. Discovery and Reddit. For more information visit www.advance.com.