The Breakaway Leverages AI To Help Riders Prepare for Gran Fondo Hincapie
September 5, 2023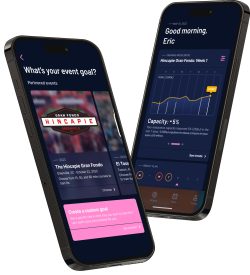 Riders in the Gran Fondo Hincapie are the first event participants to benefit from Coach, a uniquely trained AI powered coach & companion for cyclists. The Breakaway is helping riders unlock the magic behind consistent improvement by telling them exactly how to ride on any given day to generate simple, measurable progress.
Truckee CA/ENDURANCE SPORTSWIRE/ – The Breakaway has launched Coach, an AI powered coach and companion that helps riders understand what kind of ride to do on any given day to find simple, consistent improvement. Starting in September, the over 2,000 riders in the Gran Fondo Hincapie Greenville will be the first to benefit from Coach as it guides their training, and over the course of the coming weeks learns about the event to provide feedback and answers to the riders questions as they train. The Breakaway will announce more event partners in the coming weeks. The Breakaway is available on the Apple App store for just $69.99 per-year.
The Breakaway designed Coach to be an integrated companion to The Breakaway app for people who have a specific goal (even if that's just simple improvement), but do not want or have trouble sticking to a rigid training plan. By digesting fitness and health data from a range of sources including power meters, heart rate monitors, Garmin, Hammerhead and Wahoo head units, Oura, Strava, Zwift and more, The Breakaway understands every rider's strengths and weaknesses. With a rider's personalized data in hand, Coach can prescribe exactly what type of effort will most benefit them on any given day based on the objectives the rider identifies. When in doubt, riders can simply ask Coach: 'What should I do today?'
Future integrations are set to be released including Whoop, Apple Health and more, incorporating biometrics like HRV, RHR sleep scores, respiratory rates, and other data points designed to create a complete athlete profile on and off the bike.
"When we started The Breakaway in 2020 we knew that most riders wanted to improve, but just didn't want to follow rigid training plans," said The Breakaway CEO & co-founder Jordan Kobert. "After three years of working closely with riders to generate progress without heavily structured training plans, we have been able to unlock the magic behind consistent improvement and we're seeing real gains in riders of all levels. Our average rider increases their output per ride 15% within 90 days of joining. Our new AI powered Coach is always there to help any rider understand what they should do on any given day in order to continue to improve and the best part about the new AI developments is our Coach will improve as fast, if not faster than our riders. There's no limit to how good Coach will get at guiding and responding to our rider's needs."
Because Coach is a quick study, The Breakaway will soon announce more events, both real and virtual, where it will help riders unlock their best performance with simple day to day guidance. This includes Zwift rides and races which are about to kick-off in earnest as the days in the Northern Hemisphere get shorter and the weather turns cold. With its rapid response and simple interface, Breakaway users can opt in and out of these events with a strategy for performance immediately at hand, no matter what the rigors of daily life may demand.
###
About The Breakaway
The Breakaway is a personal performance coach for cyclists, democratizing world class coaching and insight to enable everyone to be the best version of themselves. We're on a mission to unlock the thrill, joy and pursuit of peak performance for everyone who seeks it. The Breakaway connects to the popular platforms cyclists use and aggregates the data to deliver personalized daily guidance that answers the question of 'What should I do today?'. Currently available on iPhone, Android and web are planned to roll out early next year.
Our vision is a pathway to peak performance making highly personalized (simplified, automated, precise, actionable) real-time data, insights, guidance, and motivation accessible to every passionate athlete in the world—at the click of a button. Founded in 2020 by industry veterans Jordan Kobert, Kyle Yugawa, and Christian Vande Velde, The Breakaway is backed by some of the world's best investors including YCombinator, General Catalyst and Norwest Venture Partners.
Media Contact
Greg Fisher